Google invited developers to a Chromecast hackathon and SDK show-and-tell on December 7th and 8th. This clearly indicates that Google will publish the "Cast SDK" quite soon. Google will most likely release the SDK during this hackathon or at least inform us about a release date. Exciting!
The Chromecast SDK, called Cast SDK, would offer developers the possibility to integrate Chromecast into their app. At the moment, only a small amount of apps like Netflix, YouTube or Hulu are able to stream content to a Chromecast. With a SDK available, every app could potentially communicate with the Chromecast, making it the ultimate device for modern TVs.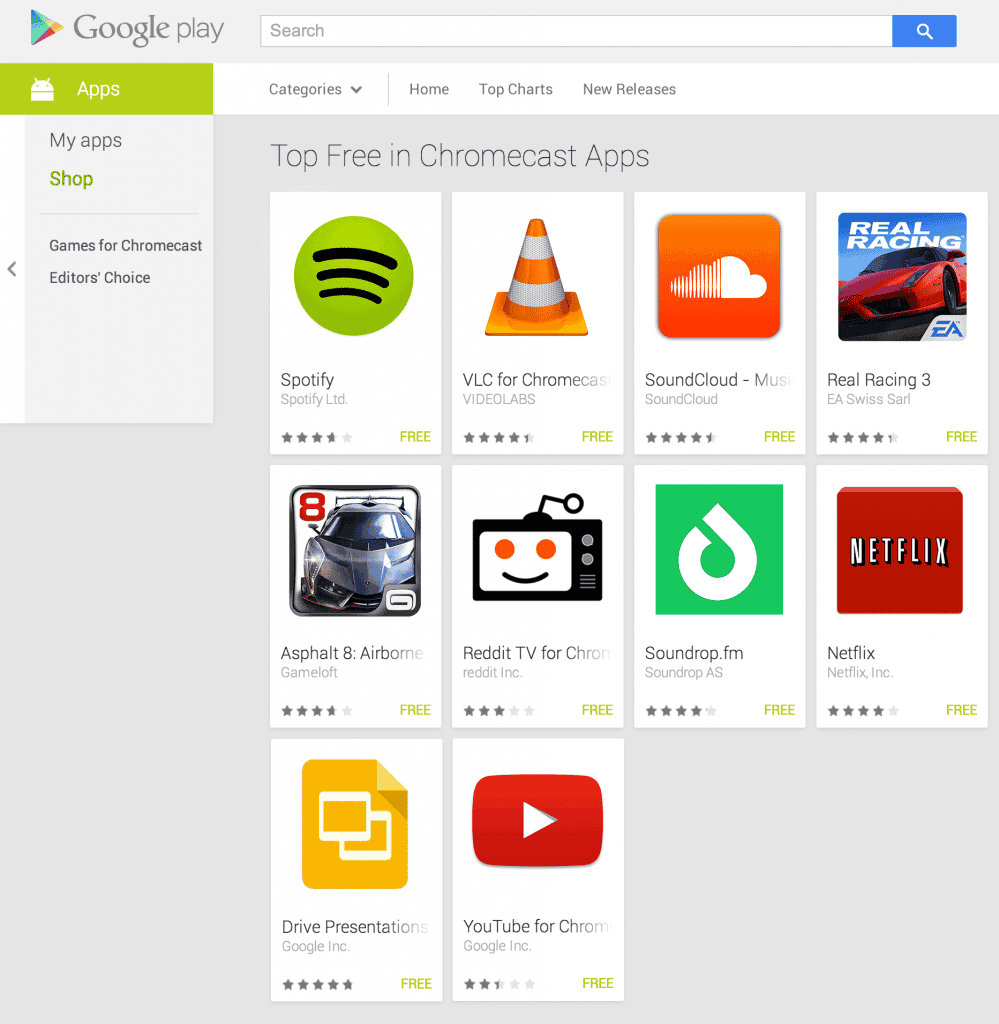 10 Chromecast apps we would love to see soon
We've tested the Chromecast during the last few weeks and really like it despite the missing variety of apps. With the Chromecast SDK coming soon, we brainstormed about a nice apps that we would love to see.
With Plex being supported by Chromecast as of December 10th, many of our wishes came true. We've updated the list below according.
1. Streaming local media files
Streaming local media files from your network to a Chromecast would be like a dream come true. Ideally, codecs for all popular formats are included and it supports DRM-protected material.
You are now able to stream local media files to your Chromecast using Plex. 
2. Android games and other apps on your TV
How great would it be if you could stream Android games to your TV while using a tablet or phone as a controller? Especially for mostly motion-controlled apps like racing games, this could be a great way to build an inexpensive gaming console. Imagine looking at the race track on your TV and using your Android device as a steering wheel!
3. Using Chromecast for presentations
Google's Chromecast works with almost every device that has a HDMI-in slot. Why not connect a Chromecast to a beamer and use your tablet as a preview monitor-including a swipe-to-next-slide functionality?
4. Spotify, Soundcloud and other music streaming services on Chromecast
Google Play Music and Pandora are a great start, but some of us prefer other music streaming services like Spotify or Soundcloud on Chromecast. Especially if you're into EDM, Soundcloud has far more to offer than other platforms.
Spotify and Soundcloud will soon be available on Chromecast using Plex.
5. Reddit.TV
Reddit is a great website full of fun and interesting stuff. Reddit.TV offers you the possibility to watch videos posted on Reddit in a very easy and convenient way. Why not bring that to Chromecast?
Reddit.TV is available as a channel on Plex for Chromecast.
6. Party Mode
Music is really important on a party or when having a few friends over. Using Chromecast to stream music while showing the playlist and the possibility for guests to add new songs would be great. You could also let guests vote for the next song based on a few possibilities, which would make the whole thing more interactive.
7. Dashboard
The current Chromecast dashboard is rather static and boring. Why not add widgets to customize it? I'd personally love to have a RSS feed or my emails on there! Why not include a Google Now-like interface in there?
8. OK, Chromecast
Talking about Google Now, I would really love to control my Chromecast using voice commands like "OK, Chromecast". With the Chromecast lacking a microphone, this could be done using a compatible mobile device like the Nexus 5 oder Nexus 7.
9. Mini games
Mini games like TicTacToe are a fun way to spend some time waiting. Using the TV as the main screen and and a tablet or phone as the controller would be really awesome. Just imagine playing games like You Don't Know Jack with your friends on your TV?
10. Google Play store for Chromecast apps
With a variety of Chromecast-compatible apps available, Google should really add a Chromecast filter to Google Play. This would make browsing easier and help app developers to get their app found.
Which apps would you like to see on Chromecast?
The apps listed above are obviously just a start. Google's Chromecast has a high-potential to become THE gadget your TV needs and now it's up to the developers to create great apps. Which apps would you personally like to see on Chromecast? Share them in the comments section below!