Lots of the bugs in iOS 17 for this year have already been fixed by iPhone users. But Apple also made your phone stronger by adding some new features. The most interesting new thing about these is the standby mode. When not in use, it turns your iPhone into a smart screen.
When your iPhone is being charged, StandBy mode kicks in. In this mode, you can see the time, photos, and even widgets like the ones on your lock or home screen. It's easy to set up and use. Any iPhone that can run iOS 17 can use it, but phones with MagSafe and screens that stay on all the time work best.
Best iOS 17 StandBy Widgets
1. Carrot Weather
If you want to see accurate current, hourly, and daily weather forecasts on your StandBy screen right away, get the Carrot Weather app. Apple's App of the Year and Editor's Choice are just two of the many awards the app has won over the years. Also, lots of people around the world love it and use it. The people who work on this weather app are always up to date on the latest Apple changes, which makes it stand out.
Users can have the best experience possible this way. With this app, you can see accurate weather forecasts on the StandBy screen of your iPhone. This lets you plan your day or an early morning road trip. The StandBy widgets cost money, but the app is useful overall.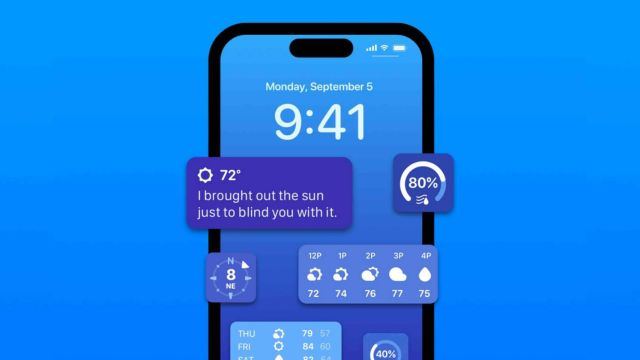 2. Overcast
You don't need to work in StandBy mode. It can also be used every day to have fun. Most iPhone users agree that Overcast is the best podcast app. It lets you work or drink coffee at the same time. A lot of awards have been given to it for being strong and simple to use. With smart speed, voice boost, offline listening, making your own playlists, and CarPlay support, you can get a lot done. The app also lets you pause or play podcasts without unlocking the phone and shows you recently played podcasts when the iPhone is silent.
3. Sports Alerts
If you like sports, this iPhone StandBy widget can help you keep up with your favorite team, upcoming games, sports news, scores, and more. You can pick which teams and leagues to follow with the Sports Alerts app. Then it shows you the information in real-time, like the score or information about games that are coming up. It has NBA, NFL, soccer, golf, and other sports news and alerts. You can always see your favorite team's score, rank, and other news without having to open the app. It really helps when you need to know what's going on at work.
4. Lookup Dictionary
This mode in iOS 17 is meant to make it easy to see what's important. There's nothing better than learning new words while your iPhone charges. This app is great for people who like to learn new words and look them up. The Word of the Day is the best thing about the app. A lot of other useful things are also built-in. To help you remember, there will be a word and a picture. This looks like a fun way to learn that will help you get better much faster.
There are iOS 17 StandBy widgets that work with the app as well. The app can show you the word and picture, look through your collections, help you learn, or go through days that have already passed. You can get them for free from the iPhone StandBy app. You can get more word cards, a thesaurus, and the ability to group words together for extra money.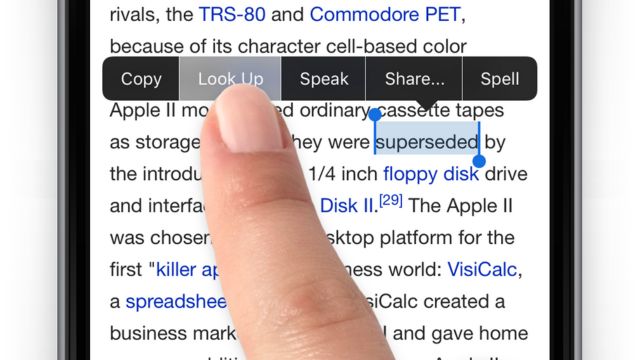 5. SmartGym
Take notes at the gym to keep track of the times you work out. Trainers can use SmartGym to keep track of their client's progress. This iOS app is beneficial; it has AI that makes workout plans just for you based on how fit you are and the tools you have. It also tells you about changes and new information as you get closer to your goal.
You can work out alone and pick the number of reps. SmartGym has some widgets for iPhone users that can help them stay motivated. There is a list of workouts coming up, a chart for your weekly workouts, a quote of the day, and a summary of your workouts for the week or month. The app is free, but you need to pay for a subscription to use the smart trainer, widgets, and more than 140 workouts that were chosen by fitness experts.
6. Countdown Timer
It's easy to see how much time is left until your big day, vacation, or meeting with this app. The app makes the iPhone's StandBy mode better by adding two new widgets. There is a Countdown Timer widget on the iPhone's StandBy screen. The first one is Countdown Timer Simple. Every day, it changes, and it's easy to see how long you have left. The second iPhone StandBy widget stands out because it has a pretty theme over it. It makes your screen look better and shows the time. What's the best? You don't have to pay anything in the app to get these iPhone StandBy widgets.
7. Broadcasts
The Broadcasts app for iOS is simple and easy to use. It lets you listen to radio stations from all over the world. You can look through a library of stations, pick the ones you like, and then add them to your files. While the app is free, you can only use a few spots. If you sign up for free, you can add as many stations as you want and get full access.
There are now widgets in the Broadcast app that let you manage your playlists and favorite radio stations without having to open the app. This app also adds widgets to the iPhone's StandBy mode, which lets you access your recently played stations and change the volume of music playing from screens that aren't being used.
8. iScreen: Widgets & Themes
You can make your iPhone's StandBy mode more fun, useful, and unique with this widget. With the great app iScreen, you can customize your iPhone by adding widgets, beautiful wallpapers, and your own themes. This app also works with new features, such as StandBy mode and interactive widgets in iOS 17. With iScreen, you can choose from up to 10 iPhone StandBy widgets.
There is a clock, a calendar, mood stickers, a Pixel clock, and more. I really like the free X Panel Left widget. It shows your network settings, brightness level, battery size, and charging status right now. This is the best app for you if you want to make your own lock screen that charges your phone.
9. Structured: Daily Planner
This is the best iPhone app for getting things done. It helps you plan your day, remember what you need to do, and get it done faster. Putting everything together: This app will help you keep track of your plans and make the most of your time. A clear day plan can help, but we need to use it sometimes to make sure we don't forget anything. The iPhone StandBy widgets let you see your list of things to do, see what's due soon or right now, or keep track of the schedule.
10. Dark Noise
It can help people study, meditate, do important things, or fall asleep to have noise in the background. If that sounds like you, the Dark Noise iPhone StandBy widget can help you a lot. You can change many things and it has more than 50 sounds. You can play a sound or switch to a different app without opening an app in iOS 17 Standby Mode. It comes with up to 8 free sounds that you can use. If you pay the extra level, you can have all 50 sounds. If you buy the app, you can also make your own mixes, so you can find the right music to work, sleep, or relax.
11. Flighty
Check out Flighty right now if you fly a lot. It's a great app for your iPhone. You can use it to keep track of your flights and get visual alerts and real-time information about things like canceled flights, delays, gate changes, and more. It can also tell you when your next flight is. With the free StandBy app on your iPhone, you can check in for your flight while you're still in bed.
It's simple to use and works with all flights and airlines around the world. Sign up for an account if you'd like to get extra features like Live Activities and Push Alerts. Putting this widget on the StandBy screen of your iPhone will help you fly better.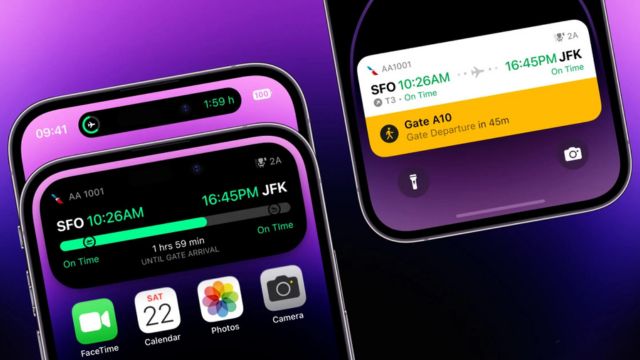 12. World Clock Time Widget
Want to know what time it is in many cities around the world? Then the World Clock Time iPhone StandBy Widget can help you. It gives your iPhone's StandBy screen a world clock. That helps you stay in touch with family and friends who live far away or find out what time it is in a client or coworker's time zone who works in a different country. This iPhone StandBy widget is free to get and use, but if you pay for it, the ads will go away and you can change the widget and set the time in seconds.
Conclusion
"Standby" mode is one of the best new apps in iOS 17 for iPhone. You can now set up your phone to stand by in landscape mode and change a lot of settings. This part of the lock screen changes how it works. It's up to you whether you want two views or a clock face that fills the whole screen. In this mode, you can also add widgets from outside the app store to your device, which makes it even more unique.
Check out those StandBy widgets for the iPhone. We hope you liked this list and checked off the ones you liked the most. You now know how to make the StandBy screen on your iPhone smarter, more useful, and more interactive. What was your favorite little thing? To read more content like this, visit https://www.trendblog.net.
Frequently Asked Questions (FAQs)
In StandBy mode, what kinds of iPhones can be used?
This mode can be used by anyone with an iPhone that has iOS 17. All iPhones up to the iPhone XR get this much help. This is a complete list of everything that can link to it.
Is this mode always on?
Only iPhones with screens that stay on all the time will work in standby mode. At the time it was written, this meant the iPhone 14 Pro and iPhone 14 Pro Max. On older phones, standby mode will end on its own after 30 seconds.
What kind of dock can I use when StandBy mode is on?
When your phone is in StandBy mode, you can use chargers that are plugged in, wireless chargers that work with Qi, or chargers that are MagSafe-certified. To get into StandBy mode, the iPhone needs to be flat on a table or something else. The MagSafe location awareness app needs to be charged to work.