For some event organizations, creating the perfect lighting for every aspect of the event can be a nightmare. Therefore, you need to choose a combination of suitable devices to make everything look perfect.
Since we are talking about projecting, we will present to you the overall difference between projectors and the main difference between 2000 Lumens and 3000 Lumens. Why aren't all lumens created equal, and how can you hack a little more brightness out of your projector without increasing the lumen?  
Before we talk about how many lumens you need, we first need to talk about a lumen itself. A lumen is a measure of brightness coming from a light source. An example would be a light, the sun, a projector, a flashlight, anything like that. We have a lumen rating that shows the intensity of the lightning in the room. Now, when it comes to projectors, not all lumens are created equally. There are white lumens, and there are color lumens.  
So when you compare your projectors, you want to try to have an equal white lumen rating to your color lumen rating. Let's say that you have 3000 white lumens and 3000 color lumens. That means that besides bright and vivid colors, you will have a well-balanced background and a good light in general.
How many lumens do you need for your event? 
We're going to talk about three different types of events. Two of them are kind of similar. Firstly, there are outdoor events. We will talk about indoor events with high ambient light, like a hall or a wedding venue. And we're going to talk about indoor controlled environments, such as a conference room where there's no exterior light and where's no ambient light. It's just a room with four walls that you can control the light completely.
Outdoor events 
If you're talking about outdoor projection, we recommend that you go with a higher lumen projector for an outdoor projection screen of up to eight feet wide. If you're trying to project an image onto your screen an hour before sunset, I highly recommend that you consider either renting a TV for your event or using a led video wall. A 3,000-lumen projector will get you a good image on the screen if you're doing outdoor movie night. This will get you an hour more video time compared to a 2000 lumen projector. 
A 3,000-lumen projector would work great on an 8-foot widescreen. It's super popular at weddings and backyard movie nights.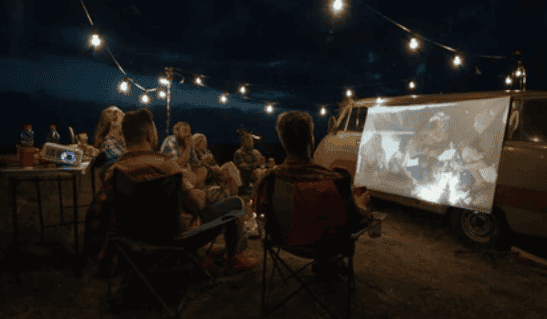 Indoor events without controlled lights
Now, if your event is indoors with a high amount of ambient light, like a hall or a golf course, it depends on the number of windows in that hall. If you have a ton of windows to make it look like it's an outdoor event, then again, we highly recommend that you go with the TV. 
If it has a medium amount of windows, which is hard to judge, but if it's a typical wedding hall with one wall of windows, we highly recommend either a 5,000 or a 6,000-lumen projector for daytime projection inside on an 8-foot widescreen. Suppose you go with the smaller screen, you can go with the slightly smaller projector. The ratio of projector lumens and screen size rises exponentially once you're trying to get a bigger screen in those environments that don't have controlled amounts of ambient light.
An indoor event in a controlled environment 
If you can control the lights down to a dinner level setting, if you can use stage lights to make your stage bright, and you can keep the room quite dark, you can save a lot of money on projection. If you want a high amount of ambient light in the room, for example, the ballroom lights on full, you probably need something closer to 8.000 or 10.000 lumens for a large 16-foot widescreen. 
Again, just depending on what lights are set to inside the venue, we regularly use the 3,000-lumen projector on an 8-foot wide projector screen. If there is a possibility to control the light inside the venue, it looks great. We've never had any complaints, but again, you should use a high-quality 3,000-lumen projector like Epson or Panasonic. They have a really high color rating compared to some other projectors.
A hack that can help you save a significant amount of lumens you need for your projector is a short throw lens to shorten the distance between the projector and the screen. That means that there's less light interference going between the beam of the projector and the screen. If you use a long lens and a bright projector all the way to a screen, there's so much room for light interference that a lot of those lightweights just don't make it to the screen.
In addition, here's the table of lightbulbs and number of lumens to expect from it.
| | | | | | | |
| --- | --- | --- | --- | --- | --- | --- |
| Brigthness | 450 lumens | 800 lumens | 1100 lumens | 1600 lumens | 2600 lumens | 5800 lumens |
| Lightbulb type |   |   |   |   |   |   |
| LED | 6W | 9-10W | 13W | 16-18W | 24W | 45W |
| Regular | 40W | 60W | 75W | 100W | 150W | 300W |
| Halogen | 29W | 43W | 53W | 72W | 150W | 300W |
| CFL | 8-9W | 13-14W | 18-19W | 23W | 40W | 85W |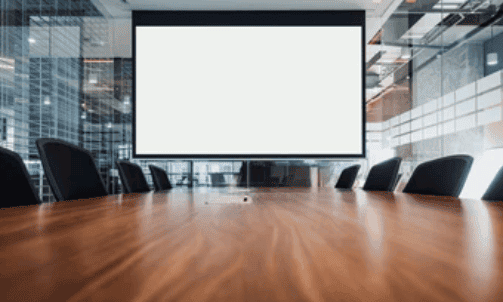 Conclusion 3000 Lumens vs. 2000 Lumens 
We don't usually mention 2000 Lumens projectors because they are not even used for professionally organized events. Everything under 3000 Lumens is pointless, unless for a short university presentation in a classroom, gaming rooms, or any occasion in a small closed area.
Of course, in addition to quality, there comes the price, and sometimes you can't afford yourself a higher lumen projector; that's why you now have more information available to you to make a perfect choice. You can start with this Reddit discussion on the subject and get more info.
If you cannot decide, check out this YouTube video, it'll show you main differences. https://www.youtube.com/watch?v=c1N6AgynMg8
What projectors are you using, and for what kind of events? What is your perfect projector setting? Let us know in the comment section below!