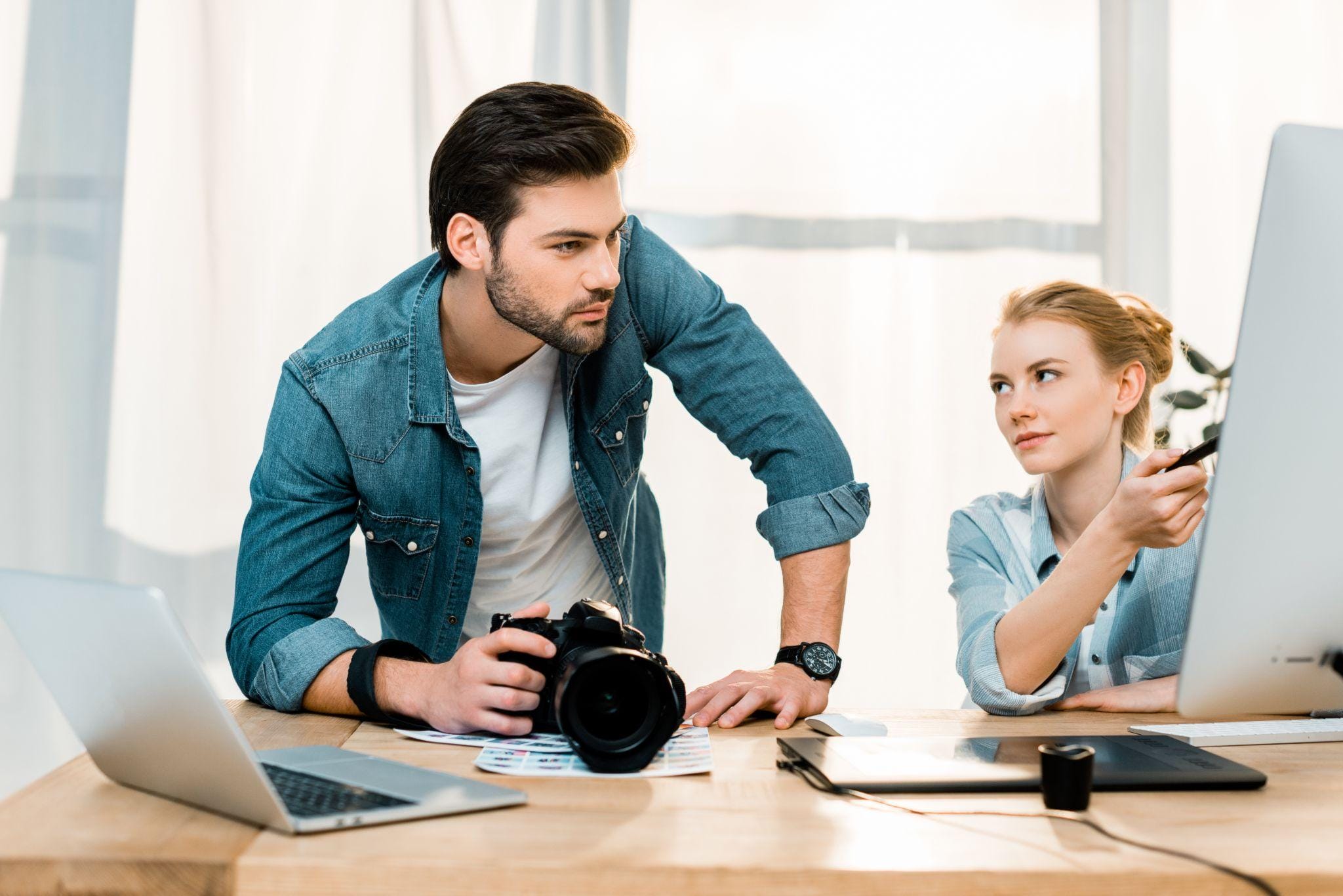 5 Tips to Help You Pick the Best Stock Photos for Your Website
Should you use images on your website? Definitely! Pictures help your site look appealing and improve informational perception. According to Brain Rules by John Medina, people retain 65% of the information if it's paired with a relevant image. However, not all stock photos will help you achieve that. It's essential to choose visuals carefully to get the best results.
Images must be colour appropriate, relevant to your brand, fit the concept idea, and cover many other aspects. Read on to discover where to find and how to choose the most relevant, high-quality pictures for your website.
How to Choose Perfect Stock Images for the Websites
Use Reliable Sources
If you haven't worked with images on the web before, it's always safer and easier to use trusted stock photo websites. First, you will find thousands of beautiful high-quality pictures there. Second, you won't have to worry about licensing issues: photos, vectors, and illustrations on these platforms can be used legally for commercial and non-commercial purposes.
Although there are plenty of online stock libraries, it's always better to pick the most trustworthy ones. The top three stock content platforms include:
Depositphotos.com. The platform has been on the market since 2009 and now offers 230+ million royalty-free photos, vectors, illustrations, videos, and music. You can browse 70,000 free files, including HD pics for websites, or purchase a subscription or on-demand plan to download and use any visual from the platform.
Pixabay.com. This website features 2.5+ million entirely free stock images available for commercial and personal use without attribution. If you like a certain Pixabay picture, you can support its author by donating.
Unsplash.com. Unlike previous websites, Unsplash focuses on photos only. Every beginner and professional photographer can upload photographs to this website to show off their work. There are currently 2+ million free images featured on Unsplash.
Pay Attention to the Details
Looking for the perfect online image for your website can be more challenging than it seems, even if you're working with stocks. You will hardly find any low-quality photos there, but the quality is not the only thing you should pay attention to. For instance, while image size and resolution always matter, the requirements for blog photos and pictures used in website design might differ.
You need to look for large sizes and high resolution to ensure that the image looks good on both small and big screens. Always check the focus on the photos, especially if you'll be using them to illustrate certain concepts. This way, you'll ensure that the users' attention is directed toward the needed object.
If you're using photos for landing pages, pop-ups, and ads, pick ones that will guide your audience. For example, help turn their attention to a clickable button or a form to fill out. Images portraying a person looking or pointing in the desired direction will naturally switch the users' gaze from a photo to the offer.
Align Photos With Your Brand Style
The photos have to look good and align with the image of a website and brand. Pay attention to the picture colours. They might not match your site's colour scheme, but they still have to look organic. For instance, dark photos might not be a good match for light, tender, pastel designs, and vice versa.
Choose images that portray your target audience or the products you are selling. Try to illustrate how your brand can improve lives. For instance, if you run a loungewear brand, pick images that demonstrate comfort and coziness. Remember: the text isn't the only way to tell a story—pictures can do that too.
They explain things visually, speak to customers, and help them understand the message you're trying to deliver.
Choose Vivid, Emotional Images
Years ago, image stocks were filled with typical stock photos, staged poses, and forced smiles; marketers used these pictures everywhere. Luckily, those days are long gone, and now you can find all kinds of vivid, beautiful, and authentic photographs. Choose images that speak to customers emotionally and naturally grab their attention.
If you pick photos of people, opt for those that express sincere emotions. If you want to use pictures of products, look for more realistic ones, e.g., headphones lying on a table among other stuff, instead of neat photos of headphones in the box. Make it easier for customers to associate themselves with your product, business, or lifestyle that you support and promote.
This way, they will be more willing to choose exactly your brand.
Maintain Visual Consistency
Although it's hard to find a set of images perfect for your needs, you can still make various pictures look similar on your website. Here's how to achieve that:
Make sure that the colour scheme in all pictures is similar.
Adjust the colours or apply a filter when working with different colour schemes.
If you use a filter, apply it to all photos.
Ensure that all images are the same size—resize and crop if necessary.
These adjustments won't take much time but will help your website look more accurate and consistent. Also, sticking to a specific style of images, e.g., illustrations, one colour scheme, or monochrome photos, can help you increase brand recognition.
How to Optimize Your Images for Websites
Don't neglect image optimization. It will improve the loading speed of your website and ensure that all the pictures are displayed and perceived correctly. Here is how you can do so:
Pick the right file type. JPG files are an excellent solution for photos as they maintain deep and bright colours. However, if your goal is to achieve high scalability, vector formats, SVG and PNG are better options. You can easily scale vectors without any quality loss.
Name the files properly. For example, name your image "woman-smiling.jpg," not "Image1.jpg". It will be easier for you to organize and understand where to post a picture, and in case users decide to download it from your website, it is appropriately named.
Optimize the image size. Sometimes, even resizing a photo is enough, as it can significantly reduce its weight and directly affect the page's loading speed. To reduce the image size, you can use online compressors like TinyPNG or CompressJPEG. These websites automatically compress images while maintaining their high quality.
To Sum Up
Today, you don't need to hire a photographer to fill your website with beautiful, high-quality photos. Instead, you can find them on image stocks that offer millions of pictures that you can legally use. Pick photos that align with your company's image and appeal to user emotions.
Avoid typical stock photos and, instead, turn your attention to more natural ones. Also, don't neglect photo optimization. This routine won't take much of your time but will help you boost your website's performance and improve brand recognition.