Pair Your Apple Airpods Max, Airpods Pro and Airpods to Ps4 & Ps5: How to Connect Airpods/bluetooth Headphones to Ps4, Ps4 Slim Ps4 Pro and Ps5
Using this guide, you'll learn how to use whatever version of AirPods to PS4 and PS5, as well as what attachments you'll need and which functions you won't be able to use because of that.
Using AirPods to PS4
If you can believe it, the PS4 doesn't come pre-equipped with Bluetooth audio. That means you'll have to purchase extras to use AirPods or any other Bluetooth headphones with it. Without an adaptor, PS4 would be able to identify your AirPods, and then you'll have to go through pair procedure up until the very end, when it will fail. Annoying!
PS4 Bluetooth adapters that allow Bluetooth audio may be purchased and plugged into the console to get around this issue.
AirPods first generation, AirPods wireless power case, & AirPods Pro are all covered by the instructions in this article.
Thanks to a rather straightforward workaround, you can utilise your Apple AirPods or Apple AirPods Pro with your PS4.
Twelve South's AirFly Bluetooth adapter lets you use your AirPods with a variety of devices, including gym equipment, aeroplane in-flight TVs, and anything else with an aux port.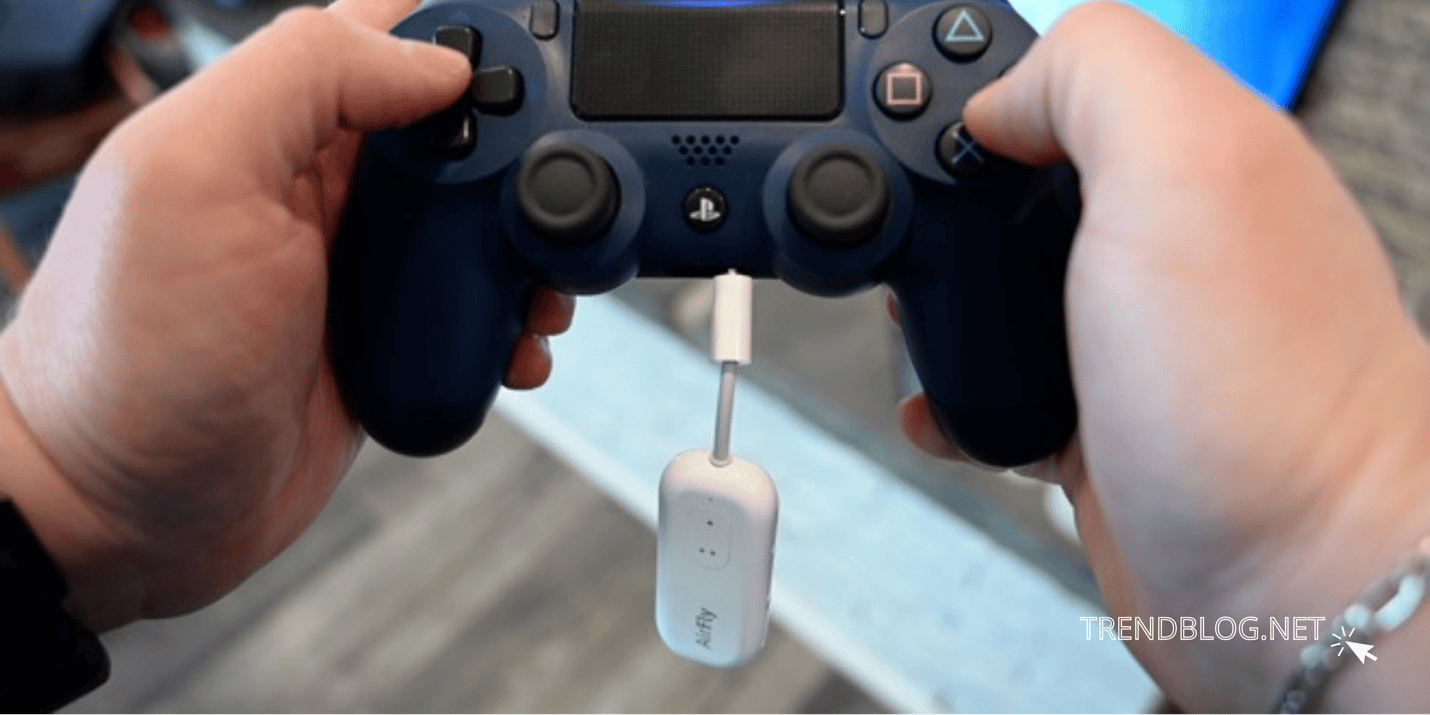 This includes Dualshock 4 controller's auxiliary connector on the bottom.
You may use this method on the AirFly Duo and the AirFly Pro at the same time. Using your car's radio or any other sound equipment will allow the pro to serve as a receiver as well. There is no difference between the two on a PS4.
Here's How to Connect Your Playstation 4 to Your Apple Airpods 1 or 2 or 3, or Airpods Pro or Airpods Max.
While it does hang a little, it's so little and unobtrusive that we didn't notice it while playing. If you want to get rid of it completely, just use a piece of Velcro to attach it to the bottom of your PS4.
You may now listen to PlayStation 4 audio with Pods or any Bluetooth headphones instead of the built-in speakers. Hold down the PS button in the Dualshock 4's centre to change the level and make sure that all audio is going through the headphones rather than just speaking.
There is one restriction, however: you may just listen to the talk but not participate in it. Other adapters, such as AirFly, can only transfer audio to headphones; they are unable to receive audio from your voice conversation. As long as you can hear the PS4 audio, you may play your PS4, crank up the level, and not bother anybody else.
How to Use AirPods to PS4
To connect your AirPods to PS4, you'll need to utilise a Bluetooth adaptor.
Check to see whether your AirPods are fully charged. If the Bluetooth dongle is powered by a battery, this also applies. PS4 controller headphones, such as the AirFly Duo, need battery power since they attach into the controller's headphone socket). Other Bluetooth adapters are powered by the PS4's USB ports and don't need a separate battery.)
Connect your PS4's Bluetooth adapter.
Set up the Bluetooth adapter to link with your phone or other Bluetooth device. If you're not sure how to do it, go to the user manual that came with your device.
Open the charging case and pressing and holding the syncing key on your AirPods while they are plugged in.
The Bluetooth adapter's lights will continue to flash until you release the button. The AirPods and adaptor are now connected.
By checking the PS4's settings, you may verify that the PS4 itself is transferred to the AirPods. Navigate to Settings > Devices > Audio Devices in the Apple menu bar on your Mac.
If you're using Audio Devices, you'll want to make two changes:

Device used to generate output: To make use of your Bluetooth adapter, choose Headphones Connected to Controller.
Set All Audio as the output to headphones.

In the Level Control (Headphones) menu, you may also adjust the volume of audio delivered from PS4 into the AirPods.
Once you've done that, your PS4's audio will stream directly to your AirPods, and you're good to go!
With a Bluetooth adaptor, you can use any Bluetooth device, not only AirPods, to connect your PS4 to your wireless headphones.
Can You Talk to Other Gamers on PS4 Using AirPods?
Despite the fact that this guide shows you how to link your AirPods to PS4 via USB, there is one drawback: Despite the fact that AirPods feature a microphone, you can't utilise it to communicate with your other gamers while you're playing. You can't play audio from your PS4 to your headphones and vice versa with most Bluetooth adapters. To do this, you'll need headphones designed exclusively for the PlayStation 4.
Bluetooth adapters are an excellent choice if you just want to listen to music without disturbing others.
Use These Steps if You Want to Connect Your Airpods to Your Playstation 5.
Even though the PS5 is the most recent and finest video game system, it does not come pre-loaded with Bluetooth audio capabilities. As a result, no Bluetooth headphones—including Apple's AirPods—will work with the PlayStation 5 unless you purchase an add-on.
Even though the PS5 can identify the AirPods or even other earphones through Bluetooth, the connecting procedure fails when you get to the last stage. Fail miserably!
An adaptor that enables Bluetooth audio and connects into the console might help you get around this problem. Fortunately, Bluetooth adapters abound, and they're all quite cheap (around $50). To use an adapter, connect it to one of the PS5's USB ports, your TV's HDMI connector, or the controller's headphone jack. It doesn't matter which one you acquire since they all operate the same way.
There are instructions here for connecting AirPods to a PS5, but they may be used to any Bluetooth headphone as well.
Using AirPods to PS5
Follow these instructions to link your AirPods to PS5:
Verify that your AirPods are fully charged before using them. Assuming your Bluetooth adapter is powered by the PS5 controller's battery, make certain that it is fully charged as well. No need to charge PS5 and TV adapters since they obtain their energy from the respective gadgets.
PS5, TV, and controllers all support Bluetooth connectivity.
Set up the Bluetooth adapter to link with your phone or other Bluetooth device. Check the instructions for your specific device to see how to enter pairing mode. When it's in pairing mode, you'll see a blinking light.
Open the charging case while the AirPods are still in it. Hold down the case's button for a few seconds.
As long as you have the AirPods case on, hold down the button till the Bluetooth LED adapter light goes solid. That's an indication that the AirPods and adaptor have been successfully connected.
Insert you're AirPods in the ears and start listening to music. Play a game or do anything at all on the PS5 which has audio output and see how it sounds. AirPods should pick up sounds from the PS5.
In the Event That You Cannot Hear Audio, What Should You Do?
If you've completed the above instructions and are still unable to hear anything at all from the AirPods, you must double-check that they're properly connected to your PS5 console.
Select Settings from the Apps menu.
Choose Sound from the Sound menu.
Select Audio Output from the drop-down menu.
Select the output device from the drop-down menu that appears.
You'll be prompted to pick your Bluetooth device on the next screen.