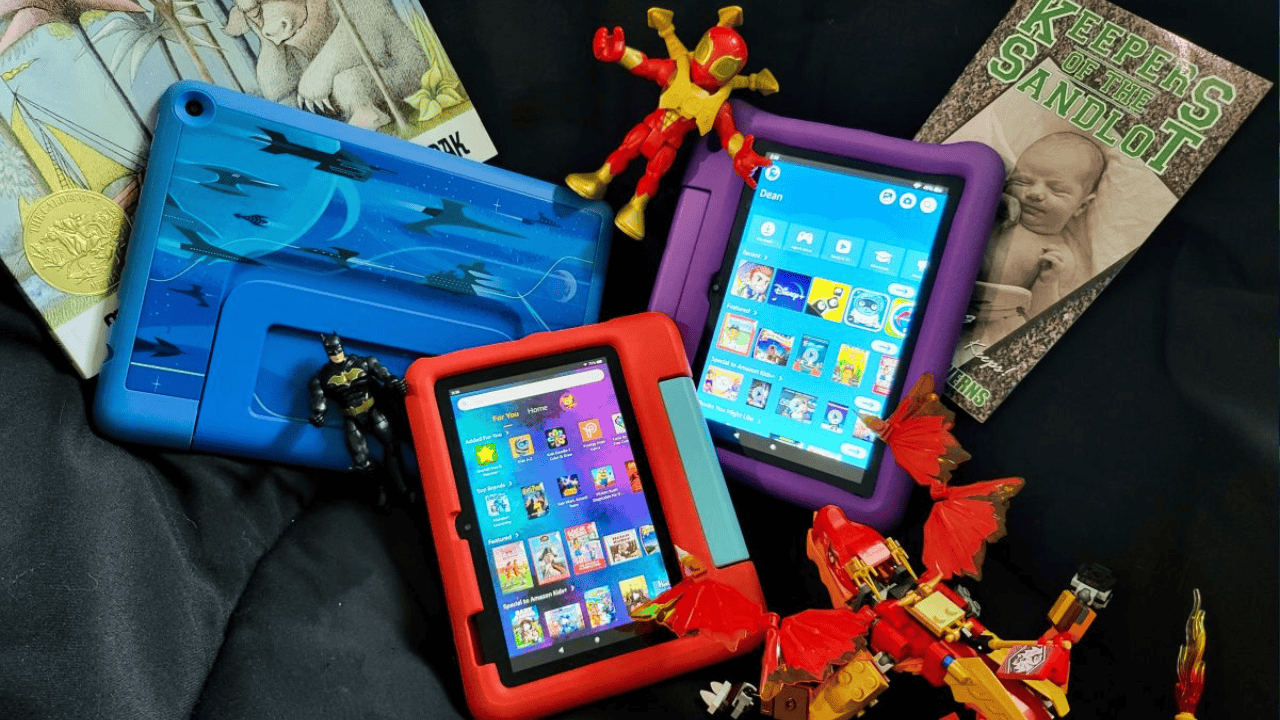 Amazon Fire 7 Tablet Review: Safe, Sturdy, but Slow
Amazon Fire 7 tablet, Things have changed a lot since the Game Boys of my youth. It's now possible for kids to take their favorite books, videos, apps, and games with them wherever they go. Designed for children, the Amazon Fire 7 Kids (2022) has a hard-wearing exterior and extensive parental controls.
Amazon Fire 7 Tablet Withstanding Small-Handed Use
Dimensions (in inches) of the protective case: 6.4″ (162.56 x 200.66 x 27.94mm)
A 7-inch screen (177.8mm)

The screen resolution is 1024 x 600 (171 PPI)

It weighs approximately 15.1 ounces (429g)
Design of the Situation
In terms of design, the Amazon Fire 7 Kids is an excellent choice for children. The tablet's red foam bumper case provides a firm surface to hold onto. It's also incredibly light, weighing in at just under a pound.

This is a great option for kids who like to get a little rough and tumble (just like my own). On both hard and soft surfaces, this tablet was dropped at least a few times. Every time, it came out unscathed.

For cleaning cookie crumbs or adding more memory cards, simply pop off the tablet's bumper case.

This tablet is not water-resistant, as should be obvious. Even if you do end up in the pool unintentionally, Amazon's worry-free two-year guarantee will give you some peace of mind.

It has a built-in handle and kickstand, which is a nice touch. The tablet's kickstand can be folded into a handle so that it's easy for kids to grab and go while they watch videos on any flat surface.
Display Dimensions and Resolution
Because of its 7-inch screen size, the Fire 7 Tablet Kids is not ideal for younger children (177.8mm). Furthermore, the 171 PPI does not guarantee high-quality images (Pixels Per Inch). However, the screen can be a little difficult to see in bright sunlight or outdoors.
Little eyes may not be put off by low-resolution images. Other tablet options exist if screen size and resolution are more important to you.
Speed and Setup
Getting started was a cinch. Moreover, it included a video that demonstrated some of the tablet's features, which I found extremely useful. Additionally, I was able to set all of the parental controls and quickly connect to Wi-Fi during the setup process.
The tablet was then handed over to my six-year-old son, who was my primary product tester. The tablet's simple interface was easy for him to figure out on his own because he can read basic words and short sentences. Apps and games, recent downloads, and more can all be found in separate sections on the tablet. He was able to quickly locate and download his preferred games, and he was up and running in no time.
The Quad-core 2.0GHz CPU and 2GB of RAM were brought into play at this point. An Apple iPad with an A13 Bionic processor and 3GB of RAM is what my son is used to. When it came to tasks like navigating the interface, switching between apps, and playing games, the iPad easily beat the iPhone in our tests. If the Fire 7 Kids' performance isn't up to your standards, consider one of the other Fire tablets.
Amazon claims that this tablet is 30 percent faster than the Fire 7 Kids 9th Generation when compared to this tablet.
Integrated Cameras
The 2MP cameras on the front and back were a welcome addition, even if they weren't the best. However, regardless of the final images, my son had a lot of fun using the simple photo editing tools to add stickers and text to the photos he took. In addition, the controls were extremely user-friendly.
Mama Approved Parental Controls
I could go on and on about the parental controls on the Amazon Fire 7 Kids (2022) tablet. Nowadays, I consider it essential to keep my child safe while he uses his favourite apps and games. In my experience, I'm not the only one.
When it comes to controlling what our children see and hear, however, technology is still lagging behind. Using a variety of controls, this tablet provided the safety I'd been looking for.
Dashboard for parents
I was able to easily limit my son's screen time with the Parent Dashboard. When it came to turning off and turning on the lights, this included a timer. In addition, I was able to set pre-determined goals for him to meet before he could access his games. For example, I could ask him to read for 30 minutes before unlocking his other apps on the tablet. I was also able to set age restrictions for Amazon Kids+ content and websites through the dashboard. With the "Add Content" feature, I was able to restrict his library's contents and websites based on what I had approved for him to see. In the same way, I could also delete content. It gets better: I created a pin to keep all of the parental controls secure. This means that my son was unable to access the settings and make changes on his own accord.
It was a huge relief for this mama to know that after setting up the tablet, inappropriate content would be nearly impossible to access.
Up to 10 Hours of Playtime!
Mixed-use battery life: up to 10 hours
About 4 hours of charging time using the included 5W power adapter results in a fully charged battery state.
USB-C (2.0) to USB-A charging cable
With mixed use, the Amazon Fire 7 Kids tablet's battery life can last up to 10 hours. Kids can use that time to do things like read, watch movies, and play video games, for example. Keep in mind that the tablet won't last the full 10 hours if you use battery-intensive apps like video streaming services for a long time.
On our recent trip to Disney, the battery life was excellent (hours upon hours away). For the majority of the journey, my son was able to keep himself entertained using his tablet. He was also prepared for the return trip after charging the included cable for four hours at the resort.
The battery life of this tablet: 
It is on par with that of other similar devices on the market. Battery life on Apple's 10.9-inch iPad Air 5th generation, for instance, is rated at up to ten hours.
Of course, the iPad is more powerful than the Fire in terms of productivity. Do children, on the other hand, require a higher standard of performance? In this case, you may want to consider letting your child use their tablet for schoolwork or heavy gaming. The Fire has a 10 hour battery life, which is more than enough for casual gaming and video watching.
Amazon Plus for Kids Is a Welcome Feature
Previously known as Amazon FreeTime Unlimited, Amazon Kids+ is included with the Amazon Fire 7 Kids tablet. Thousands of kid-friendly games, videos, apps, and books can be downloaded right to your child's device with Amazon Kids+. All of them are also ad-free.
Disney, Nickelodeon, and Cartoon Network are just a few of the networks represented on Amazon Kids+. In addition, you can choose from age groups ranging from 3 to 5, 6 to 8, or 9 to 12. In addition, you can have even more control over what your child accesses using the parental controls previously discussed.
The number of apps, games, and downloads available on Amazon Kids+ isn't as large as those on the Apple App Store or Google Play. My son was able to find a number of games he already liked, as well as several new favourites, when he entered the store.
However, Amazon Kids+ is free for the first year following the purchase of your tablet; thereafter, a monthly subscription fee of $4.99 is required. For the ad-free, kid-friendly, and secure experience, this price is well worth it to me.
Is Amazon's Fire 7 Kids Tablet a Good Investment for Your Child?
Is the Amazon Fire 7 Kids tablet worth your money? There are a slew of things to keep in mind. First and foremost, it's important to point out the model's affordability. The Amazon Fire 7 Kids 32GB model costs $129.99 at the time of this article's publication. The Apple iPad Air 10.9-inch (569.99) and the Samsung Galaxy Tab S6 Lite (295.00) cost significantly less than this.
However, there are some disadvantages to paying this much. There are some drawbacks, such as a slower overall operation speed and a lower screen resolution.
Having said that, I believe that this tablet is a good value for parents looking for a fun and long-lasting option for their younger children due to its affordability, safety, and durability.
Also Read: 
Quick Steps on How to delete an Amazon Account?
Check Out Top 30 Amazon Memorial Day Sale 2022
How to Hide Amazon Orders: Element of Surprise Your Orders: 2022 Updated
How to Connect Spotify on your Amazon Alexa
FAQs:
Q1: How do you like the Fire 7 tablets?
If you're just getting started with a tablet, the Fire 7 is a good option. The Fire 7 tablet has the most up-to-date version of the Fire OS software, which the other two tablets do not.
Q2: What is the age of the Fire 7 tablet?
In June 2017, the seventh-generation Fire 7 was released. It was released in June 2019 for the ninth-generation Fire 7.
Q3: What version of the Amazon Fire tablet are we talking about here?
To replace the Fire HD 8 (2018, 8th gen), Fire HD 8 (2020, 10th gen) features a new design, a faster MT8168 SoC, twice the storage (from 16/32GB to 32/64GB), USB-C, a brighter display, and improved wifi fidelity.
Q4: Can Amazon's Fire tablet run the Google search engine?
A customised version of Android, Fire OS, powers Amazon Fire Tablets, which are limited to the Amazon Appstore. Installing the Play Store gives you access to millions of Android apps and games, including Google products like Gmail, Chrome, and Maps.
Q5: Can you use your Amazon Fire tablet to watch YouTube videos?
Follow the on-screen instructions to get YouTube installed. Installing YouTube, in contrast to the hidden Camera app, will result in an Apps icon being displayed. There you are! Kindle Fire HD owners can now watch their favourite YouTube videos.