Android Device Manager: Track and Locate Your Lost Android Device
Have you suffered from the pain of losing your Android device?
Unable to find the device in the pocket when required, is like having a mini heart attack.  I am sure you miss a heartbeat.
Mobile mobiles are not just the means of connectivity, they ease cash transactions, click memories, assist in communication, and most importantly, the increase in storage capacity of devices stores your personal and business data.
Losing a mobile is just like losing yourself in a maze. Unknown to consequences after losing the mobile, most of them don't know what they need to do once their mobile is lost. The owner itself is unaware of the mobile being forgotten or stolen. A forgotten device may return by a genuine person without harming your data. But if the device is stolen, then you will be worried about your data then your device. The deliberately stolen device exposes crucial personal and professional data stored in the device by unwanted means, and this is more dangerous than just losing your data
We often get worried when our device is not reachable, whether it's stolen or forgotten there is this one question of "How to find my Android mobile?"
If you are concern about losing your Android device then you need to have security for your device that could "Find your mobile while switched off".
In this article, we would look into Android Device Manager. No matter if the device is stolen or forgotten it gives you various options that will assist you in finding your android device.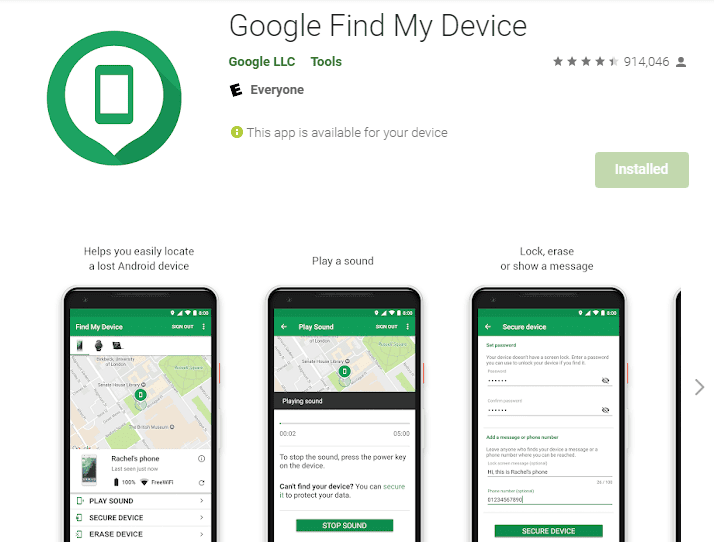 Android Device Manager on play store
What is an Android device manager?
It is not the solution for all your device problems, but a useful kit that could save your data from misuse while it's stolen or lost.
It is an application created by Google to track and manage all Android-based devices. Used as a security feature to locate and wipe the mobile data if stolen or lost, Android Device Manager protects your device once you connect it with your Google account.
Many don't know this, but now you are using an Android device released after May-2010, you can access the Android Device Manager. This system was initiated by Google in v2.2 of Android, though the Android Device Manager works well, it's undisclosed with the larger community. We'll look into its useful features that could save your important and personal data.
How does it work?
The working of Android Device Manager is GPS-based, the singles are constantly sent from your Android-based devices that have GPS transmitter to Google. This regularly sends singles to provide the device information to Google, this helps in locating the device through GPS.  Once you signing the website of Google's Android Device Manager using your liked Google account it displays the location information of your device that is only accessible to you.
Pre-requisite for the Android Device Manager to work?
Once you install the Android Device Manager on your phone, to make it work the phone needs to be working with data and a Wi-Fi connection. The Android device signed to your google account, enables location reporting on your friend's device or laptop that uses the web version of Android Device Manager.  
For a quick look, log in to your Google Account and try clicking on your below link. If you have the same Google account linked to your phone, the phone is listed on the left panel with its battery information and location. 
Log into your Google account. 
Go to https://www.google.com/android/find?u=0
Choose to either "Ring", "Lock", or "erase" your Android device. 
Installation of this device is easy through, Google Play's app, but there are settings needed to allow the app to act as a Device Administrator. This gives it the power to lock or wipe the device.
Four Functionalities of Android Device Manager:
Once you have the Android Device Manager, you will be signing the device manager using a google account. Link your google account with the same account you have on your device. Once you signing in to the device manager, you can select a Google account from the list shared with you. The password for the device manager is the same as your Google account. 
Android Device Manager has four functions that can be used only when you activate Android Device Manager on your device that is your mobile or tablet. 
Location Tracker
1)   Location Tracking:    
 Using Google maps the ADM, tracks the nearest last working location of the device. To view the nearest location, you need to login through your Google account that is linked to your device. 
The web app version of Device Manager shows the location by default, but to know the exact location you need to provide "Access to my location" in the setting of your Android device. 
In case, the mobile and Wi-Fi connectivity is available but GPS access is lacking then it's troublesome for the ADM to show the exact current location of your device. To know the exact location make sure your GPS communication is switch "on", while you travel through a crowded place.
Play sound
2)   Ringing:
Initially, the owner is in denial mode when he learns that the device is lost. Before you get convinced about your lost mobile, Android Device Manager gives you a chance to ring the mobile, so it's easy for you to identify the location that could be near to your or your area. 
The ringing option by default is available, and the owner can give a ring to his mobile through the web app. 
As you ring your mobile, Android Device Manager rings for 5 minutes at its largest volume even if the device is on silent mode or set on the less volume. This option is working on the locked and unlocked device, and also protects your data while it rings. An owner can also change the password. As you ring, the notification is sent on your lost mobile. The device poser can directly contact the owner of the device and is not able to access the mobile data. 
The Android website is accessed by the owner from any device, mobile, or laptop by signing in as a guest from your friend's device. 
To lock and erase the device data, you would require a special setting for your device. Make sure these settings are done before your mobile is lost, else Android Device Manager is not of much help. You need to provide special permission for Android Device Manager to access your device as an administrator for erasing and lock function.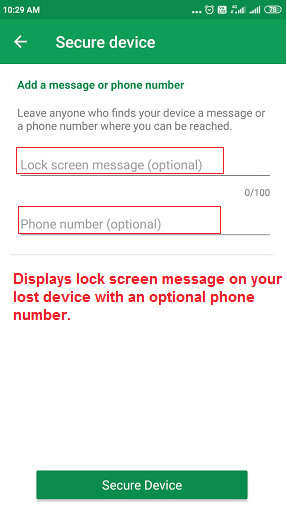 Display message on the lock screen
3)   Lock:    
As your device is locked, you will get an option to provide a new password to lock your lost device. This helps when the existing password is easy to predict by the thieves. Also if the password does not exist you can apply a new password to avoid a data breach.
4)   Wipe / Erase:
Once the device owner is convinced of losing his mobile, he has the option of wipe to delete the data from further misuse. This option provided by Android Device Manager restores the device to factory production. Once this option is applied, the device manager will not be able to access or locate this device. 
The device manager works online and offline. In case the device is offline, the device owner can instruct the manager to wipe the data, as so as the device is online the data is permanently wiped from the store. 
Ring if you feel the device location is nearby, lock it if your device is unlocked, erase/wipe the device if the device is stolen.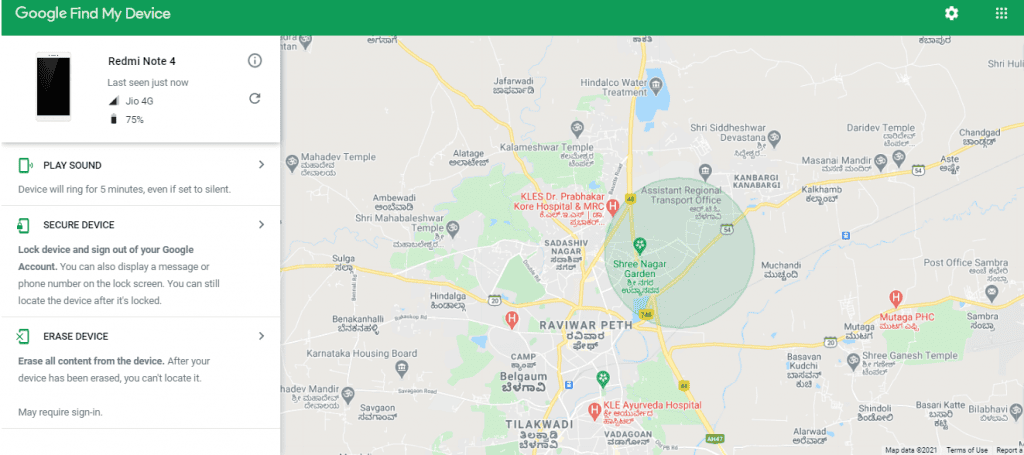 Accessing device through Web
What all can be done using the Android device manager?
Android Device Manager is a user-friendly app, easy to use there are basic settings required after it is downloaded and installed as an app.
1)   Connect your Android device manager to your Google Account:
Use the same Google Account that is linked to your device. If you use a different account that is not linked to your Android Device Manager, then it will not be able to locate the phone.
2)   Turning on the location feature: 
To access the location of the device, turn on "Find my location". The pointed location may not be as exact if the GPS is switched off. 
Make sure to switch on the GPS of your device, when you travel in crowded places.
3)   Enabling remote data wipe:
To wipe or erase the data, it's necessary to provide permission for Android Device Manager to act as an administrator. This is the last step, to protect your data. Once you wipe or erase the data the device turns itself with the factory-made settings, with all the data and apps erased.
4)   Use a different device to Login into Android Device Manager:
Since your device is lost you can connect to the Android devices manager through your friend's device to control your device. As the ADM is linked to your device through a google account, make sure you login with the same google account. 
As you log in the dashboard of the Android device manager is filled with details like location which is displayed directly on the map. It also displays the battery level and online details of the device during that time. In case the device is offline then the last location of the device while it was online or active will be displayed.
5)   Lock device or Erase data:
It safeguards your phone by locking it or easing it, to use this you need to login through your Google account and have and provide Android Device Manager an admin provision. Once you delete the data you will not able to retrieve or communicate with the device any further. 
Erase option erased all your apps, photos, music, and other data stored while the device is online or offline. You need to be careful while you use this option to delete data. 
What an Android device Manager cannot do?
We have spoken about how the ADM helps you to locate, ring, wipe or erase your data once lost or stolen. This is to save your data from getting breached.
But in case your data is stored in SD cards, the Android device manager won't help you to lock your data as SD can be removed and access by another device.
Answering Common question on Android Device Manager
Can Android Device Manager work offline?
The advantage of using Android Device Manager is it works for offline devices. For its efficient working, you need to provide the settings and GPS to locate the device. To erase data, your need to log in or sign in to your Google Account before your instruct to erase the data.
Can we track the device once the data is erased?
Once the data is erased the device is reset to factory design. All your passwords, apps, photos, and history of work and cookies will be erased. Once erase you will not able to track or communicate with your device.
Can we use Android Device Manager once we change the password of our Google account? Yes, Android Device Manager can be used even if Google's password changes.
Can we access the Android Desktop Manager desktop version? Yes using Google maps, the ADM provides the basic feature of ringing and locating your device by default.
Take Away:
Rolled out in v2.2 of the Android framework, this manager can be easily used by default. It's a security system that helps you to save your data from leakage or misuse. The Android Device Manager is carefully crafted to provide two ways to retrieve your lost phone or save your data from impropriate usage.
The genuine person can see a displayed number to call back, but as the owner gets confident of the phone been lifted the Android Device Manager allows him to erase its apps, data, and other social media content in the data. This way you save your contacts from trouble.