Apple M1 Ultra vs M1 Max : Detailed Comparison: Price, BenchMark
Apple M1 Ultra vs M1 Max?  The Apple M1 Ultra is Apple's newest piece of custom silicon, and it's the company's most powerful M1 chip to date. The M1 Ultra is an immensely powerful SoC that was unveiled during Apple's March 2022 event (system-on-chip). It's effectively two M1 Max chips connected together, utilizing a previously "secret feature" of the Max: special die-to-die connector technology that allows two Max chips to work together for all-new power levels. We're inclined to believe this based on the first Apple M1 Ultra benchmarks, which indicate incredible processing power.
This connecting technology is dubbed "Ultra Fusion" by Apple, and it appears to be allowing Apple silicon to achieve previously unheard-of levels of performance. It will make its debut in the Apple Mac Studio in March 2022, a Mac desktop that sits between the Mac Pro and the Mac mini.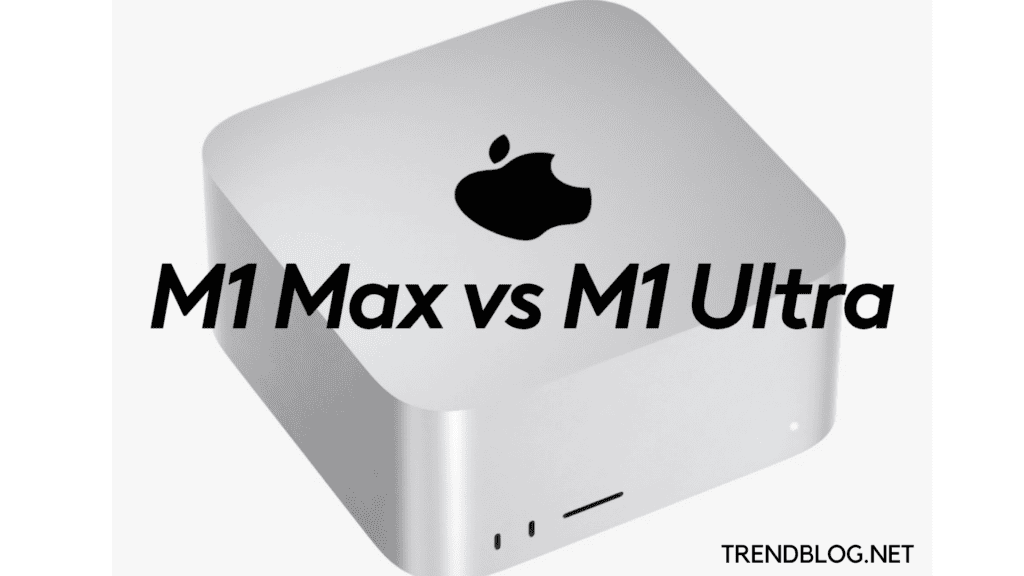 Apple M1 Ultra vs M1 Max
During today's Spring Event, Apple unveiled the Apple M1 Ultra, a revolutionary desktop CPU. Apple's M1, M1 Pro, and M1 Max CPUs were already groundbreaking, but the M1 Ultra takes things much farther. But, in comparison to the newly introduced M1 Max, how excellent is the new Apple M1 Ultra chip? As a result, we'll evaluate and contrast the Apple M1 Ultra and Apple M1 Max in terms of CPU and GPU performance, battery life, and other factors in this post. While we're on the subject, let's compare the Apple M1 Ultra to its sibling, the Apple M1 Max.
Apple M1 ultra vs M1 max is a hot issue among computer enthusiasts these days, with many debating which is better. However, there is no need to debate which is better because both are superior in their own right. 
Price Comparison
The apple M1 ultra price  is $6199 and In indian currency it is  Rs. 389900 with 64 gb ram and 1tb of SSD. 
@Benchleaks published a fresh Apple M1 Ultra benchmark on Twitter, revealing an astonishing multi-core result of 24,055 points in Geekbench 5 for Apple's latest flagship. The M1 Ultra's performance was so strong that it was able. To close the gap on AMD's Ryzen Threadripper 3990X 64 core processor. Only a few percentage points behind it.
The M1 Ultra now has a total of 20 CPU cores. With 16 of them dedicated to high performance and. The remaining four serving as efficiency cores. The GPU core count has also been boosted to 64 cores. With 128GB of unified memory running at an incredible 800GBps.
The M1 Ultra's performance is undeniably outstanding. The total multi-threaded score for this Geekbench 5 run was 24,055 points. To put things into perspective. AMD's Threadripper 3990X with 64 Zen 2 cores is only 4.5 percent quicker, scoring 25,133 points.
About the Mi ultra Vs intel :
Apple made a big impression at their Sping "Peek Performance" event by introducing the new M1 Ultra SoC, which astonished everyone. The new is Apple's most powerful chip to date, and it's the fourth and last member of the M1 family. However, many of you have been wondering how the M1 Ultra compares to Intel's latest 12th-generation processors since its announcement. After all, Intel's 12th generation processor has seen substantial advances this year. So, in this article, we'll compare the Apple M1 Ultra to the Intel 12th-generation processor to find which one is better.
While Intel's new Alder Lake family includes a large number of CPUs for both desktop and laptop use, we'll only be using the M1 Ultra with Intel's 12th-generation desktop chips. Because the M1 Ultra is a workstation CPU, it will be in charge of powering the next generation of high-performance Mac computers. While the M1 Ultra is first seen in the new Mac Studio, we expect Apple to use the same processor in future Mac desktops such as the Mac Pro.
M1 ultra vs 12900k
Which is the best? Apple claims the M1 Ultra is the most powerful chip ever made for a personal computer, a claim that Intel made after launching its Core i9-12900K CPU. Clearly, both processors will deliver a massive amount of power and offer speeds that are far quicker than most consumers will ever require. On the other hand, software and hardware demands are always increasing, necessitating the use of more powerful CPUs to stay up.
In the fourth quarter of 2021, Intel released the Core i9-12900K processor. This top-of-the-line CPU adds 8 efficiency cores to the Core i9-11900K, doubling the number of cores. When running less demanding operations, the ability to transition to lower power consumption is analogous to Apple's M1 family of CPUs. Intel also expanded Level-3 cache capacity to 30 megabytes, allowing the processor to handle more instructions at maximum speed without having to wait for additional to be acquired from slower memory. The 10-nanometer technology used in the Core i9-12900K provides substantial speed and efficiency benefits over the previous generation's 14-nanometer node.
CPU cores & GPU cores
The M1 ultra specs are the M1 Ultra is built on the same 5nm architecture as earlier Apple M1 CPUs, but it has 20 CPU cores and 64 GPU cores. As a result, the Ultra is the most powerful chip Apple has ever released.
There is another comparison going on between 3 process and that are M1 ultra vs M1 pro vs M1 max
The M1 Max and M1 Pro have noticeable differences in peak performance, with the M1 Max tripling certain major contributions to theoretical performance, most notably the number of hardware ProRes accelerators, which are crucial for professional video editing.
Instead of using the slower system bus, Apple developed a more direct approach with the M1 Ultra, connecting two M1 Max that is 24 bit core CPUs and chipsets via a 2.5TB/sec direct link dubbed "UltraFusion." There are two of everything, including two Thunderbolt controllers and two memory controllers, as a result of this.
Also Read: 
Microsoft Xbox Series x Restock Update: Tracker: Alert
Exclusive Report iPhone Price Drop in India in 2022
MIUI 13 Features in India for Andriod : 2022 Xoami's Report
FAQs:
1.Is M1 Apple Better Than Intel?
Answer- yes M1 ultra is better than the intel processor but the other version is kind of equal to intel yhat is M1 pro and M1 max. 
2.Which M1 MacBook is the Best?
Answer- M1 ultra macbook is the best as it has fastest processor of the apple ever. 
3.Is M1 or Intel Better for Graphic Design?
Answer- intel will be best suited for the graphic design purpose as it doesn't create any problem of device. 
4.Is Apple M1 Better Than i9?
Answer- M1 is way better than i9 in every comparison luke performance, speed everything. 
5.Is M1 Faster than i9?
Answer- yes for sure M1 processor is eay faster than i9 processor
6.Which is Better M1 or i7?
Answer- the answer of the question is Obevese as the M1 processor got more capabilities than i7 processor. So M1 is better. 
7. Is Intel Faster than M1?
Answer- no, intel ia not faster than M1. The 12900k version of intel give hard competition to the M1 processor. 
8. Is Apple M1 Better than i5?
Answer- yes M1 is way much better than the i5 processor. 
9. Is i5 Better Than M1?
Answer- No, i5 is not even close to the M1 processor. 
10. What is Apple M1 Chip Equivalent to Intel?
Answer- The M1 pro and M1 max is equivalent to the intel processor. 
11. Is 256GB enough?
Answer- No it'snot enough as nowadays even a single same is around 100 gb so only 256 gb space is not enough you should have atleast 1 tb ram. 
12. Can M1 Run Windows?
Answer-  No it can not be run in window . 
Conclusion:-
Apple's M1 ultra CPU is the fastest in recent memory, while Intel's processor competes with the M1 max and M1 pro processors. Intel is superior to M1 ultra in terms of graphic design. While M1 ultra is superior to Intel in all other areas. However, the CIAT of the M1 ultra is rather high, at roughly $6200. And the specifications of the M1 ultra are superior to those of the Apple M1 Ulta versus M1 max. As well as the Intel CPU.