Asus Rog Phone 6 Ultimate Roundup – Design, specs & more
Asus rog phone 6 ultimate has confirmed that the ROG Phone 6 series will ship on July 5 in the global market. Like the ROG Phone 5 series, the forthcoming series will likewise come in three models – ROG Phone 6, ROG Phone 6 Pro, and the ROG Phone 6 ultimate. So far, teases and leaks have revealed the design along with practically all of the features of the smartphone. So here's what we should expect from the July 5 launch ceremony.
Design & display
Design-wise, the ROG Phone 6 series is believed to be relatively identical to the previous year's smartphones. However, leaked renders have showed some minor alterations to the back panel. Firstly, the device appears to have a more visible camera module that houses three lenses and an LED Flash. The back panel also gets a second screen that is positioned vertically. The right side of the smartphone will contain the power button, a volume rocker, and AirTriggers on both sides. On the left side, the gadgets will presumably hold a USB-C charging connector and the SIM-trey. Coming to the bottom, the gadgets are believed to include another USB-C connector for charging, however, there is no confirmation if the devices would offer a 3.5mm audio socket. On the front, the ROG Phone 6 is confirmed to sport a 6.78-inch Full HD+ AMOLED panel with 165Hz refresh rate and an in-display fingerprint scanner for security. The renders of the vanilla model also reveal tiny side bezels coupled with a pronounced chin and forehead.
Specs
These smartphones will be powered by Qualcomm's 8+ Gen 1 chipset, which is the most advanced in the industry. According to recent Geekbench listings, both the vanilla ROG Phone 6 and the ROG Phone 6 Ultimate are nearly comparable in terms of performance, which means that RAM and storage options will be the main differences between the base model, Pro model, and ultimate variant. In terms of RAM, the base model is believed to have 16GB, while the Ultimate model will have 18GB. In addition, the devices will have internal storage of up to 512 GB. ROG UI will be preinstalled on the devices as well as a 6,000mAh dual-cell battery with 65W fast charging functionality. Another first for gaming smartphones will be the ROG Phone 6 series' IPX4 splash resistance.
Camera
The vanilla model is said to have a triple camera configuration on the back, with a 64MP main camera, an ultra-wide camera, and a macro sensor. We can probably expect a 12MP front-facing camera. As far as camera setups go, they're expected to be same across the board.
Accessories
New snap-on coolers and a gamepad for the ROG Phone 6 series have been revealed in recent leaks. Once attached, it will function as a portable console in the same vein as the Nintendo Wii. As a Bluetooth controller, it may also be used to control the phone and other devices. An AeroActive Cooler 6 snap-on cooler is expected to be released. Increased rear panel heat dissipation capacity is designed to help reduce total smartphone operating temperature during long gaming sessions.
Also Read: 
Asus ROG Phone 6 renders reveal design and accessories
ASUS ROG Phone 6 Ultimate with 18GB RAM, Snapdragon 8+ Gen 1 SoC
Samsung Galaxy A32 5G review gets Android 12 update with One UI 4.1
When and How to Buy New Cool Features Android 13 Beta 2 for Oppo, Vivo, Asus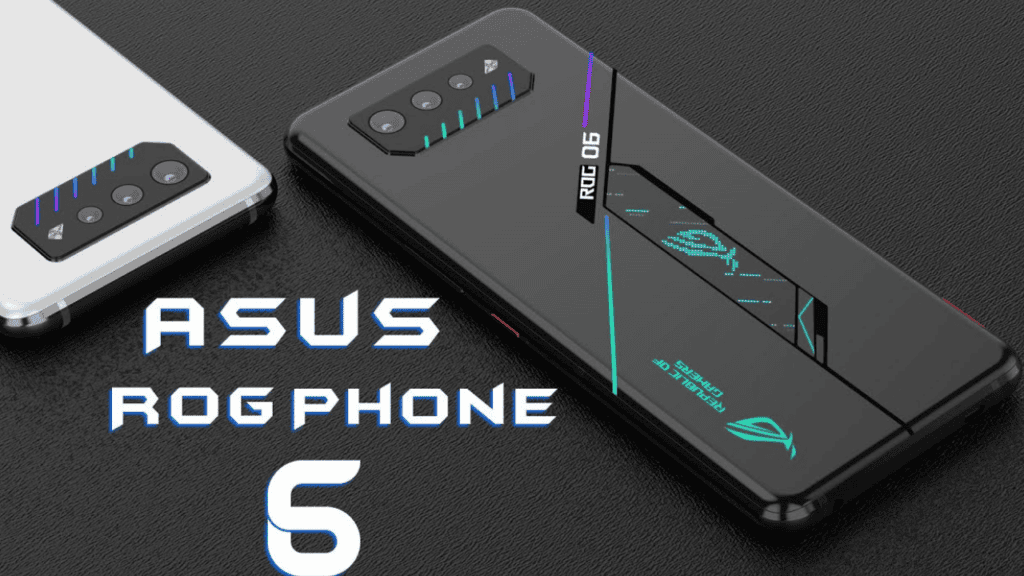 FAQs:
Q1: Will ASUS ROG 6 be released?
ROG Phone 6 is anticipated to be unveiled by Asus soon. On July 5, the smartphone will be released by the corporation. Since then, Asus has verified that the gaming smartphone will be available in India at the same time as the rest of the world.
Q2: Can I play games on my ROG Phone?
The ROG Phone is a joy to hold and ready for action at a moment's notice. When it comes to performance, ROG never compromises. Every component of the ROG Phone has been designed for a lag-free and responsive gaming experience.
Q3: How much does Rog 6 cost?
The Asus ROG Phone 6 is projected to retail for 59,999 in India. The Asus ROG Phone 6 is expected to be on sale in July 2022. The phone will come in a variety of colours.
Q4: What is Qualcomm's new chipset?
Qualcomm's new Snapdragon 8 Gen1 chipset, which is the most powerful CPU for Android smartphones, is the deal-breaker. With a 6.7-inch FHD+ 144 Hz OLED display, the Edge Plus 2022 is equipped with a strong chipset. Multitasking is made easy with eight gigs of RAM and 512 GB of storage.
Q5: What is the Rog Storage?
A total of 8 gigabytes of RAM (LPDDR4) is available, with a choice of 128 gigabytes or 512 gigabytes of internal storage through UFS 2.1.
Q6: ROG is based in what country?
Taipei, Taiwan, is where Asus has its headquarters