A smartwatch like the Moto 360 or LG G Watch R is a very cool gadget. You can easily deal with incoming emails, messages and lots of other notifications that land on your Android phone. But that's not everything. By using voice commands, you can do a lot with Android Wear. In a matter of seconds, you can send an email, reply to hangouts messages, check your appointments, create reminders and much more.
The best Google voice commands for Android Wear
Most people don't use voice commands in public – me neither – simply because of the fact that it would make them feel very uncomfortable or even embarrassed. But, when you're at home, on your bike or in your car, it's totally fine to use them, especially if you cannot use your hands a the moment.
Below is an infographic with the most useful voice commands for your smartwatch. With useful I mean that they make the most sense. If you want to get a complete list of Google voice commands, then you should check out my article that covers over 70 commands.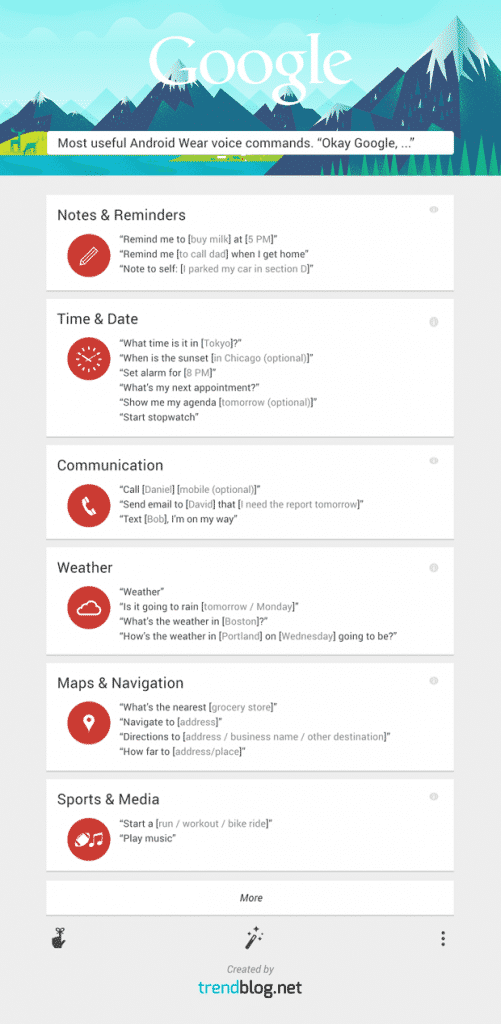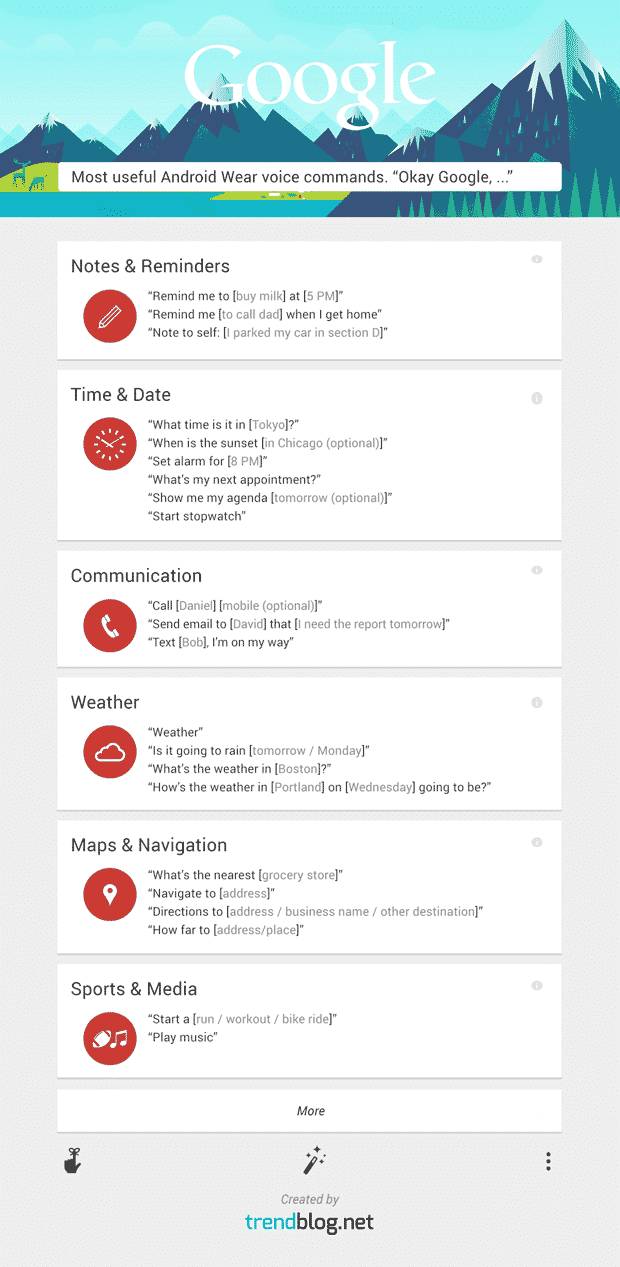 Feel free to share this graphic on your own blog or website using the code below:
<a title="List of Android Wear voice commands" href="https://trendblog.net/awesome-list-of-the-most-useful-android-wear-voice-commands?utm_source=referral&utm_medium=android-wear-voice-commands&utm_campaign=androidwearvoice" target="_blank"> <img src="https://trendblog.net/external_images/android-wear-voice-commands.png" alt="Android Wear Voice Commands by trendblog.net" width="100%" border="0″ /></a><br /> <a href="https://trendblog.net/awesome-list-of-the-most-useful-android-wear-voice-commands?utm_source=referral&utm_medium=android-wear-voice-commands&utm_campaign=androidwearvoice" target="_blank">Android Wear voice commands</a> by <a href="https://trendblog.net/?utm_source=referral&utm_medium=android-wear-commands&utm_campaign=androidwearvoice" target="_blank">trendblog.net</a>
Just in case the image doesn't load or you're sick and tired of infographics, here are all commands in text form:
Notes & Reminders
"Remind me to [buy milk] at [5 PM]?"
"Remind me [to call dad] when I get home?"
"Note to self: [I parked my car in section D]"
Time & Date
"What time is it in [Tokyo]?"
"When is the sunset [in Chicago (optional)]"
"Set alarm for [8 PM]" "What's my next appointment?"
"Show me my agenda [tomorrow (optional)]"
"Start stopwatch"
Communication
"Call [Daniel] [mobile (optional)]"
"Send email to [David] that [I need the report tomorrow]"
"Text [Bob], I'm on my way"
Weather
"Weather"
"Is it going to rain [tomorrow / Monday]"
"What's the weather in [Boston]?"
"How's the weather in [Portland] on [Wednesday] going to be?"
Maps & Navigation
"What's the nearest [grocery store]"
"Navigate to [address]"
"Directions to [address / business name / other destination]"
"How far to [address/place]"
Sports & Media
"Start a [run / workout / bike ride]"
"Play music"