List of 7 Best gaming Rig Companies of 2022 is Here
Best gaming rig company, the greatest gaming PCs can run the most demanding and graphically intensive video games on the largest and most beautiful display screens. These computers are excellent at what they do, but they typically cost more than any other type of personal computer.
Despite the hefty initial investment, there are several advantages to having a dedicated gaming computer. These high-end machines aren't just for playing games at incredible frame rates and ultra-high resolution, though; they can also be used for graphic design, animation, streaming 4K movies to your TV, or even just doing regular work. This is especially true if your pair your powerful computer with one of our recommended gaming mice.
Best gaming rig company
Now that next-gen consoles are available, it's worth noting that even while the PlayStation 5 and Xbox One S offer a lot of power, they can't compete with a top-tier gaming desktop. You don't have to wait for these consoles to be in stock if you want fast-loading SSDs, beautiful ray tracing, huge quantities of RAM, 4K resolution, and 60+ fps frame rate; you can have the greatest gaming computers right now.
As new gaming PCs become available, we put them through their paces in order to determine whether or not they deserve a spot on this list. Keep reading, and we'll point you in the direction of a fantastic new gaming system. Be sure to combine your new PC with the finest wireless gaming mouse by reading our guide.
How about the top PCs for gaming right now?
As a result of the ongoing chip scarcity, gaming PCs are in poor supply and on lengthy backorder, so anything you can obtain for a fair price is likely the best option.
The Alienware Aurora R13 is, at this time, our pick for best gaming PC if you can afford it. It comes in a new Legend 2.0 chassis that is sleek, spacious, and somewhat quiet, and it provides a broad variety of configurations that allow you to spend as much as you like.
The Acer Predator Orion 3000 is a great PC for anyone just getting started with gaming, including yourself. This gaming system costs less than $2,000, but it has the muscle to run the newest games at 1080p or even 1440p resolution. In addition, the casing is compact, attractive, and simple to open, which will be helpful for future upgrades. If you plan on playing 4K games, keep in mind that this system has some trouble keeping up.
The Dell XPS 8940 is a great option if you want a pre-built gaming PC that doesn't appear out of place in an office, yet yet has the muscle to run today's most demanding games. It won't set any performance records, but it can handle the newest games with ease, and its boring black chassis won't stand out in the workplace.
On the other hand, the Maingear Turbo, if within your budget, is a beast of a machine that is both silent in operation and aesthetically pleasing on a workstation. It can fit easily on a desk or in an entertainment centre, unlike most full-size gaming PCs.
1. Hardware: Alienware Aurora R13
SPECIFICATIONS
Supports Virtual Reality: YesCPU: Up to an Intel Core i7-12700KRAM: Up to 64 GBGraphics Card: Up to an Nvidia GeForce 3090Storage: Up to 2 TB SSD x2Accessories: Dell Multi-Media Keyboard, Dell Optical Mouse MS116AW
DIFFERENT REASONS WHY YOU SHOULD BUY
A+Standout Redesign
Overall, a great value.
Ample inputs and simple upgradability are pluses.
Maintains its calm and serenity
WHAT NOT TO DO
Awful Alienware programme
-As tested, its 4K performance is subpar compared to more expensive PC options.
Since Alienware's business model is predicated on customising a PC to your specifications, a review of the Aurora R13 is in large part a review of the new Legend 2.0 chassis. After working, playing, and generally messing around with our review unit for two weeks, we can confidently say that the Aurora R13's new design is a success.
After hours of 4K gaming, all I noticed was a mild hum and a pleasant warmth coming from the PC, thanks to the new chassis's simple access, numerous ports, and ventilation. The computer can weigh up to 35 pounds, making it awkward to transport (mind the fins!) or casually set down on a desk. Sure to be a conversation starter because to its futuristic appearance and programmable RGB lights, this device is best suited for a larger workspace.
The Aurora R13 from Alienware is a top-tier gaming PC that comes packed with high-end parts if you can afford them. Our test device isn't cheap at over $3,000, but it can handle 1080p gaming for years to come. However, if you want to pack the Aurora R13 with top-tier components, you will be spending as much as you would on any other PC on our list, which means you will not be able to get ultra-high framerates at 4K for that price.
2. Vengeance i7200 from Corsair
SPECIFICATIONS
Accessories: None Virtual reality ready: Yes Processor: up to an Intel Core i9-10850K/AMD Ryzen 9 5900X Memory: up to 64 GB Graphics Card: up to an Nvidia GeForce RTX 3090 Storage: up to two 2 TB SSDs
DIFFERENT REASONS WHY YOU SHOULD BUY
Plus robust hardware designed for playing games
Brilliant, tunable lighting effects
Plus, it's inexpensive in comparison.
WHAT NOT TO DO
-Anachronistic, squared-off case
Doesn't include extras
With the Corsair Vengeance i7200, you can get your hands on some of the market's most potent hardware at a fraction of the price of its competitors. The Vengeance i7200 has no extras and comes in a boring case owing of this. However, if performance is more important to you than aesthetics, this is the perfect gaming computer for you. If you have the money, you can build a monster of a computer with processors as powerful as an Intel Core i9 and graphics processing units as advanced as an Nvidia GeForce RTX 3090.
The Vengeance i7200, on the other hand, has gorgeous RGB lights, a classy glass side panel, and whisper-quiet fans. Because of this, in addition to being a formidable gaming device, it also serves as a useful tool for getting work done. The Vengeance i7200 lineup includes compatible configurations for both Quad HD (QHD) and Ultra High Definition (4K) gaming.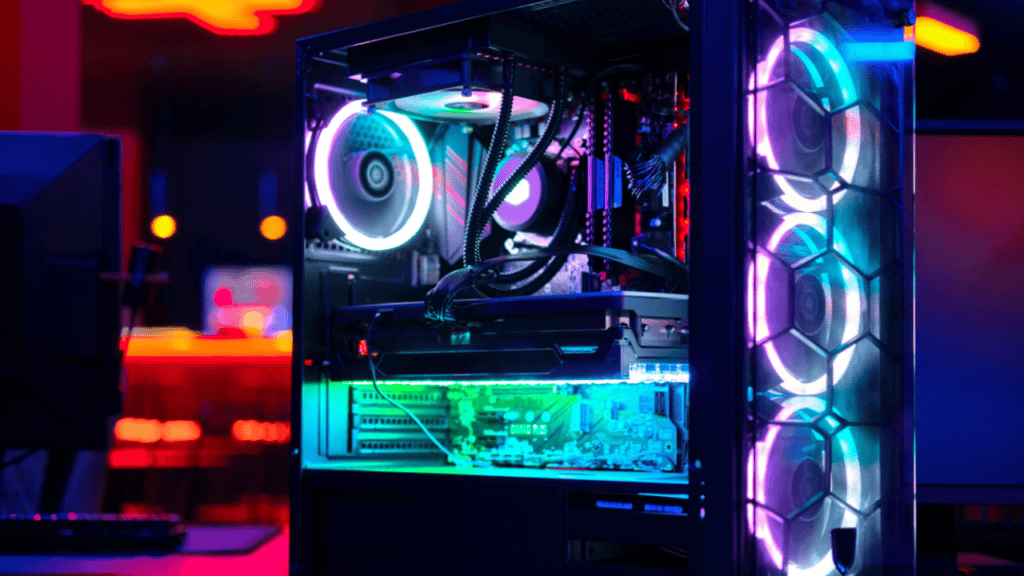 3. The Acer Prion 3000
SPECIFICATIONS
Hardware Specifications: Virtual Reality Ready: YesProcessor: Up to Intel Core i7RAM: 16GBGraphics Card: Up to Nvidia GeForce RTX 3070 TiStorage: Best gaming rig company, Up to 1TB HDD, 1TB SSDAccessories: Predator wired keyboard and gaming mouse with programmable RPGB lighting
DIFFERENT REASONS WHY YOU SHOULD BUY
As an added bonus, the chic design is desk-friendly.
+Very accessible and upgradable
+Calm, even while other people are playing games
Excellent 1080p image quality
WHAT NOT TO DO
-Unimpressive results in comparison to the competition
Poor quality input devices
The Acer Predator Orion 3000 is a stylish, (relatively) inexpensive mid-sized gaming PC that can handle games at 1080p to 1440p resolutions (from an MSRP of $829 up to $1,949 for the review unit).
However, its built-in keyboard and mouse leave much to be desired, and it isn't a good option if you want to play games at 4K. Our review version of the Orion 3000 came equipped with only 16GB of RAM, which may explain why it performed slightly worse than some similarly priced gaming PCs in our suite of performance tests.
However, the case appears to be well-designed and straightforward to open, so adding more RAM to the system shouldn't be too much of a hassle. Best gaming rig company, Acer's Predator Orion 3000 is an excellent first gaming PC due to its low price (less than $2,000), powerful components, and sleek, user-friendly chassis.
4. Introducing the Maingear Turbo
SPECIFICATIONS
Storage: Up to 2TB SSD x 3Accessories: None Virtual Reality Ready: Yes Processor: Up to AMD Ryzen 9 5950X RAM: Up to 16GB Graphics Card: Up to Nvidia GeForce RTX 3090
DIFFERENT REASONS WHY YOU SHOULD BUY
This tiny device packs a huge punch.
Extremely quiet, even when fully loaded
Beautiful design, perfect for displaying on a desk
WHAT NOT TO DO
Upgradability is Low
Extremely pricy, especially for a dedicated gaming computer
The Maingear Turbo is a powerhouse that can be had for a cool $2,162 (or $7,199 as reviewed). The bespoke PC retailer has crammed all of the most powerful (and pricey) technology into this one system, giving it the blistering speeds befitting the name.
However, Maingear goes above and beyond by cramming high-quality components into a small chassis to provide the same level of performance in much less room and with no audible fan noise. Maybe you can get more for your money if you consider some of the other possibilities on this list or try to create your own. The fascinating thing about the Turbo, though, is that if you have the money, you can have Maingear outfit one of these compact machines with the latest and best components, like as the company's eye-catching APEX cooling system.
When you add in the cooling system, the massive GPU, and the storage drives, the Turbo's tiny, attractive casing becomes a bit of a tight squeeze. However, if you have a lot of spare cash and are looking for a compact PC that is both stylish and capable of running the newest games at ultra-high framerates, this is the system for you.
5. New iBuyPower Y60 (2022)
SPECIFICATIONS
The spec sheet is as follows: Virtual Reality Ready: Yes Processor: Best gaming rig company, Intel Core i7-12700K Memory: 16GB DDR4-3600 Graphics Card: Nvidia GeForce RTX 3070 Ti Storage: 2TB SSD Accessories: Keyboard, mouse
DIFFERENT REASONS WHY YOU SHOULD BUY
Case in beautiful tempered glass
To open and use with minimal effort
Ports galore
Keeps a decent low profile
WHAT NOT TO DO
-Heats up
A cumbersome, oversize case
If you're looking for a gaming computer that will turn heads while displaying your hardware to its greatest potential, the iBuyPower Y60 is an excellent choice.
The Hyte Y60, a mid-tower case from iBuyPower's sibling business, houses powerful components in a design that evokes a gigantic fish tank. Although our review device generates quite a bit of heat when playing games at maximum settings, once the case is in place it is pretty spacious and simple to operate in.
iBuyPower is a terrific option for someone who knows exactly what they want and has the desk space to show off the Y60 to its best potential, as they offer both prebuilt and custom-built Y60 systems.
6. Millennium Origin PC (2022)
An expensive and potent gaming computer that is also well-made.
SPECIFICATIONS
Storage: Up to 8TB SSDAccessories: None Virtual Reality Ready: Up to Intel i9-12900K Processor: Up to 64GB RAM: Up to Nvidia RTX 3090 Graphics Card: No
DIFFERENT REASONS WHY YOU SHOULD BUY
+High-powered devices
Excellent showing +
Gorgeous, modifiable chassis
WHAT NOT TO DO
Costly for the value offered
Extravagantly Bigger and Louder Than Rivals
The Origin Millennium is an excellent example of Origin's capabilities, Best gaming rig company. allowing you to personalise a gaming system housed in an imposing but not overly large chassis. Origin's services come at a premium price, but you can use a configurator to create a machine that fits your budget. However, if you are desperate for the newest innovations and are prepared to pay a premium for them, you will find a lot to like here.
If you can track down a suitable graphics card, this PC doesn't do anything you couldn't put together yourself. However, having someone else do the heavy lifting and be on hand to help if things go wrong can be well worth the cost in some cases. And if you've got the cash, the Origin PC Millennium presents a compelling argument for outsourcing.
7. One i300 Corsair
Another fantastic gaming PC that costs a lot
SPECIFICATIONS
System Requirements: Virtual Reality ReadyUp to Nvidia GeForce RTX 3080 TiGraphicsUp to 64GB RAMUp to 2TB SSDStorage
DIFFERENT REASONS WHY YOU SHOULD BUY
+Elegantly minimal layout
Forceful constituents
Ports galore
+Silent functioning
WHAT NOT TO DO
Extremely costly
Upgrades are limited and awkward.
The Corsair One i300 is evidence that you typically get what you pay for when it comes to the top-tier gaming PCs. At the time of this review, the base price for this stunning piece of gear was $4,000, with premium configurations costing considerably more. In exchange, though, you receive a tiny chassis with an eye-catching appearance, a multitude of ports, and hardware strong enough to run the latest and best games at their highest settings.
Although the One i300's price tag may put it out of reach for some, it's definitely something to consider if you're in the market for a new phone. The Alienware Aurora is a space-saving alternative that can save you money, but it will require more desk space.
Also Read: 
How to buy a PlayStation 5 Direct from Sony, Amazon, GameStop
5 Best Tips for Making Money Playing Online Games
What Are Nft Games and What Are Their Advantages and Disadvantages?
All About the Latest Jackbox TV (Games) 2021 How to Install and Join the Game
FAQs:
Q1: What is the Best gaming rig company parts?
As the third-highest rated brand in terms of user-friendliness (9.0), Best gaming rig company Asus comes in only after Apple and Alienware (9.1). Then as was the case in 2021, the Alienware brand of gaming PCs from Dell has won our Readers' Choice Award. As a personal computer manufacturer, Alienware is definitely not on the cheap end.
Q2: What kind of computer does Ninja use?
As a desktop processor, Ninja relies on the Intel Core i9-9900K. It uses eight separate processing units (cores) and sixteen independent threads. It's a good fit for motherboards that use Intel's 300-series chipset.
Q3: Is 128 GB of RAM too much?
For most users, 128 GB of RAM is unnecessary unless you're editing 8K resolution videos or want to run many RAM-demanding programmes in the background at once. Those whose workloads necessitate more than 128 GB of RAM probably have a good idea of how much RAM they require.
Q4: How much memory (RAM) do I need, exactly?
There has been a recent arms race to increase RAM capacities in mobile devices like smartphones and tablets. Newer smartphones typically include 8 GB of RAM, even though 4 GB is more than plenty for most users. You can't increase your phone's RAM unless you're a tech whiz.
Q5: Is 1 terabyte too much RAM?
RAM is typically one of the most restrictive system resources when it comes to hosting virtual machines. This is no longer an issue now that 1TB of RAM is available. With that much memory, you can run multiple virtual machines in parallel without slowing down the host computer.