Photos are an intrinsic part of our everyday lives. With the increasing demand of photo editing apps, there is no surprise to see the Google Play Store and Apple App Store flooded with such apps. To help, we have put together a list of the top 10 best photo editor apps for both iOS and Android.
Remember, every app has a different set of features that makes them stand out, right from the number of filters to extra editing elements. Scroll down to pick the one that you would like to try. All the apps listed below are available on the Play Store and App Store.
Adobe Photoshop Fix
Adobe Photoshop is the name that needs no introduction when it comes to editing photos like a pro. Adobe Photoshop Fix is the mobile app by Adobe for editing photos on smartphones and tablets. The app has a variety of nifty tools such as Cropping, Straighten, Red Eye Removal, Rotation, Flip, Brightness, Exposure, and more.
Along with the regular image-editing tools, the app also houses filters such as Superpunch, Vibrant, Glow, and many more. You can also add borders, frames, and other design elements to your image in the app. For the ones who want to whisk their facial features, the Liquify tool detects your facial features in the image and allows you to edit them as per your whims and fancies. You can enlarge your eyes, enhance your jaw line, Slim-down your face or make it tall. What's best? It is free for both iOS and Android.
Snapseed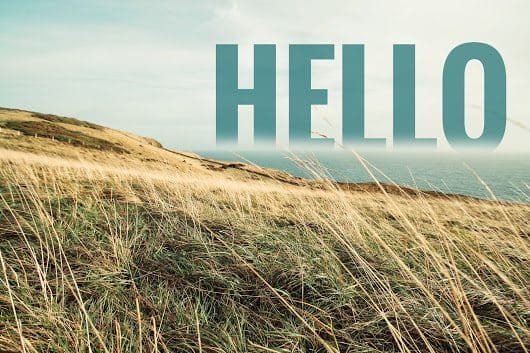 Are you one of those who don't believe in the phrase – "A picture is worth a thousand words". Instead, you like adding intelligent text on your images to make them obviously meaningful? If you have nodded yes to all these questions, then Snapseed is your kind of app. It allows you to add great looking text to your images and the fonts are really good. Along with beautiful fonts, the app also houses cool filters that can be fine-tuned as per your choice. All this goodness comes with no price tag as the app is free for both iOS and Android.
AutoDesk Pixlr
AutoDesk Pixlr has been retaining its spot on the best photo editor apps chart for many years. It is filled with over 2 million effects, filters, and overlays. Not just these tools, the app is an all-in-one solution for photo editing as it allows you to create collages, change background, and tweak image layouts. You can also add texts to your images on AutoDesk Pixlr and also fix your selfies with the help of features like blemish removal and teeth whitening. There are a few features in the app that are paid.
Polarr
We can call this one a combination of Adobe Photo fix and Snapseed. It is full of great editing features, and the interface is also pretty smooth. The app can handle heavy photo editing and should not put up a fight. While some features are paid, most of the free ones are sufficient for the average user. Unless you are looking to add some professional level tweaks to your pic, the free tools on the app should be enough. There are various filters and other interesting features in the app stacked just in the right places.
Download for iOS
Download for Android
SKRWT
SKRWT is a paid app, but it is very much worth the price. It can correct everything, right from lens distortion to wide-angle shots. This one is purely meant for the professional and budding photographers. It also has tools that could come handy when editing architectural shots as it allows you to edit horizontal and vertical tangents. There are two additional tools in the app, which work in separate tabs each time you use them. The MRRW tool is used for creating mirror images while the 4PNTS tool is used for all around corrections in an image. If you have a high-end camera phone like iPhone 7, Google's Pixel or Samsung's Galaxy S7 Edge, then this one app could be what you need for image editing.
Prisma
We are pretty sure that you must have heard about this one as it was once topping the news. Prisma is one of a kind image editing app that works using AI to detect facial features or image elements, and transforms them into masterpiece paintings of celebrated artists like Van Gogh, Picasso, and Munch. So, if you are one of the art lovers who wants to turn your best shots into a masterpiece, then Prisma is just what you need. Surprisingly, all the images edited in Prisma do look quite authentic as if they have been painted by famous artists. The app has a variety of filters that are based on various kind of painting types such as Sketch, Oil Painting, and more.
Camera360
This one comes straight out of Asia where it is one of the best photo editor apps. The app has more than 200 filters to play with and is also equipped with stickers and face correction effects. With the help of this app, you can completely rock your selfies without an iota of beauty error. Especially for women, the app houses makeup and beauty effects that let you apply makeup on your face that looks convincing enough. You can have all the fun without paying a penny.
PicsArt
PicsArt deserves a spot on this list because of its neverending features. The app houses every image editing tool and layout. You can make a collage or draw something on yourimage. There are countless filters in the app along with text adding tools that are full of beautiful fonts. You can also add elements like speech bubbles, borders, lens flare, and many more to your images in PicsArt. There's also Birthday Frames, Love Quotes, and other features on the app to impress your friends. It is a free app.
VSCO
VSCO is the app meant for advanced camera controls and editing. It comes with a variety of presets and filters that come in handy. It is a must have app for budding photographers as they get a chance to showcase their work on its vast network. Along with a portfolio building platform, the app is also full of great image editing tools that will turn a regular image into a professional one. It is free, but there are a few in-app purchases.
Repix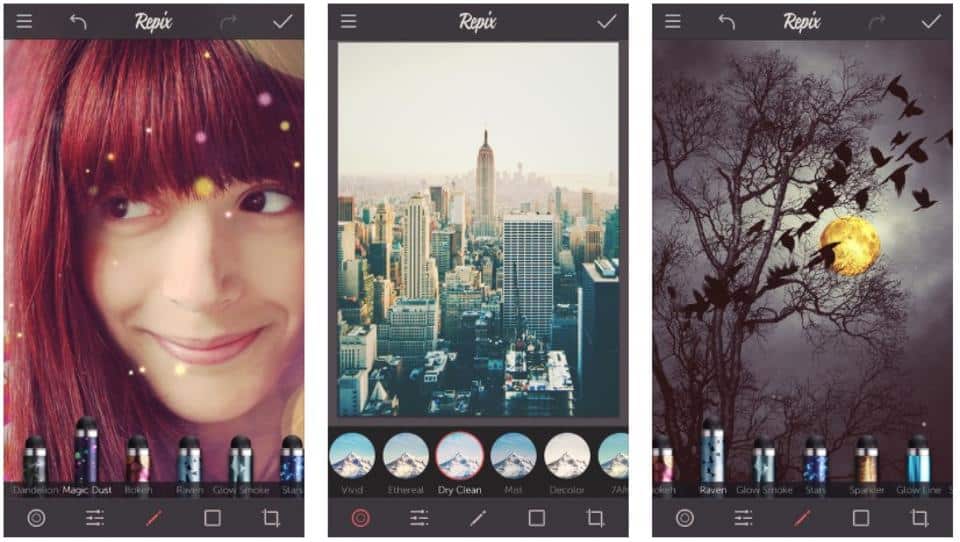 Repix is a popular image editing app with more than 15 million of user base. It comes with a variety of filters and brushes to enhance the image outlook. You can also use some of its other cool feature like flares and posterize to create a vivid image. Repix is free but has a certain features that are paid.
Download for iOS (Not available anymore)
Download for Android (Not available anymore)
Conclusion
What do you think about the best photo editor apps that we have listed above? Have you used any of these? If yes, then share your experience with us. In case we missed any app that you consider the best, let us know in the comments below.