16 Top Best Video Editor in Windows 11
Best Video Editor in Windows 11, Although Windows 11 has just recently been released, about 20% of PC users have upgraded. The newest release of the widely used OS is noticeably faster and more aesthetically pleasing than its predecessor, so this comes as no great surprise. A common concern when installing a new OS is where to go for programmes that work with it. Fortunately, a large number of existing programmes are already Windows 11-compatible. Even in a specialised sector like video editing. If you're a filmmaker or amateur videographer looking for an effective editing suite, you've come to the correct spot. This piece will discuss the top 16 Windows 11 compatible video editors. To give you the most flexibility, this roundup will include both free and commercial software. Therefore, let's not waste any more time and get down to business.
1. Clipify
When it comes to features and performance, the free Windows 11 video editor Clipify can hold its own against more expensive alternatives. The essential video editing tools you might ever need are all included in this programme. Such operations as trimming, editing, and resizing clips, improving video quality, correcting colour, and stabilising footage are just the tip of the iceberg. If you're in a pinch for time, you may use the automated video editor to assemble your clips into a finished film in a matter of minutes. You may also add a new aesthetic dimension to your film with the plethora of available effects, transitions, title cards, and stickers. The audio editing features in Clipify are robust, and the programme includes a library of royalty-free music that may be used immediately. When you're done, you may export your work to a number of different formats, such as those used for television, mobile devices, social media, and video hosting sites.
Top features of Clipify:
In-Camera Quality Boosting Automatically

Make movies in a snap with the help of a movie-making wizard and stabilise your footage with just a

The Chroma-Key Function more than 150 variations on transitions and effects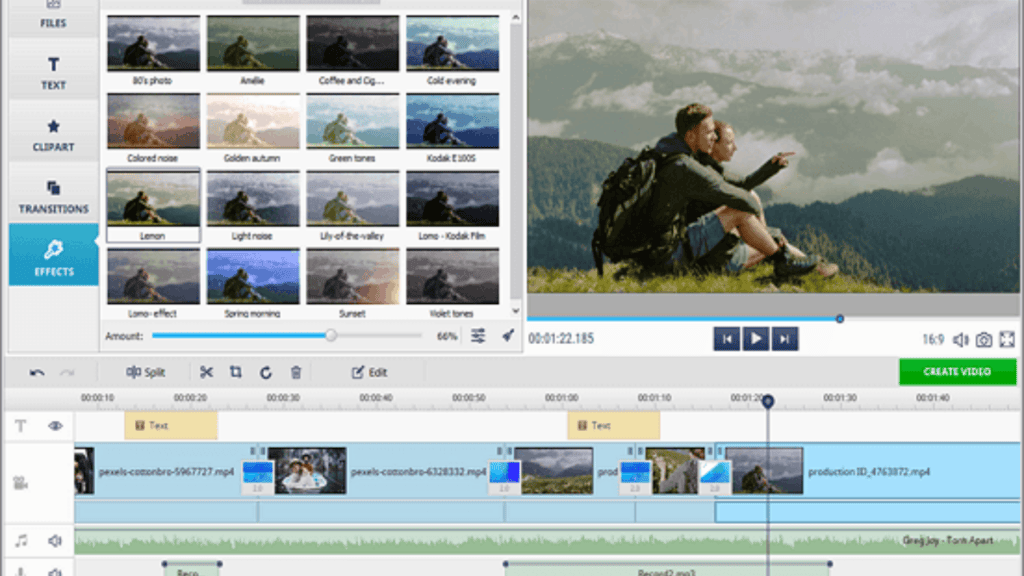 2. OpenShot
Openshot is a free and easy-to-use video editing programme that works well under Windows 11. It has all the fundamentals for editing videos, plus some extras like transitions and titles. An intuitive and fully modifiable user interface is at the heart of this movie maker. Even while OpenShot has a reputation for being easy to use, it does take some video editing knowledge to get the hang of it.
Top features of OpenShot:
Variable user interface

The Chroma-Key Function

Integrated 3D games

Quickly extract audio from video using this movie template
3. VideoPad Video Editor
There's a free and a paid version of VideoPad Video Editor, which may be used to edit videos. The free Windows 11 version comes with a respectable toolbox that includes all the essential video editing tools. In addition, there is a handy set of tools for improving video quality and creating animated greeting cards, as well as a reasonable assortment of effects. The functionality of VideoPad Video Editor can be greatly enhanced by the addition of plug-ins.
Top features of VideoPad Video Editor:
Library of effects and transitions supporting 60+ file types

Tools for modifying audio equipment for adjusting colours
4. DaVinci Resolve
There's a solid reason why DaVinci Resolve is widely regarded as among the best Windows 11 movie editors available today. This free software has all the tools you need to edit like an expert, and then some. It has dazzling filters, transitions, and transitional effects, as well as motion graphic capabilities for creating animated GIFs and other animated content. Users can also discover a multicam editor, a wide variety of sound effects, and chroma key within DaVinci Resolve. It's worth noting that this well-liked video editor is best utilised by those who are already familiar with video editing and who have access to a very robust personal computer.
Top features of DaVinci Resolve:
Editing on many cameras and exporting in 8K

Extensive collection of songs

First-rate noise suppression

Tools for working together
5. Hitfilm Express
Hitfilm Express is another another free Windows 11 video editing app that is suitable for use by professionals. It has a customizable interface and plenty of high-end and basic tools for making videos. You may use it to do things like colour grade your recordings, add effects, and switch the background of a blue or green screen video. It's to be expected that such a sophisticated tool as Hitfilm would have a significant learning curve. Fortunately, the Internet is rife with in-depth guides that can be accessed at any time.
Top features of Hitfilm Express: 
With almost four hundred visual effects

Full-circle video playback

The Chroma-Key Function

Numerous file types are accepted for import.
6. VSDC Free Video Editor
A free video editor for Windows 11 that packs a lot of punch for its VSDC Free Video Editor is hard to come by. It provides sufficient editing and enhancing features to enable its users to do virtually any task. In addition to a video editor, compressor, and other filters, this software also includes a tool for making 360-degree videos. The VSDC Free Video Editor can export in 4K quality, which is not the case with many free editors. The software has a less-than-ideal user interface, as most of the features are buried in obscure submenus that novice users might miss.
Top features of VSDC Free Video Editor: 
Assistance with a number of displays

GoPro Video Card Templates Compatibility

Convenient sharing on social media

The Chroma-Key Function
7. Windows 11 Video Editor
The term "Windows 11 Video Editor" pretty much sums up what this programme does. This utility is provided at no cost because it is integrated within the OS. When it comes to basic video editing, Windows 11's built-in Video Editor is a powerful and capable tool. You may edit video, improve its quality, and add simple effects like captions and stickers with this tool. At least this basic video editor for Windows 11 won't put off inexperienced users with its lack of sophisticated tools like colour grading or the ability to change the film's background.
Top features of Windows 11 Video Editor:
The slow motion effect

A variety of fonts and drawing instruments

Easy-to-use "Wizard" mode

Faultless operation
8. Kdenlive
Despite its difficult-to-remember moniker, Windows 11's Kdenlive is an excellent video editor. Free and surprisingly feature-rich, this software is widely available. Kdenlive naturally has everything a user may want or need for video editing. Next up: transitions, audio editors, and masking. The software includes an adequate set of audio editing capabilities, and it also enables multi-track editing. While Kdenlive works well enough for making short films and home movies, users should save their work frequently because the editor is unstable.
Top features of Kdenlive:
Relevant repercussions

Wheels for adjusting colours in multitrack edits

Create titles within the app's interface.
9. Shotcut
For a free Windows 11 video editor, Shotcut packs quite a punch in terms of functionality. There are many filters and effects available, as well as facilities for basic film manipulation like chopping and joining (which aren't particularly intuitive, but can be learned). The picture-in-picture and Chroma Key functions are included in Shotcut as well. There are also title and text editing tools available. Also, Shotcut has a wide variety of export formats, but it doesn't have social media or video-hosting-specific defaults.
Top features of Shotcut:
Superior Chroma Key Software

With the ability to export 4K videos with 3D look-up tables

Adjusting for lens distortion
10. Kapwing
One of the new features in Windows 11 is a movie editor that can also be used to edit photos, and that editor is called Kapwing. Because it can only be accessed online, you need a constant connection to the Internet in order to use it. Kapwing includes everything you need to resize, flip, and speed up or slow down video. It allows you to improve the quality of your videos and add effects, such as stickers and captions. Users of social media platforms will take notice of this service because of its post templates and straightforward export options.
Top features of Kapwing:
Conceptual frameworks for social media posts

Subtitles that play automatically

Chroma-key apparatus

Capturing the Screen
11. Adobe Premiere Pro
When discussing the finest video editing software for Windows 11, Adobe Premiere Pro is an obvious must-have. A video editor must have this, and for good reason. First, Adobe Premiere Pro has every single tool that you could possibly need to make a video. In addition, the application welcomes additional plug-ins from the outside world to increase its functionality. Premiere Pro is notoriously difficult to learn and can put a serious dent in your budget. However, if you are an expert in the industry, you shouldn't have any trouble with these.
Top features of Adobe Premiere Pro: 
Forms for creating animated graphics

Virtual reality video and audio editing library of transitions and effects

Support for Adobe's other software
12. Cyberlink PowerDirector
The Windows 11 version of Cyberlink PowerDirector's video editing capabilities are comparable to those of Adobe Premiere Pro, but at a fraction of the price. All the tools necessary for both novice and expert video editing are included in the programme. The arrival of an object detector, a 360-degree video maker, and an AI-powered audio and video enhancer is quite timely. Cyberlink PowerDirector has a decent soundtrack library and premade video templates for efficient production. The software is geared more toward experts, thus it may take some time for a beginner to become proficient.
Top features of Cyberlink PowerDirector:
Color correction with 3D look-up tables

Numerous transitions, including slow motion

Online Stock Footage Library Motion Title Maker 
13. Lightworks
If you want to put on the shoes of movie industry pros, then go with Lightworks. This video editing app for Windows 11 was reportedly used for creating a few popular feature films. The software has a fairly clear interface which helps with its non-linear workflow. Apart from all the imaginable video editing tools, within Lightworks users will also find templates for social media posts, tools for audio manipulation, and instruments for motion graphics creation. However, strangely enough, the program only exports in MPEG.
Top features of Lightworks:
Audio editing software suitable for professionals

There are around 800 presets and filters available for use with multicam.

Using the Cloud to Store Information
14. SmartSHOW 3D
While not video editing software per se, SmartSHOW 3D can still get the job done. Simple editing tasks like trimming, cutting, and splicing are all possible with this programme. There are quite a few colour grading presets as well and a collection of transitions and nature, lighting, and other effects. In case you need to fine-tune the audio, you'll get access to a comprehensible set of editing tools. In addition to its 3D capabilities, SmartSHOW 3D also features picture-in-picture functionality, an extensive music collection, and support for over 30 different export formats.
Top features of SmartSHOW 3D:
Encouragement of video content from the Alpha channel

Tools for manipulating audio

Filters & effects galore

Typical Samples
15. Adobe Premiere Elements
Even though Adobe Premiere Pro is perhaps one of the most powerful video editors available for Windows 11, it is not accessible to everyone. Step in Adobe Premiere Elements. To keep things simple, this software only includes the most fundamental features of the original programme, leaving off the more complex and therefore more daunting ones. To add to its usefulness, Adobe Premiere Elements has a wizard and an organiser to facilitate the production of movies rapidly. Although it has a friendlier interface than its predecessor, this video editor costs quite a deal of money.
Top features of Adobe Premiere Elements: 
Overlay animated effects

Video noise organiser with auto reframe functionality
16. Clipchamp
The online video editor Clipchamp is compatible with Windows 11. This programme may be used by anyone with no training whatsoever, making it an excellent option for both personal and professional endeavours. Clipchamp includes not only standard editing tools but also a beta version of a collaborative function. Plenty of pre-made layouts are available, as are a small but powerful arsenal of visual effects. Audio editing capabilities, as well as title and text altering tools, may be found therein.
Top features of Clipchamp:
Editing in several layers

Countless Samples Already Created

Collection of audio recordings

Connection to a cloud-based storage system
Conclusion:
Our selection of the top Windows 11 video editing programmes is now complete. With such a large selection, it shouldn't be hard to zero in on the ideal resource. It was on purpose that the reviewed software be diverse in terms of cost, features, and accessibility. Thus, you can pick the video editor that meets all your needs. If you want to pick the best software for your needs, you need go back through the roundup and carefully consider the perks and drawbacks of each option.