Best Xposed Framework Extensions For Custom Rom Features
Updated on May 1st, 2021
What would be an Xposed framework?
It's a module that allows you to change the behavior of your Android system and apps without touching APKs. It's an add-on to your ROM that can be used instead of flashing the ROM. It's available for all Android device from the 4.1 version and above. You can use it regardless of the Android you have – Pie, Nougat, Oreo, Marshmallow, or Lollipop.
To be able to use these extensions, you need to install Xposed Framework on your Android phone or tablet.
Let's go through a couple of extensions together and see how they actually work. 
XPrivacy
Using XPrivacy, you can prevent apps from sharing privacy-sensitive data. For a long time, this was one of the most popular Xposed modules. Users of Android 6.0 and above can use this extension. When you install a particular app, you know how sometimes it asks you to allow access to your personal data. And most likely, you are going to accept because there is no other solution if you want to use this app. Well, with XPrivacy, there is a solution. This module will send fake information to the app, or it will send no information at all. In any case, as the name says, your privacy is protected.
If you want an add-on that will protect your personal information, this is the one!
You can install XPrivacy using the Xposed Framework installer or by downloading it on the official XDA thread.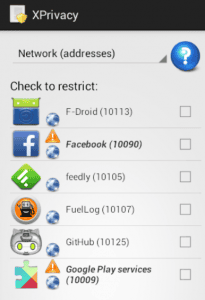 GravityBox
Say hello to your visually new Android! One of the main reasons for me to flash a custom ROM were visual adjustments and new shortcuts. GravityBox allows you to do exactly that.
The extension offers an enormous number of tweaks such as Lockscreen tweaks, Statusbar tweaks, Power tweaks, Navigation tweaks, and much more.
The best thing; GravityBox was designed to be used on AOSP based ROMs. Those are unmodified ROMs.
The coolest features GravityBox is offering: pressing the volume button twice to skip the song and per-app notification, sound, and vibration. If you want to know at any given moment which of your apps received notification, GravityBox will provide you with this option. Sounds extremely cool, doesn't it?
You can install GravityBox using the Xposed Framework installer or download it on the official XDA thread for JellyBean, KitKat, Lollipop, Marshmallow, Pie, Oreo, and Nougat.
https://repo.xposed.info/module/com.ceco.lollipop.gravitybox
https://repo.xposed.info/module/com.ceco.marshmallow.gravitybox
https://repo.xposed.info/module/com.ceco.nougat.gravitybox
https://repo.xposed.info/module/com.ceco.oreo.gravitybox
https://repo.xposed.info/module/com.ceco.pie.gravitybox
YouTube AdAway
This one is probably my personal favorite! I got tired of listening to music on YouTube and being interrupted every 5 minutes. If you are like me, then this add-on will be your life changer!
With YouTube AdAway, your Android device will ignore all the notifications, updates, and requests you are getting while watching a video.
The extension can also be used on YouTube TV, Gaming, and Kids apps.
You can download this extension here: https://repo.xposed.info/module/ma.wanam.youtubeadaway.
WhatsApp Extensions
WhatsApp is one of the most popular messengers nowadays, with a user base of over 1.5 billion. Even though we all like to chat with our friends and family, sometimes you just need a break if you're like me. Time for yourself, without any obligation to reply.
WhatsApp extensions are a fantastic thing because you can Hide last seen, Hide read receipts, Hide delivery reports. But more than that, you can use your phone directly to make calls, lock facility to individual chats, highlight a chat, or even make a reminder to reply to this specific person later on. Now you can read all of your messages without fear that you will forget to answer afterwards.
If you want this extension, you can download it here: https://repo.xposed.info/module/com.suraj.waext.
YouTube Background Playback
Finally, there is an option to listen to music on YouTube and do other things on your phone simultaneously. Imagine friends gathering and playing music on someone's phone. And then, this someone starts receiving tons of messages, and your music stops every 5 seconds. It kind of kills the fun, right? Or you want to listen to something yourself, but then you cannot read your messages, emails, or simply scroll through social media. Like you don't have a phone.
If you liked what I've shown you, know that there are many other add-ons you can use!
What are your favorite Xposed Framework extensions? Share them in the comments below!
Are you interested in more Android-related guides?
Have a look at our Android knowledge database.
Editors' Recommendation
One thought on "
Best Xposed Framework Extensions For Custom Rom Features

"