A personal website is a great tool to promote your personal brand on the internet. It doesn't matter if you are looking for a job or just trying to get yourself out there, creating a simple website of your own is the way to go.
A previous study by BrandYourself shows that "86% used a search engine like Google to find more information about another person"! And if somebody decides to look up your name on Google you will have a bit more control over the search results if you have your own website.
Steps you need to take
Creating a personal website is quite easy to do and requires very little money, contrary to the popular belief that developing a site is expensive and extremely time consuming.
All you need is to choose a domain name (for example yourname.com), a hosting provider and a nice design/layout to suit your needs. Don't worry about the design part, you don't have to know how to write code (although knowing the basics of HTML and CSS will certainly help).
When it comes to choosing a great design for your website you should check out Themeforest, a platform where you can browse through, literally, thousands of designs and buy the one you like most. When looking for a design, keep in mind that the template should be made for WordPress (the system your website will run on).
The two most popular options for personal websites are either so-called vcards, which act as an online business card with your contact information, or a more complex website with a blog and/or portfolio pages. If you are not familiar with your options I advise you to take a look at all of them.
Remember that choosing a WordPress template is more than just about the design itself. All templates have different functionality, options and pages. Before deciding to buy one you should have a thorough look at live demos of all the templates you like.
Pro tip: get yourself a responsive-design template. This means that your website will adjust to different screen sizes, making sure that mobile, tablet and desktop visitors will have a great experience. Trendblog's design is responsive: if you are visiting this post from a desktop computer, play around with the size of your browser window and look at how the website responds.
My advice for you is to use WordPress as your go-to content management system, since it's very easy to use and doesn't require any coding experience whatsoever.
Getting a domain and hosting (with WordPress)
Now it's time for you to buy your domain and get a server to host all your files on. Sounds scary, but it really isn't. The easiest way is to get a hosting package, which would include a free domain and an easy WordPress setup (especially important for beginners). You can check out some options right here.
If you decide on a hosting provider that offers a pre-installed WordPress installation you should be able to follow the shown tutorial or step-by-step instructions from the provider of your choice.
Now that you have a domain, a server to put your files on and WordPress already installed, go on and log into your website's backend (your admin panel that visitors won't see, usually accessible at yourdomain.com/wp-admin), because now it's time to set up your very first personal website!
Setting up your first website
If you followed the above mentioned steps, you should have already chosen a great design template for your website on themeforest.net. In case you haven't bought it yet, go on and buy it. After the purchase you should be able to download all the template files if you click on "Downloads"  in the drop-down menu under your Themeforest username. Download the files to your computer, you will need them in the next step.
How to change a WordPress design
After going through all the installation steps you should see the homepage of your first website. Yes, I know, the native WordPress design template doesn't look too exciting. But that's not an issue, since you already bought a design you really like with the functionality you need.
To install your theme, sign into your personal website's backend with the login data that you have specified during the installation. On the left hand side of your admin panel you will see a lot of different options and buttons. Don't worry about these for now. The only menu option you are looking for is "Appearance". Hovering over the button will show a new menu. Click on "Themes".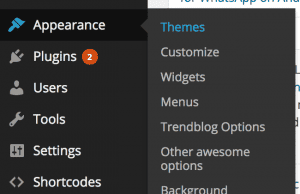 On the top of your screen you should see a button saying "Add theme". After clicking on this button you will see the "Upload Theme" bottom. This is where your theme files from Themeforest come in.
The only things left for you is uploading the .zip file containing your theme (usually called after the theme's name) through your browser and activating your theme. After the upload is finished click on "Activate Theme" and enjoy your new design!
Content for your personal website
There is no right or wrong here. The content of your personal website will solely depend on what goal you are trying to accomplish with your website. If you're applying for a job you should list your experiences. If you're the more creative kind of person who's really into design you should definitely upload your creative portfolio and show it to the world! And if your only goal is to make it easy for people to find and contact you, then listing your contact details with a short bio should suffice.
Every good template on Themeforest comes with a documentation. If you have no clue about how to add content to certain pages of your website just take a look at the documentation. Only if you don't find the answer to your question in the documentation, FAQ's or the theme's comments section on Themeforest you should ask the developer for help. Usually, they are pretty responsive and will be happy to give you some pointers on getting the website up and running with the content you want to display.
Conclusion
Creating a personal website is much easier, quicker and cheaper than most people think. It will take no longer than 48 hours (most of which is waiting for your domain and hosting to be activated) from start to finish. The content, on the other hand, will take much longer to create.
This is a very comprehensive guide that we will be updating in the future. If you have any questions or suggestions just leave a comment and we will be happy to help you out.