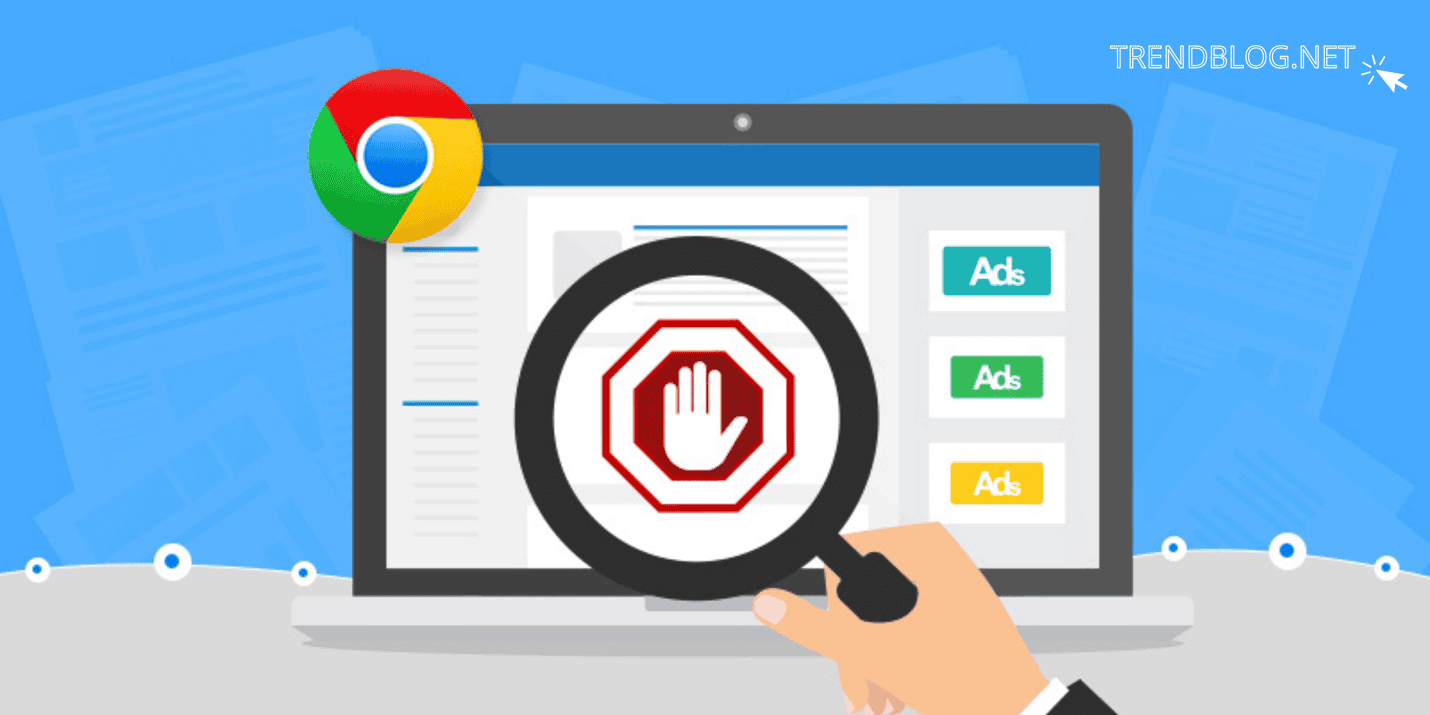 How to Enable the Best Built in AdBlocker in Google Chrome 2021
Web browsers make most of their money from advertising on other people's websites. However, viewing an excessive number of advertisements on a single webpage might diminish the overall experience of the website, particularly with popup advertising or click ads that launch an ad in a new window when you click on a line of text in the first ad you see.
Fortunately, Google has included an adblocker directly into the browser to assist users in blocking advertisements from certain websites.
Despite its shortcomings, the browser's built-in adblocker can still restrict marketers from obtaining your personal data by blocking videos, harmful advertisements, frauds and bitcoin miners.
Google told us a while ago that their Chrome browser will have an Adblocker to protect users from annoying pop-up adverts when they browse the web. It has been under beta testing in Chrome Canary & Dev for some time and is finally ready for prime time.
Chrome has the functionality built in for PCs, Macs, Androids, and iOS devices. Although Adblocker is technically an adblocker, its primary goal is to "tame the web," not completely eliminate them.
Video advertisements may also be blocked with the help of these add-ons. In this way, they preserve your privacy by blocking third-party trackers. The ad-blocker protects you against dangerous advertising, frauds, and bitcoin miners as you surf the web. Advertisers can't access your personal information or browsing history when you use an ad-blocker on your computer.
When it comes to advertising that are considered invasive by Better Advertisements Standards, adblockers will prioritise those that are disruptive and detract from the overall user experience. Over 66,000 people from all over the globe contributed to the selection of the Better Ads Standards.
Ad experiences that have a detrimental effect on users are identified in the Better Ads Standards. Adblockers are now accessible in all countries. Initially, they were only available in the United States, Canada, and Europe. The ad-blocker built into Google Chrome accomplishes its job well, but it occasionally goes too far.
Chrome's built-in adblocker takes care of business on its own, without the need for input from the user. In an attempt to keep specific portions of the website from loading, they accidentally block other sections of the sites as well. Even a whole section might be inaccessible, which has a significant negative impact on the user's experience.
Knowing how to activate and deactivate an adblocker is helpful since it might create issues with the way certain websites load. While disabling an Ad-block plugin is as simple as toggling a button on or off, this is not the case with the built-in adblocker. You'll need to do a bit more legwork and go into the project highlights to control how your adblocker behaves on that specific site.
Now that you know how to activate and disable Chrome's built-in adblocker, you can avoid having to download and install one from the web.
Pre-requisites:
The most recent version of Google Chrome is required.
Connectivity to the internet is operational.
A Windows PC or Mac; an Android or iOS device; or a combination of these
Ads
Pop-ups, huge sticky advertising, and auto-playing video commercials with audio, for example, are examples of this kind of ad. Google identifies obtrusive advertising by following rules developed by the "Coalition for Better Ads," a collection of firms.
How Can I Turn Off/on the Built-in Adblocker in Google Chrome?
The sole disadvantage of Chrome's ad filter is that it cannot be completely disabled. Chrome's adblocker settings allow you to control whether or not adverts are shown on a particular site.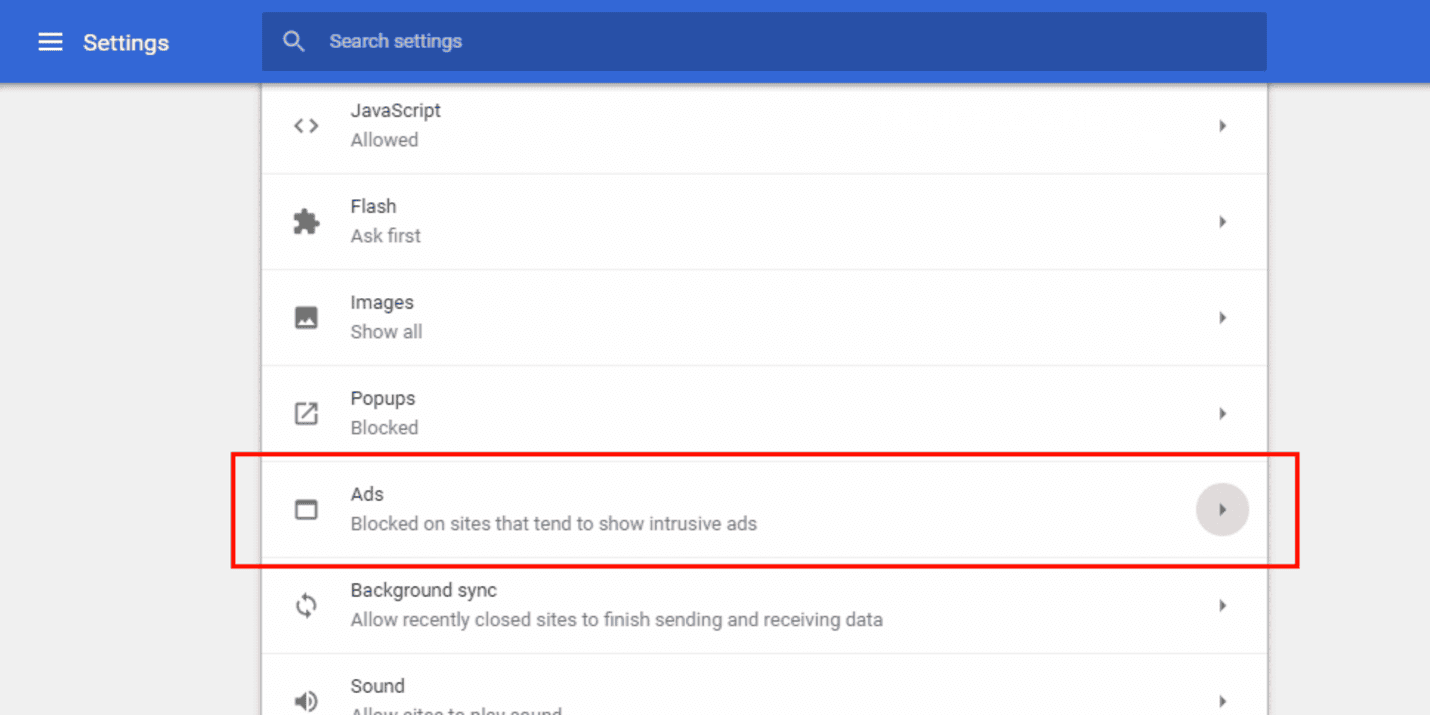 Launch Google Chrome and go to a website.
You should now be able to see an unbroken padlock or information button in the address bar.
After that, you'll want to click on Site Settings.
Ads may be found by scrolling all the way to the bottom of the page.
Select Allow from the drop-down list.
The Settings tab is now closed.
So, that's how you disable Google Chrome's ad filter. In order to make the ad blocker active once again, click Block (Default).
Disabling your ad blocker is not recommended unless absolutely essential. For many websites, advertising is the only revenue source, yet many go too far with it, opting instead for invasive adverts and popups.
Chrome's built-in ad-blocker comes in handy in these situations. Because we want to keep your browsing experience as pleasant as possible, we adhere to the Better Ads Standards. We encourage any and all comments and suggestions on the subject.
To remove Chrome's default ad blocker, follow the steps outlined above. Third-party ad-blockers may be removed from the Chrome browser by simply deleting their extension.
Chrome for Android: Enable Adblocker
Check out these instructions on how to make this feature work on Chrome Browser for Android devices.
To change your site settings, go to Settings > Site Settings.
Click on "Ads" to see more.
Ad blocking may be enabled by dragging the slider to the right.
Protect Your Android Device From Ads by Installing Adguard
It's a one-of-a-kind programme that prevents you from seeing adverts on your phone or tablet wherever. The browser add-on prevents advertising from appearing while you use certain applications, games, or websites. There is no native support for Google Chrome in the app at this time. Chrome, on the other hand, does filter advertisements.
AdGuard must be opened in order to make changes to the ad filtering settings. Once you've done that, click Go to Filters.
Ad filters, monitoring security, social networking, and even obnoxious advertisements may all be checked.
Use Dns66 to Fine-tune the Settings.
DNS66 is a great ad blocker that also lets you block hostnames in the DNS system. It does not need rooting your mobile device. With this feature, you can just query hosts that aren't on the blacklist, instead of the whole internet.
Obtain DNS66 from F-Droid, a reputable software store for Android apps that are both free and open source. Installing software from untrusted sources requires you to provide permission to your system. Go to the menu bar and choose Preferences.
Set your firewall to allow connections from Unknown Sources. If a confirmation box appears, click OK.
Open the DNS66 app on your smartphone or tablet. On the first tab, select the Start button to begin using the VPN services.
When a box appears asking if you want to replace the missing host file, click Yes.
When the Connection Request Notification Pop-up Notification appears, choose OK.
VPN services should be operating if they appear in the VPN services section of the Start menu.
After that, click on the Hosts tab to get started. StevenBlack's is one of the host file sources shown by default in the programme. Additional host file sources may be blocked by selecting those first from list.
Then, on the following screen, choose Deny from the choice list. Verify the transaction by touching the check logo in the top right corner.
Adding your source file source is as simple as clicking the blue + button and then following the on-screen directions.
I hope everything is functioning well for you now. In a few weeks, if you're using Chrome, you'll be able to use this function.
Check out the link "Google Chrome VS. Microsoft Edge In 2021"