People know that Windows 11 has strong security features and runs faster. Microsoft has made a number of features, like the S mode, to help with this. With this security feature, you can only put apps on your computer from the Microsoft Store, and Edge will be your default browser.
The system will stop third-party programs from even being able to be installed or run on your computer. But there are times when you can't just rely on apps from the Microsoft Store and need to use apps from somewhere else. You can leave S mode, but remember that you can't go back once you do.
Also Read: How To Fix Windows Update Error 0x8024800c?
Even though there are only a few quick steps, the process isn't always as easy and smooth. This is why we made this guide to help you figure out what's wrong if Windows 11 won't let you get out of S mode.
What is S Mode in Windows?
S Mode is a Windows 10 security feature that is meant to make things easier and safer for the user. When a device is in S Mode, it can only run apps from the Microsoft Store. These apps have already been checked to make sure they are safe.
This makes it more difficult for people to accidentally download and install harmful software from the internet. Also, devices in S Mode are optimized for speed and battery life, which can help low-end devices like cheap laptops and tablets a lot.
On the other hand, getting out of S Mode can give users more control and freedom over their devices. Once you get out of S Mode, you can download and install apps from anywhere, including the internet. This can help if you need to use apps that aren't in the Microsoft Store or if you prefer a different web browser than Microsoft Edge.
We recommend keeping Microsoft Defender up to date and running in the background if you want to turn off S mode on your PC. Microsoft Defender will help you find and automatically quarantine most of the harmful programs and tools on your computer.
Can you Switch on S mode again?
No, you can't put your system back into S mode. At least, the company says that's the case. You can't turn S mode back on after you turn it off. This is a security measure that helps Microsoft make sure everything is as safe as possible.
S mode is like a warranty sticker. Even if you turned off S mode and didn't install any bad or third-party apps, there's no way to be sure. So, turning off S mode is currently a one-way trip, so you should really think about what you want to do.
How to Switch Out of S-mode in Windows?
If you can't get out of S-mode in Windows, here are some things you can try:
Check to see if your Windows version can leave S-mode. You can only get out of S-mode on some versions of Windows 10, so make sure you have one of these versions.
Make sure that your device can connect to the internet. You need to be connected to the internet to get out of S-mode.
Look in the Microsoft Store for "Switch out of S-mode." "Switch out of S-mode" should be an app on your phone. Get and set up this app.
Open the app "Switch out of S-mode," then do what it says. You might be asked to sign in with your Microsoft account or show proof of who you are.
If you still can't get out of S-mode, turn off your device and then turn it back on. In Settings > Update & Security > Recovery, look for "Reset this PC" and click "Get started" next to it. All of your personal files, apps, and settings will be lost when you reset your device, so make sure you have a copy of your important files. If none of these work, you may need to get more help from Microsoft Support.
Also Read: Methods To Try If Windows Won't Boot Into Safe Mode!
Restart Windows Update Service to Switch Out of S-mode in Windows
If no Windows services, such as Windows Update, are running in the background, it may be difficult to get your computer out of S mode. This service has to do with installing updates for Windows and the programs that run on it. By restarting it, the service should get a fresh start and any problems should be fixed. Here's what you have to do:
To open the Run box, first press the Win and R keys together.
Type "services.msc" in the text field and click "OK."
A window titled "Services" will appear. Now, look for wuauserv in the list, right-click it, and choose Restart.
Restart the Windows Services.
Check to see if you can now exit S mode once you're done. If not, try the next step.
Clear the Cache in the Microsoft Store to Switch Out of S-mode in Windows
There's also a chance that the Microsoft Store cache storage is full or that the cache files are damaged. In this case, clearing the cache is the best thing to do. If you don't, the services and apps that use the cache will be affected. It could also be the reason why you can't get out of Windows 11's S mode. What you need to do is:
To open the Run box, press the Win + R keys on your keyboard.
Next, type "wsreset.exe" into the search box and click "OK." tool command run
This will launch the Command Prompt, where your command will be run.
Once the Microsoft Store app's cache is gone, it will open on its own.
Lastly, use the Microsoft Store page link above the Microsoft Store page to exit S mode in Windows 11.
Reinstall or Fix the Microsoft Store app to Switch Out of S-mode in Windows
If clearing the Microsoft Store cache didn't help, there may be a serious bug in the Microsoft Store itself. It's also possible that the app is broken, making it impossible to exit S mode on Windows 11. If that's the case, you can fix or reset the Microsoft Store app by doing the following:
Start by pressing the Win+i keys on your computer to open Windows Settings.
You can also select Settings from the Start menu.
Choose Apps from the left side of Settings.
Next, click Apps & features on the right.
You can search for "Microsoft Store" in the search box at the top, or you can scroll down the list to find it.
After that, select Advanced options by clicking on the three horizontal dots next to it.
Now, scroll down and click on the Repair button in the Reset section. With this option, the Microsoft Store app will try to fix itself so you can exit S mode.
After fixing the issue, if you still can't get out of S mode on Windows 11, click the Reset button to put the app back to how it was before.
Note that this method will delete all app data, cache files, and login information from the computer. So, you should only use this method if you remember your account information.
Disable Proxy to Switch Out of S-mode in Windows
When a proxy server is turned on, the S mode problem can also happen. Many users have said that the problem went away when they turned off the built-in proxy function in the Internet Properties tab. We think you should try it out. Here's what you need to do: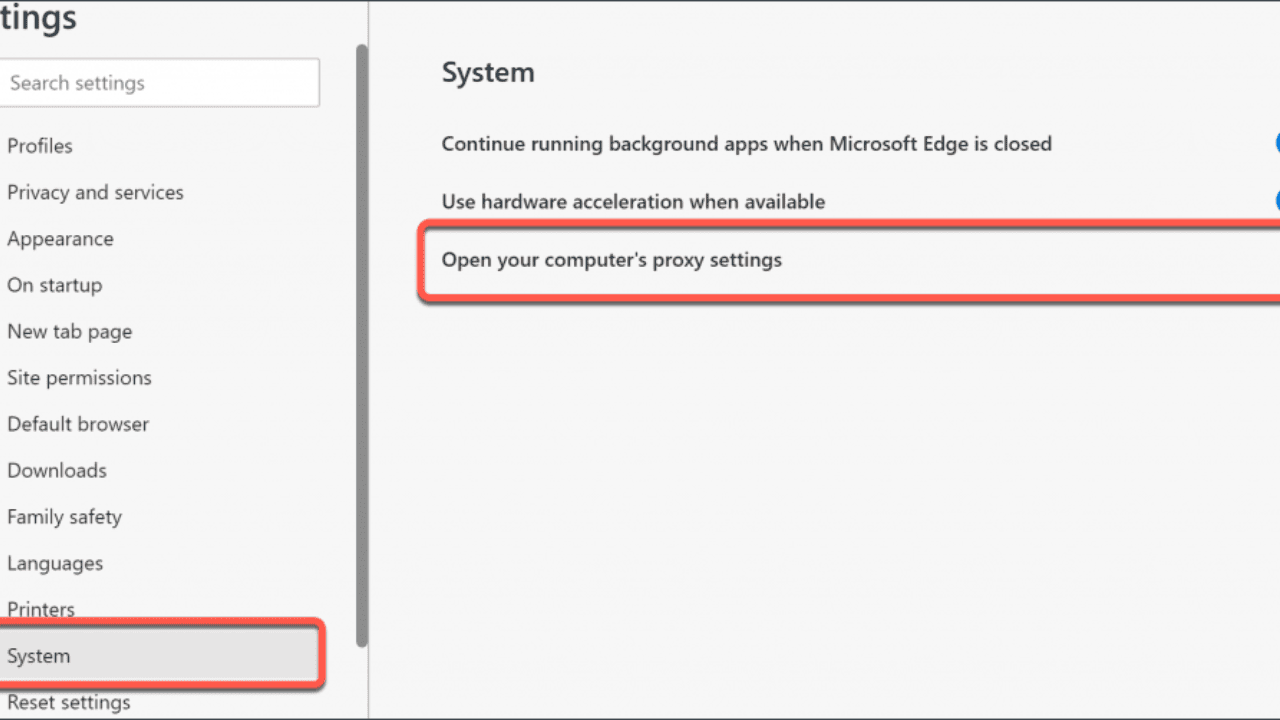 To open the Run box, press the Windows key and the R key at the same time on your keyboard.
Type "ms-settings:network-proxy" into the text box and press Enter to open the Proxy tab in the Settings menu.
Once you're in the Proxy tab, turn off the switch for Automatically detect settings.
See if this lets you get out of S mode on Windows.
Why Can't you Switch Out of S-mode in Windows?
By preventing the installation of third-party apps, S mode, a feature of Windows 11, makes the operating system safer. Users have recently complained that they can't get out of Windows 11's S mode. We looked into the problem and found that it could be caused by:
Cache Corruption in the Windows Store
When you have a lot of cached files, it's common for them to get corrupted, which makes it hard to do what you need to do.
Also Read: How to force quit an app in Windows
DNS Settings
It's possible that your DNS settings are set up so that you can't get out of S mode. Fixing the problem is simple; all you have to do is change the settings in the way we explain below.
Network Configuration
Like the DNS settings, your network settings may be wrong, which could be the problem.
Corrupt Windows Store installation
A bug or a corruption error in your Windows Store could also be the cause of the issue being discussed. If this is the case, you can fix the issue by resetting the Store.
Now, we have let you know about all the causes and the solutions of the problems. If the above solutions does not works for you, try contacting your service provider.