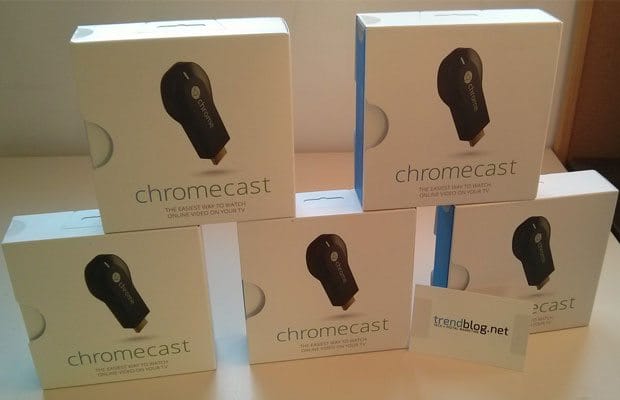 Chromecast Review: How Well Does Chromecast Work In Europe?
When Google announced Chromecast during I/O 2013 we were quite excited to get our hands on this dongle. Unfortunately, Google is only selling the small media streaming device in the US at the moment.
Luckily enough, we were able to get a few Chromecasts and have been testing them for the few past weeks. Living in the Netherlands, we are unfortunately not able to enjoy all of it's features. I guess there is a good reason why Google is only selling the Chromecast in the USA at the moment. Nevertheless, we've decided to test Chromecast, see which features work in Europe and to give away a few Chromecasts to our readers here in Europe and the USA.
Chromecast Features
http://www.youtube.com/watch?v=cKG5HDyTW8o
Google's Chromecast is a 2.83″ dongle that streams to your TV via HDMI using a Wi-Fi connection. The digital media streaming adapter currently supports five different apps:
Netflix
YouTube
Hulu Plus
Google Play
Google Chrome
Using Chrome, you can also stream local media content to your Chromecast. Simply open the video file with Chrome and cast the content to your Chromecast using the Chrome extension. In our test this workaround did not work flawlessly: A 720p video was rather laggy and not as colorful as with the laptop directly connected to the TV.
With recently added apps like Plex, you are now able to stream local content to your Chromecast. Check out our guide on how to stream local content to Chromecast.
How Well Does The Chromecast Work?
Setting up the Chromecast is pretty straightforward and done within a few minutes. Simply connect the dongle to your TV and follow the instructions on screen.
We've been testing the Chromecast for the past few weeks and are quite happy with it. The tests where performed on a 32″ 720P LCD TV using the following devices:
Retina iPad – iOS 7
Nexus 4 – Android 4.3
Nexus 7 – Android 4.3 / 4.3.1
Macbook Pro (13″ & 15″ Retina) – Mac OS Mavericks
Windows Laptop – Windows 7 Ultimate
Netflix on Chromecast
Streaming media content from Netflix to the Chromecast works pretty fine, both originating from a mobile device or computer. Living in the Netherlands, we are lucky to have access to Netflix. The on-demand streaming service is unfortunately only available in a few countries worldwide. If Netflix is not available in your country you won't be able to use this feature out-of-the-box.
You can access international Netflix content using a Chrome plugin, the same method won't work on a Chromecast. A solution to this problem is using an geo-unblocking service like unblock-us. Although we've not tested this method ourselves, it seems like some people were able to access Netflix.
YouTube on Chromecast
YouTube works almost flawlessly on the Chromecast. If the content is available in your country, you'll be able to stream it using Chromecast. Another nice feature is the possibility to create a TV playlist which is accessible from multiple devices. When streaming YouTube content, your mobile device or computer become a YouTube remote, offering you the possibility to control the video and adjust the sound-level.
The only limitation we found is that private videos are not accessible. You can easily solve this issue by setting the video status from private to unlisted.
Hulu Plus
With Hulu Plus only being available in the USA and Japan at the moment, we were not able to test it here in the Netherlands. The geo-unblocking trick that works with Netflix won't help your with Hulu Plus, because you need an US credit card to be able to sign up for an account.
Google Play
The first thing we noticed was the missing button to stream content on Google Play Music. Streaming music via Google Play to the Chromecast is only possible using the Android app. Doing so works quite well, but I don't really see a point in not offering the feature on the website.
We are unfortunately not able to test Movies on Google Play for Chromecast because this feature is currently not available in the Netherlands. According to the Chromecast website, only the Android apps will let you stream media from Movies on Google Play to your Chromecast.
Google Chrome
Google Chrome let's you share a tab to Chromecast from your computer. This works quite well, although there is a little delay of one to three seconds. You are also able to stream video content from other websites in full screen, which is a nice way to deal with the current situation of limited apps being available. As mentioned earlier, you can also open video or audio files directly in Chrome to stream them to your TV, but sound as well as image quality seem to suffer from that.
Fullscreen Sharing
Google recently added a full screen sharing feature to the Chromecast software. With this being a feature in beta, no sound is available when streaming like that. Just like with Google Chrome, the stream has a delay of about one to three seconds.
Chromecast Features That You Can Actually Use In Europe
Whether you can use all Chromecast features in Europe (or outside of the US) really depends on which services are available in your country. Of course, YouTube, Chrome and Google Play a good for a start, but I really hope that more apps will be available soon.
I especially like the Netflix and YouTube feature because it makes watching media content really convenient. Of course, other media streaming devices do the same but they don't come at such low cost of $35.
A Freely Available Chromecast SDK Is Urgently Needed
At the moment, the amount of supported apps for the Chromecast is fairly limited. This is mainly due to the fact that Google has not released a Chromecast SDK yet.
A SDK would give developers the opportunity to develop apps for the Chromecast. At the moment only a small group of companies like AOL, Pandora and the Washington Post have access to a preview version, yet. Google recently invited developers to Chromecast hackathon and is expected to release the so-called Cast SDK at the beginning of December. We've created a list of possible Chromecast apps here.
Chromecast Giveaway
We would like to thank all participants. Winners have been notified by email!
Final Words
I really like the Chromecast. It's a cool device and the price of $35.00 is unbeatable. Although not all features are available in Europe, the small dongle is a cool thing to connect to your TV.
[Button_Blue_Affiliate cloaking="https://trendblog.net/go/chromecast" product="Chromecast" pagename="Chromecast Review"]Check out Chromecast[/Button_Blue_Affiliate]
[taq_review]
14 thoughts on "
Chromecast Review: How Well Does Chromecast Work In Europe?

"