How to Clear Cache Data on Android in 2021, Make It Clean and Know the Difference Between Cache and App Data
As time goes on, the phone will accumulate a lot of unnecessary files. You may free up some space on your smartphone by clearing away the files.
Web browser problems may also be solved by clearing the browser's cache. Your Android phone's storage capacity may be used by cache files. This helps applications to be more fluid, but you don't want your device to become cluttered with useless data.
As an example, if you have Chrome as your browser, Chrome may keep data from websites you don't visit, while your app cache might include files from applications you used once and then abandoned. Temporary application files, as well as how to remove the cache data on android, are now shown.
You must remove the cache data for every app on Android's newer versions. It is not required that you clear up the cache on every device that you use. Clearing the cache from the applications that are experiencing problems often resolves storage and performance concerns.
How to Clear Cache Data on Android 11
Clearing cached data on an Android app is done by following these instructions. Stock Android 11 is being utilised here, while on your device it will appear different.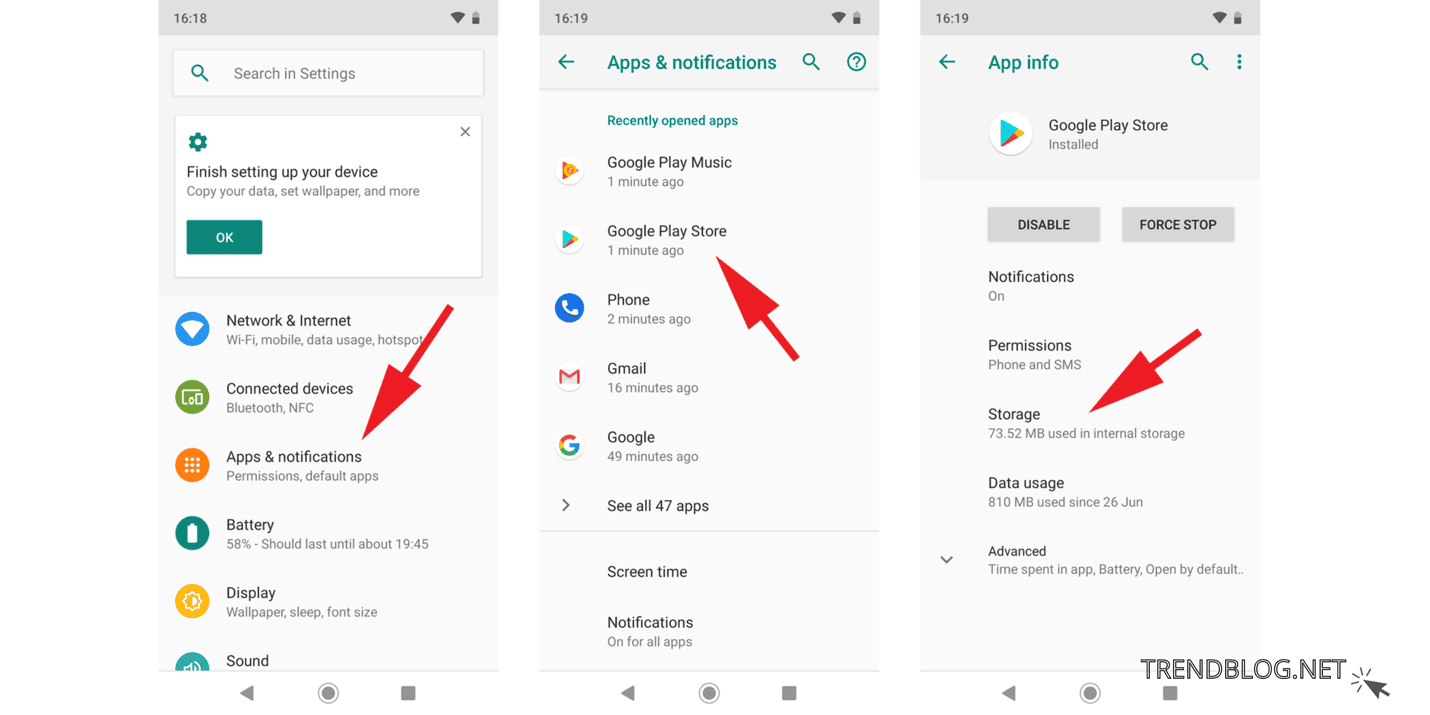 Select Storage inside the Settings app.
Once you've finished creating the list, hit the Other Apps option. When you get to this screen, it will provide a list of all the applications that are loaded on your smartphone.
To clear the cache, you have to choose an app. If you touch the three-dot menu in the top-right, pick Sort by size, and then see the total space used by all installed applications, the two with the most space will be shown first. For example, we'll use Play Store.
Once you select the Clear Cache option on the app's information page, you'll be sent to the app's home screen.
To complete clearing the cache data for just any application on your Android smartphone, that's about all you must do.
It is also possible to clear app data by tapping Clear Storage instead. For the most part, this restores the app to a "factory new" state, similar to downloading it from the Google Play Store.
In Older Versions, How Do You Clear App Cache Data on Android?
Unfortunately, in current versions of Android, there is no built-in method to delete all the cache. As long as the system continues to cache and update App Cache on a regular basis, the app data will stay exactly the same on Android.
That said, the two features work in distinct ways. When you launch the programme again, all the temporary files that it used the last time you used it are removed. Here are the methods to Erase the Cache on an Android Device:
The first step is to open the settings on your phone.
Visit the Applications Menu
Choose the Applications That You've Installed
Once you've completed Step 3, step 4 is to locate the app to be cleared of its app data.
Select it, and then move it to the Storage tab.
To finish, step 6 is to clear the app cache.
To provide another example, clearing the Spotify app cache deletes all the downloaded files and logs you out of your account, but not the files from Spotify. It is important to first create a backup of the data you want to preserve before deleting the App Cache.
Using Ios device and wanted to clear cache then you can check our article How to clear cache on iphone.
Clear an App's Cache on Samsung Devices
Clearing the browser cache will help you get a better and faster browsing experience on your Galaxy phone. It will get rid of residual files that could be slowing down the app. Here's how to clear the cache data on Android Samsung Galaxy S5, S6(Edge), S7(Edge), S8, S10, S20 or the Note Series, clearing cache on any Samsung smartphone came in handy.
Open Settings, and then swipe to and tap Apps.
Select or search for the app you want to clear.
Tap Storage, and then tap Clear cache.
Factory resets may be needed to erase the cache on all apps at the same time, but only if a factory reset is performed on the phone.
Use Device Care
Device care may assist you if you're having trouble managing your phone's storage, memory, and apps. All of these useful features will help to preserve your device's performance while also keeping it from slowing down.
Device care automatically performs scans on your applications, kills background programmes, and checks for viruses by just pressing a button.
Note that: The Erase system cache is NOT the same as the factory option, since data will not be erased during this process. Removing the cache or temporary data will ensure there is no data loss, but backing up your Samsung phone is always a good idea in case anything happens, and that data may be lost.
To Manually Clear App Cache, You May Use Third-party Applications.
The process of clearing app cache on Android may be done via several programmes or done manually, and it can be done using apps like CCleaner, or with software like Files Go. This company claims to securely and rapidly delete unneeded pictures, videos, and cache data on your phone.
CCleaner
We will demonstrate this concept by showing it using an application available for free on the Google Play Store, an application many of us use on our PC for the same task: the name of the programme is CCleaner.
Let's get started by saying:
To download CCleaner, go to the Google Play Store.
Grant the application permission.
Once you click "Start Scanning," wait for the scan to finish.
Now click on the Finish Cleaning button. This will do the job automatically.
Using Files Go: From Google
Files Go, a third-party software from Google, is a great tool for clearing the Cache on Android devices. Clears your App Cache and frees up memory to find all the Apps you don't use on your smartphone.
You'll also get the additional advantage of having Google Trust and Files Go's option of identifying and removing duplicate pictures, huge items, and other files that take up too much space on your smartphone. It's also very simple to use.
Open Files Go: from Google
In order to enable the Basic Permissions for the app to run, do so by enabling the Junk Files option.
Select either Clear or Confirm.
It may take a few minutes for the task to be done, but the undesirable App Cache will be removed from your smartphone after the procedure is finished.
Also, an app accessible on the Google Play Store called Clear Cache, Cleaner Lite may use this similar procedure.
Cleaning Out System Files Using Clear Cache Cleaner Lite
Similar to the Google-owned Files Go, this newly popular programme also provides numerous features, including clearing the application cache.
This programme not only has the capability to clear the cache, but it is also capable of speeding up your device by optimising RAM, getting rid of processes that are running, and much more.
Let's review this app's functionality so we can learn how to delete the cache:
Open the Clear Cache, Cleaner Lite Application
At the bottom bar, Select Junk Cleaner
Here, you would be shown the amount of Cache Memory that has been used.
Don't proceed until the process is finished.
How to Clear Cache From Chrome
First, open the Google Chrome app and touch the three-dot symbol in the upper-right corner.
To do this, go to "History."
To clear your history, open the History menu, select Clear Browsing Data, and then touch OK.
Alternatively, you may choose a time range from the drop-down box, which limits the results to files that were created in the specified time frame. Select "All time" if you wish to erase everything.
Also be sure you check "Cached images and files." Unless you're comfortable erasing both the browsing history and the cookies as well, uncheck "Browsing history" and "Cookies and site data." Clear the data by tapping the "Clear data" button.
To proceed, press "Clear.
How to Reset the Application Data
Let me illustrate by using an example: After clearing app data, you are rewarded with a significant quantity of free space; for a better idea of the magnitude, let me compare. If you've downloaded a lot of movies on Hulu, but failed to remove them, consider yourself an unwitting hostage.
When it's on your device, it will take up some space. Resetting the programme will free up additional storage space because of the cache. The next time you use Hulu, you'll have to sign in again. Clearing app data may be accomplished using these simple steps:
Step 1: Open the Settings on your smartphone.
Step 2: Visit the Applications Menu
Step 3: Choose the applications you want to install, in order.
Step 4:  Find the Application you want to Clear the App Data of
Step 5: Select it, and then move it to the Storage tab.
Step 6: The last step is to delete either Clear Storage or Clear App Data.
Be aware: When you launch the programme for the first time, you must reinstall all of the resources. To provide another example, you would have to re-download all of the game resources when you start the programme after you've deleted the app data in Fortnite. It's essential that you decide if you want to do it or not
Conclusion
Files cached on your phone may become damaged or overcrowded, and this can create performance problems over time. Clearing the cache on Android may make it easier to operate your smartphone.
Do check our Article "How to Clear Cache Data on Discord"