Updated to 04/01/20201
With Google finally releasing the Chromecast SDK recently, the list of iOS and Android apps who support Chromecast is constantly growing. As it can be quite hard to find Chromecast supported apps on  Google Play or Apple's App Store, we've decided to create a complete list of all apps that support Google's media dongle (or will so soon).
This list will be updated on a regular basis, so make sure to bookmark the page and come back!
Android & iOS Apps For Chromecast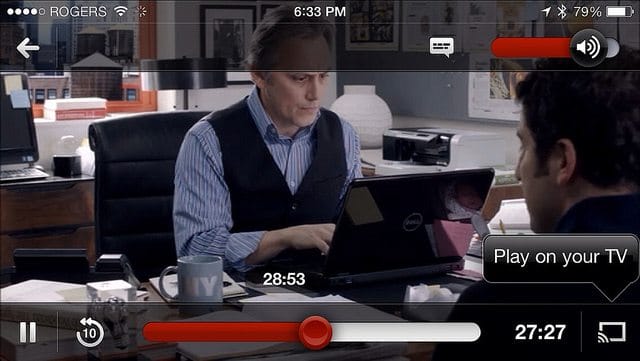 Google Play Movies & TV
Google Play Movies & TV allows you to watch movies and TV shows purchased or rented on Google Play.
Download Google Play Movies & TV for Android or iOS
Google Play Music
Google Play Music offers millions of songs, playlists and personalized radio stations. You are able to purchase songs/albums or pay a flat fee for Google Play All Access.
Download Google Play Music for Android or iOS
HBO GO
If you're a HBO subscriber, this app lets you enjoy your favorite HBO shows, movies, comedy specials, sports, documentaries – plus behind-the-scenes extras and more.
Download HBO GO for Android or iOS
Hulu Plus
Hulu Plus was one of the first apps to support Chromecast. It offers streaming of current TV shows and movies for Hulu Plus subscribers ($7.99 / month)
Download Hulu Plus for Android or iOS
Netflix
Netflix also belongs to the list of first apps that worked with Chromecast. As the world's leading subscription service for watching TV episodes and movies, it offers a sheer endless list of things to watch. A Netflix subscription is required to use this app ($7.99 / month).
Download Netflix for Android or iOS
Pandora
Pandora Internet Radio is a music streaming and music recommendation system. Choose a song, and Pandora will create a personalized radio station for you!
Download Pandora for Android or iOS
Plex
Plex lets you stream your videos, music, photos and home movies to your Chromecast from your home computer running Plex Media Server. It also supports custom channels like Reddit or TED. To use the app, however,  a PlexPass subscription at $3.99 / month is required. We've reviewed the app before.
Download Plex for Android or iOS
RealPlayer Cloud
RealPlayer Cloud enables you to upload, watch and share your videos! Upload your videos to RealPlayer Cloud and watch them on your Chromecast. Supported formats include FLV, WMV, MKV, DIVX, XVID, MOV, AVI and MP4.
Download RealPlayer Cloud for Android or iOS
Red Bull.TV
Watch Red Bull's global live events and a selection of sports, music and lifestyle entertainment on your Chromecast. You are also able to create playlists within the app.
Download Red Bull.TV for Android or iOS
Revision3
Revision3 lets you watch your favorite Revision3 shows like Diggnation, Film Riot or Tekzilla on your Chromecast.
Download Revision3 for Android or iOS
Songza
Songza is a music listening app that plays music based on the time of the day your mood.
Download Songza for Android or iOS
Viki
Viki lets you watch the best TV shows, movies, variety selection of Korean dramas, and other premium content in high quality, translated into more than 150 languages by a community of avid fans.
Download Viki for Android or iOS
VEVO
Watch music videos, stream live concerts, and discover new artists from a database of 75.000 music videos from 21.000 artists on your Chromecast with VEVO.
Download VEVO for Android or iOS
YouTube
YouTube is the biggest video-streaming platform worldwide and the app was one of the first that supported Chromecast. You can simply watch videos or create playlists that will run on your TV.
Download YouTube for Android or iOS
Android-Exclusive Apps For Chromecast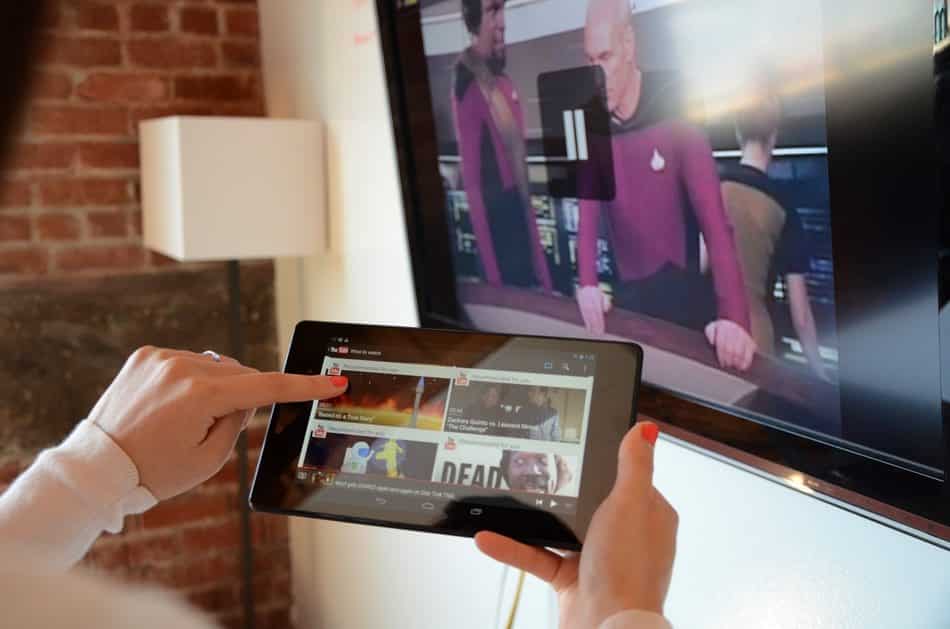 AllCast
AllCast lets you send photos, music, and videos on your Android to your TV. The free version is limited to 1 minute of streaming. The premium version costs $4.99
Download AllCast or AllCast Premium
AOL On – Coming Soon
AOL On lets you stream the latest videos shared on AOL.com. Topics include entertainment videos, breaking news and trending topics.
Audiour – Coming Soon
Audiour is  a free and open music sharing service where you can browse, upload and share any audio content.
Avia Media Player
Avia lets you play, manage and share your personal media to your Chromecast. You get access to photos, videos and music from social media sites, your home network and your device's local storage.
(Requires in app purchase of $2.99)
Download Avia Media Player
BeyondPod
BeyondPod is a Podcast manager and RSS feed reader. It offers offline sync as well as audio and video playlists. The app requires a pro license purchase of $6.99.
Download BeyondPod
Dailymotion – Coming Soon
Dailymotion is a video sharing platform which hosts over 30 million clips. The app overs offline sync and playlists.
Download Dailymotion
Pocket Casts – Coming Soon
Pocket Casts is a Podcast streaming app which also features offline sync and playlists.
Download Pocket Casts 
PostTV
PostTV is the official Washington Post app. It includes coverage of the biggest Washington issues and ideas.
Download PostTV
TicTacToe
TicTacToe for Chromecast is an app where you compete where you can play TicTacToe against a friend using your mobile devices.
Twitch – Coming Soon
Twitch is THE platform for video game livestreams, turning gameplay into an immersive entertainment media experience on your Chromecast.
Download Twitch
Vimeo – Coming Soon
Vimeo is an online video streaming platform featuring millions of high quality videos and movies.
Download Vimeo
Outlook
It's great to see that more and more apps support Chromecast. However, most apps are currently focusing on streaming content like videos, music or Podcasts to the Chromecast. I hope that the next weeks will show more experimental apps and really look forward to it! Which apps would you like to see?
Image courtesy of ReadWrite