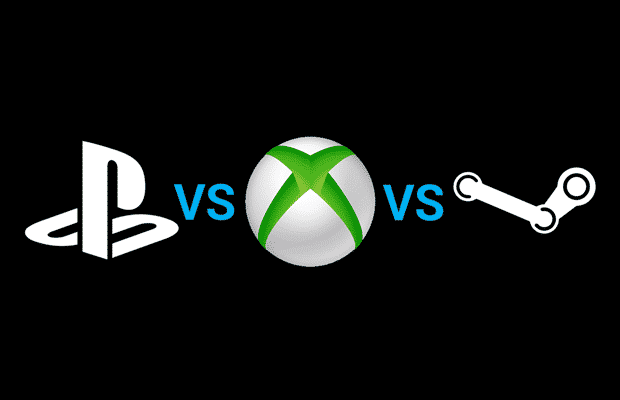 Who Will Win The Console Gaming War In 2014?
Microsoft's Xbox One and Sony's PlayStation 4 have been around for a few weeks now and are basically sold out constantly all over the world. With Sony announcing a new game streaming service and Valve presenting a variety of Steam Machines, 2014 looks like it's going to be a very exciting and promising year for gamers.
But which console is currently winning the battle? Should you rather wait for a Steam Machine or more details on Sony's revolutionary streaming service? Let's talk about the 2014 war of gaming consoles.
PlayStation 4 wins in total sales
As of December 28th, Sony sold over 4 million PS4 consoles worldwide. Microsoft's Xbox One was sold over 3 million times as of the end of 2013. But these numbers don't tell the whole story.
Neither Microsoft nor Sony can currently match the demand for their consoles. I, for example, have preordered a PS4 Mega Bundle on Amazon at the beginning of November and am still waiting for a shipping date. People want to buy a next gen console, but simply can't get their hands on one because they are sold-out everywhere. And that does not even include the people living in countries where the consoles are not even officially released yet.
It will be interesting to see which console will sell better once they are available everywhere. From what I've read on reddit, it seems like more people are looking to buy a PS4. But these are just comments and no official statements.
Both next generation consoles still stand a chance to win the war. The next year will show which console sells better and receives more exclusive titles. A few days ago, Sony made an unexpected move which might have a huge impact on the battle between Xbox One and Playstation 4.
PlayStation Now is like Netflix for gaming
During this year's CES, Sony announced PlayStation Now. PlayStation Now is basically like Netflix for gaming and even more awesome. Instead of buying games (may it be as a digital download, Bluray or DVD), you simply subscribe, pay a monthly fee and you are good to go. Hardware-wise, you'll need one of the following devices at launch to enjoy the subscription service:
PlayStation 4
PlayStation Vita
PlayStation 3
Selected Sony Bravia TV's
Sony Mobile device such as a tablet or smartphone
With the PS4 currently not offering a backward compatibility, PlayStation Now brings older games to Sony's latest console. A smart move, considering the extra income from subscription fees while saving money on the otherwise necessary hardware in the console itself.
Interestingly enough, the service is likely to expand to other, non-Sony mobile devices which is a very unexpected move. With companies usually making profit from licensing on accessory sales, offering gaming service on non-Sony devices was a huge surprise for me.
Considering that most consoles are sold (almost) at loss on launch, Sony could simply skip this step and serve games directly to the gamers. Maybe there even won't be a PlayStation 5, with games simply served trough the internet. We'll see.
PlayStation Now will be available in the US this summer. The monthly fee is still unknown, but I personally expect it to be somewhere in the range of $10 to $20. With Sony currently charging $9.99 a month for PlayStation Plus, it seems like a reasonable price. I also expect that PlayStation Plus subscribers will get some sort of discount in the range of 25% to 50%.
Will Steam Machines have an impact on the console industry?
Last year, Valve announced Steam Machines which seek to bring the Steam gaming experience to the living room. With more than 3,000 games available on Steam already, Steam Machines look like a convenient couch-gaming alternative for PC gamers.
Although people are basically able to build their own Steam Machines by installing the Linux-based operating system, several companies announced a variety of pre-configured Steam Machines during this year's CES. Prices vary heavily from $500 to $6,000 and most machines are updatable. Hell, you could even go ahead and simply install SteamOS on your already existing PC, get a controller and be good to go. Still, I don't think that Steam Machines will play a huge role in this years console war.
Let's be honest here. If you're buying a gaming console, you're buying it for the convenience, exclusives and hardware features like Kinect. With Steam Machines starting at $500, the price won't make a huge difference in contrast to a next generation console. I know that Steam has awesome sales, but this also applies to console games or you can simply buy a pre-owned game.
Although I personally haven't tested a Steam Machine and the controller yet, I doubt that the user experience will be as good as on a PlayStation 4 or Xbox One – OS-wise that is. Microsoft and Sony have a few more years experience in serving a couch-gaming audience.
Hardware-fragmentation will require a certain setup on Steam Machines that is simply not necessary on consoles. That might not be an issue for some of us, but people who never played on a computer may be annoyed by it. Of course, some of you will say that games will look much better on Steam Machines. That's possible, but you also have to pay for it. If you're getting a console you might not have the highest FPS, best graphics or 1080p available, but at least you're getting something to play games decently for a few years.
Please don't get me wrong. I don't mean to bash Steam Machines. I just think that they won't have an impact on the console war (for now). Please correct me if you're thinking that I'm wrong.
2014 is going to be an exciting year for gamers!
With the console war going on, Sony offering a streaming service and Steam Machines around the corner, 2014 will be a really exciting year for us gamers. I'm quite excited to see Microsoft's reaction on PlayStation Now and how both next generation consoles will perform throughout the year. I personally think that it's great to see that gaming, may it be on a computer, a console or a mobile device, grows together.
But who will win the war of gaming consoles this year? Gamers. It's great to see that technology evolved and we'll soon be able to play our favourite games across multiple devices. And this is what will matter.
What are you looking forward to see in gaming this year?