With the large security breaches that Yahoo has suffered, you may want to delete your Yahoo account. If you can't delete your account, or you don't want to, you should at least secure your account.
Yahoo suffered a security breach in 2013 that compromised data from more than one billion user accounts. This included names, email addresses, passwords, telephone numbers, dates of birth, and more. Another security breach occurred in 2014 where cookies were forged, and data was stolen from at least a half billion accounts.
You can check for signs that your account has been hacked.
Prepare Your Yahoo Account For Deletion
There are some things you must do before you can delete your Yahoo account.
NOTE: Before deciding to delete your Yahoo account, be aware that you will not be able to use any other free Yahoo services associated with this account after it's deleted. This includes Flickr, Tumblr, and Finance.
Disable Your Yahoo Account Key
If you've enabled Yahoo Account Key to secure your Yahoo account, you must disable it before deleting your account.
Save Your Yahoo Account Data
Make sure you know your current password. If not, go to the Sign-in Helper page to recover your password. Once you know your password, sign in to your account and save your information, such as emails and attachments, contacts, calendar events, Yahoo Groups photos and files, and Yahoo Messenger conversations.
You may also want to download photos from your Flickr account, back up blogs in your Tumblr account, and download data from your Yahoo Finance account.
One way to save your Yahoo email messages is to add your Yahoo account to an email client on your computer as a POP account. This downloads all the emails in your Yahoo account to your computer. They will not be deleted when you delete your Yahoo account because it is not synced with your account.
Cancel Paid Yahoo Services
If you use any paid Yahoo services, like Yahoo Mail Plus, associated with the account you want to delete, cancel them before deleting the associated Yahoo Mail account.
Disconnect Your Yahoo Account From Third-Party Accounts
If you've connected your Yahoo account to social network accounts, like Facebook, disconnect your Yahoo account from those accounts before deleting it. You can do this on the "Accounts" screen in the "Settings" accessed from the gear icon in Yahoo Mail.
Delete Your Yahoo Account Data
It takes up to 90 days for the data in your Yahoo account to be deleted. If you don't want to wait, you can delete the data prior to deleting your account. Unfortunately, though, you must do this manually.
Delete Your Yahoo Account
Once you're ready to delete your Yahoo account, go to this webpage and sign into your account, if you haven't already.
A page with information about terminating your Yahoo account displays.
Read through the page and decide whether you really want to delete your Yahoo account. Click "Continue" if you decide to continue deleting your account.
Enter the Yahoo email address you want to delete to confirm your identity. Then, click "Yes, terminate this account".
Your account is deactivated and scheduled for deletion.
It takes 90 days for the data in your account (such as email messages) to be deleted. Data in a Yahoo Finance Premium account will be kept for 3 calendar years.
NOTE: Yahoo warns that some of your information "might possibly remain" in its records even after you've deleted your account. Visit Yahoo's Data Storage and Anonymization support page to learn more about what data could be left behind.
Reactivate a Deleted Yahoo Account
If you decide you want to use your Yahoo account after deleting it, you can reactivate it if you deleted it within approximately the last 40 days. Longer periods apply for accounts in Australia or New Zealand (approximately 90 days) and Brazil or Taiwan (approximately 180 days). You cannot reactivate your account if it was deleted by Yahoo due to inactivity or if you violated Yahoo's Terms of Service.
First, Get An Account Key
To reactivate a deleted Yahoo account, you must have access to either the mobile phone number or the recovery email associated with the account. Log into your account with your Yahoo email address and password.
Then, click "Yes, text me an Account key" to use your mobile phone to receive an Account Key, or click "I don't have access to this phone" to receive an Account Key in your recovery email.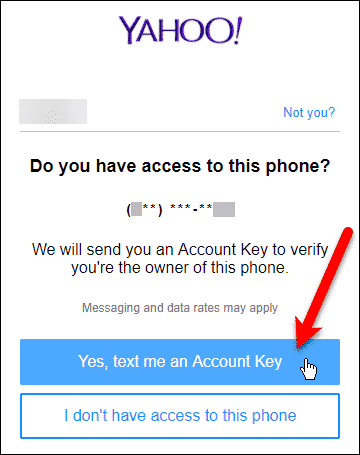 Enter the temporary Account Key you received on your mobile phone or in email into the box on the next screen and click "Verify".
A "Success" screen displays when you're successfully signed in. Click "Continue".
You'll see the "Don't get locked out" screen. You can add a Recovery email and a Phone number, whether you've already added that information or not. You can add multiple email addresses and phone numbers to help you access your account if you have trouble signing in.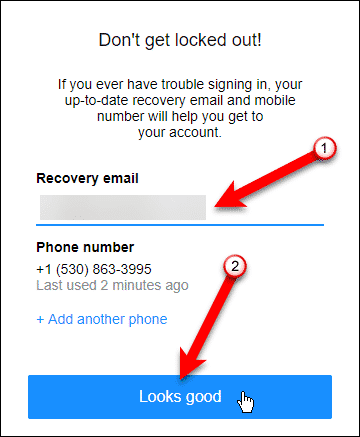 You'll see a confirmation message saying your email or phone number has been updated. Click "OK" to close the message and continue to your Yahoo account.
You'll see an email message in your Yahoo account saying that an Account Key was sent to your phone or email and was used to sign into your Yahoo account. The deletion process for your Yahoo account was stopped.
Was your Yahoo account affected by the security breaches? Share your experiences with your Yahoo account and any helpful advice you have in the comments.