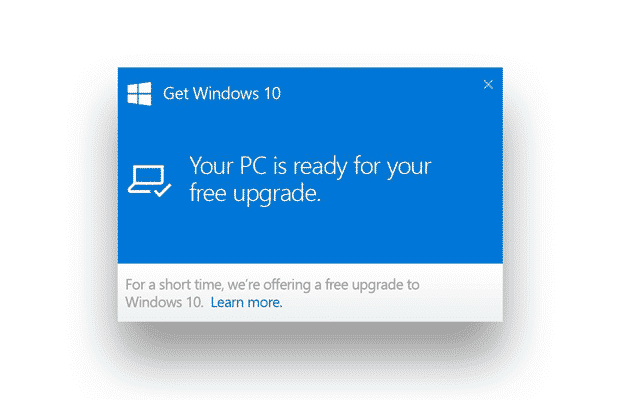 How to disable the "Upgrade to Windows 10" Notification
It appears in your system tray as a new icon with the Microsoft logo. Intrigued, you click, and up pops a menu urging you to "Get Windows 10". Depending on your system, other options may include "Check your upgrade status", and more seductively, "Get to know Windows 10".
If you run Windows 7 or 8, you'll have no doubt encountered the upgrade to Windows 10 Notification. And like most users, you probably have mixed feelings about it.
On the one hand, what's not to like about being offered a free upgrade of your operating system? Unless, of course, unhappy memories of previous Microsoft upgrades still haunt. Or the current malware endemic makes it disconcerting to discover a new icon urging to be clicked. But what piques most users is Microsoft's heavy handedness.
If you ignore the upgrade message, it will soon start popping up regularly to nag you until you show it some love. If you're fed up of this constantly prodding, or want to wait and see how Windows 10 measures up before committing, here are some ways to disable the upgrade to Windows 10 notification.
Give It A Good Hiding
The simplest way is to hide the offending icon. You have several options here:
Click on the up-pointing triangle on the right hand side of the system tray.
Click on "Customize" at the bottom of the box that pops up.
You'll get a list of Notification Area Icons and on the right hand side, a choice of behaviours.
Find the Windows 10 Upgrade notification.
Click on its behaviours and choose "Hide Icon and Notifications".
Viola. The Windows 10 notification is gone from view.
Another way is by killing the process.
Pull up task manager by pressing ctrl+alt+del or right clicking in the taskbar and choosing "Start Task Manager".
Locate the process GWX.exe.
Click "End Task", and confirm.
Gone. (At least until you reboot Windows).
Use a Tool to stop the notification
Microsoft has its share of critics so it wasn't long before tools to remove the notification started appearing. One of the most popular is the GWX Control Panel. Download it from Ultimate Outsider, and follow the on-screen prompts to install.
Once launched you get a top screen showing your computer's Windows 10 status. Below you'll find an array of options to effortlessly tweak your system. The only ones you really need are Delete "Get Windows 10" app and Prevent Automatic Windows 10 upgrades. The good news is that everything is reversible via the tool. If you're comfortable unleashing 3rd party utilities on your computer, this is the simplest choice.
Remove the Patch and Disable Automatic Updates
Like most users, you probably have Windows update itself automatically. This is smart as it ensures your system files are always up to date and you have the latest security patches. The Windows 10 update prompt first appears on your computer following an (optional) OS update so removing this update will remove the nag. Just go into Windows Updates, find patch KB3035583, right click and choose uninstall.
A brute force approach is to kill the process as explained above and delete the folder \Windows\System32\GWX or C:\Windows\SysWOW64\GWX for 64-bit systems.
The drawback for these methods is that you'll have to disable automatic updates or the update message will soon be back. And that means you won't get all the useful updates you really need.
One way to get around this is to select the "Download updates but let me choose whether to install them." option for Windows updates. That way you'll get a message in the system tray when updates are available and can choose which ones you wish to install.
Just Upgrade
The simplest way to get rid of the nag is just to upgrade when you're ready. At least you're doing it on your terms which is as it should be. The good news its that Windows 10 is garnering positive reviews. And with it running on PCs, laptops, Xbox One, as well as Windows mobile devices, it's set to be the major OS for years to come.
Got any other tricks up your sleeve about how to disable the Windows 10 notification? Let us know in the comments below.