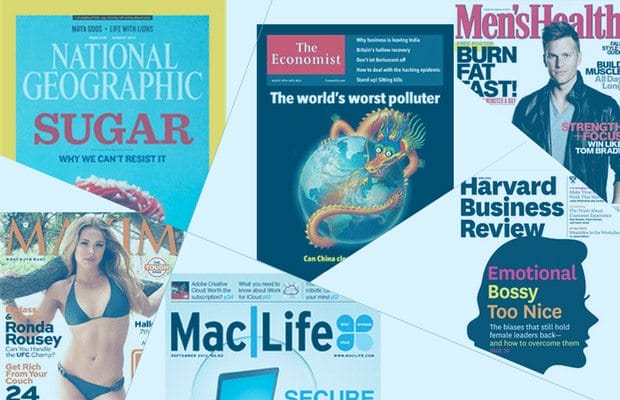 Have you ever read a magazine your tablet? It's very likely you have. According to a study by The Association of Magazine Media 59% said they spent more time reading magazines digitally after they bought a tablet device. Sounds great, but this was in 2011. So what's happening now? A recent study by Mequoda shows that only 23% of tablet users prefer digital magazines on tablets over print. What happened?
Our tablets are getting smaller
Well, the screens of our tablets are getting smaller. We tend to prefer 7-9″ tablets (like the Nexus 7 or the iPad Mini) over 9-11″ tablets. I think we can all agree on the fact that an iPad Mini with a 7.9″ screen is way more portable than its big 9.7″ brother. Tablets are made to be portable, so the lighter and smaller ones are a more obvious choice for most consumers.
A study by the International Data Corporation (IDC) shows how our tablets' screens are getting smaller and smaller over time. 7-9″ tablet's market share has increased by 75% over the past 3 years, and will continue to grow according to IDC's projections.
I, personally, prefer reading digital magazines over print. But my iPad Mini's screen is too small to be able to read the text without zooming in and navigating around to have it perfectly positioned for reading. Nevertheless, tablet magazines are much handier than having a pile of print magazines on your coffee table (which you will never throw away for some reason).
Best way to read magazines on your tablet
There are many ways to consume your favorite magazines on tablets. Also, you have a variety of apps and services that allow you to buy separate issues or subscriptions right from your tablet. Let me tell you about my favorite app I use to read magazines on my tablets – Zinio.
Zinio is probably the world's largest digital newsstand. During the last 2 years Zinio has delivered over 200 million magazines to readers on phones, tablets and desktops around the world.
"From Blackbook to Bloomberg, from Adweek to Newsweek, from GQ to OK, our magazines are from everywhere, about everything and for every taste." – Zinio
No matter where you are from and what language(s) you speak – there is something for you to read.
Introducing Z-Pass
Zinio's new feature, Z-Pass, gives you more flexibility when it comes to reading and choosing digital magazines:
Get 3 new magazines for $5 every month
Keep the same 3 or swap your titles every month and explore
Keep your current subscriptions as they are if you like, and use Z-Pass to test out new magazines instead of committing to a full year of something new
The Big Giveaway
The guys at Zinio were kind enough to give us 10 subscriptions to give away! After keeping one for myself (which ended up being Harvard Business Review) there are 9 left for you guys! Subscription length differs from magazine to magazine.
Winners of the giveaway can choose any title offered on Zinio, no matter where you are from! Enter below to win. The giveaway ends on August 31st. Winners will be notified via Facebook or email and will be asked to give us their full name and the title of choice. Good luck!