If you're a gaming enthusiast, GTA 5 is one of those games that never disappear even after 8 years of its existence. Of course, Grand Theft Auto 5's narrative mode is great. The online version of the game, known as GTA Online, is what's preserving the game, though. Since you're here you already know the topic of this article—the quickest vehicles in Grand Theft Auto V and GTA Online.
Core players would feel they have some connection with both the game itself and the game company. Especially some popular game IPs always launch their merchandising for players to buy. At the same time, players themselves can also customize some decorations or toys with their preferences. Making some custom enamel pins must be famous among GTA fans. You could give these cute pins to your friends with the same interests as you do, as gifts. Pin them on clothes, hats or bags can make your look stand out and unique. Also, you can customize some other products at Enamelpins.com which are not expensive and easy to use on various occasions.
Finding the quickest vehicles in GTA 5 isn't that simple, especially given the abundance of choices. The handling of an automobile, in addition to its speed, affects how it performs overall.
We are aware that you won't have time to test drive every vehicle in GTA 5 to determine which is the quickest. As a result of our study on your behalf, we're going to list the top 5 fastest vehicles in GTA 5 in 2022 in this post.
Top 5 fastest cars in GTA 5
Ocelot Pariah- The fastest Car
Ocelot Pariah, with a top speed of 136 mph, is without a doubt the fastest vehicle in Grand Theft Auto V. Players frequently underrate the Ocelot Pariah due to its unimpressive appearance, yet this vehicle is a performance beast. Ocelot Pariah feels like it is flying as you accelerate to its top speed.
With the release of the 1.42 The Doomsday Heist update in December 2017, Ocelot Pariah was first made available in GTA Online. After three years, Ocelot Pariah has never been surpassed by any other vehicle in GTA Online. Because of this, purchasing this supercar in GTA Online will set you back a hefty $1,420,000. If you have that much money, Legendary Motorsport is where you may purchase Ocelot Pariah.
Grotti Itali RSX
The Grotti Itali RSX overtook the Pfister 811 to become the second-fastest vehicle in GTA 5 Online. As part of the 1.52 Cayo Perico Heist update, which was released in December 2020, the sports automobile was first featured in Grand Theft Auto Online.
Interestingly enough, the Grotti Itali RSX is based on the Ferrari SF90 Stradale and has a top speed of 217.74 km/h (135.5 mph). To add this automobile to your collection of GTA 5 vehicles, however, would require a large financial investment since it costs $3,465,000.
Pfister 811
Pfister 811 overtakes Grotti Itali RSX as the quickest vehicle in GTA 5 Online in 2023. You would naturally assume that Pfister would be quicker when comparing Ocelot with Pfister based just on looks, yet the opposite is really true. With a top speed of 133 mph, the Pfister 811 is still the third-fastest automobile in GTA 5 Online.
The Porsche 918-based Pfister 811 was released in GTA 5 Online on June 28th, 2016, as a part of the Further Adventures in Finance and Felony update. Of course, Pfister 811 isn't the fastest car, but at $1,135,000, it's still a lot less expensive than Ocelot. So, if you're able to save a tonne of money in GTA Online, you may also choose the powerful Pfister 811 from Legendary Motorsport.
Principe Deveste Eight
If you're a fan of sports cars, you can't deny that the Principe Deveste Eight is a fantastic vehicle in Grand Theft Auto. Based on the real-life Devel Sixteen, a hypercar that would give Bugatti nightmares, Deveste Eight was created. On February 21, 2019, the Arena War update introduced the supercar.
Principe Deveste Eight is a beast in terms of appearance and even performance. You'll make other players envy if you drive this automobile around Los Santos, but you'll have to shell out a tonne of cash to get your hands on it. Deveste Eight, which costs $1,795,000 and has a top speed of 132 mph, is the fourth-fastest automobile in GTA 5 online in 2023.
Bravado Banshee 900R
In GTA 5 Online, wealthy gamers might be seen zooming about Los Santos on Bravado Banshee 900R motorcycles. The Banshee 900R, which ranks fifth on our list of the fastest vehicles in GTA 5 Online 2023, can reach an astounding 131 mph. The supercar, which was first featured in GTA 5 Online back in 2016, is still regarded as one of the greatest vehicles available.
The Banshee 900R is a beast, but the nicest part about it is how inexpensive it is in comparison to other supercars in GTA Online. Banshee 900R is available from Legendary Motorsport for merely $565,000, and it can be found in your garage.
BF Weevil Custom
One of the fastest cars in GTA 5 Online is the BF Weevil Custom. The fastest it can go is 137.50 mph (221.28 km/h). It was added to the game on October 27, 2022, as part of the 1.61 Criminal Enterprises update. 
The Weevil Custom looks like a Rat Rod VW Beetle. In GTA Online, you can buy it at Benny's Original Motor Works for $980,000.
Lampadati Corsita
The sixth fastest car in GTA Online is the Lampadati Corsita. It can reach a top speed of 131.30 mph (211.31 km/h). It was added to the game as part of the Criminal Enterprises 1.61 update on July 26, 2022.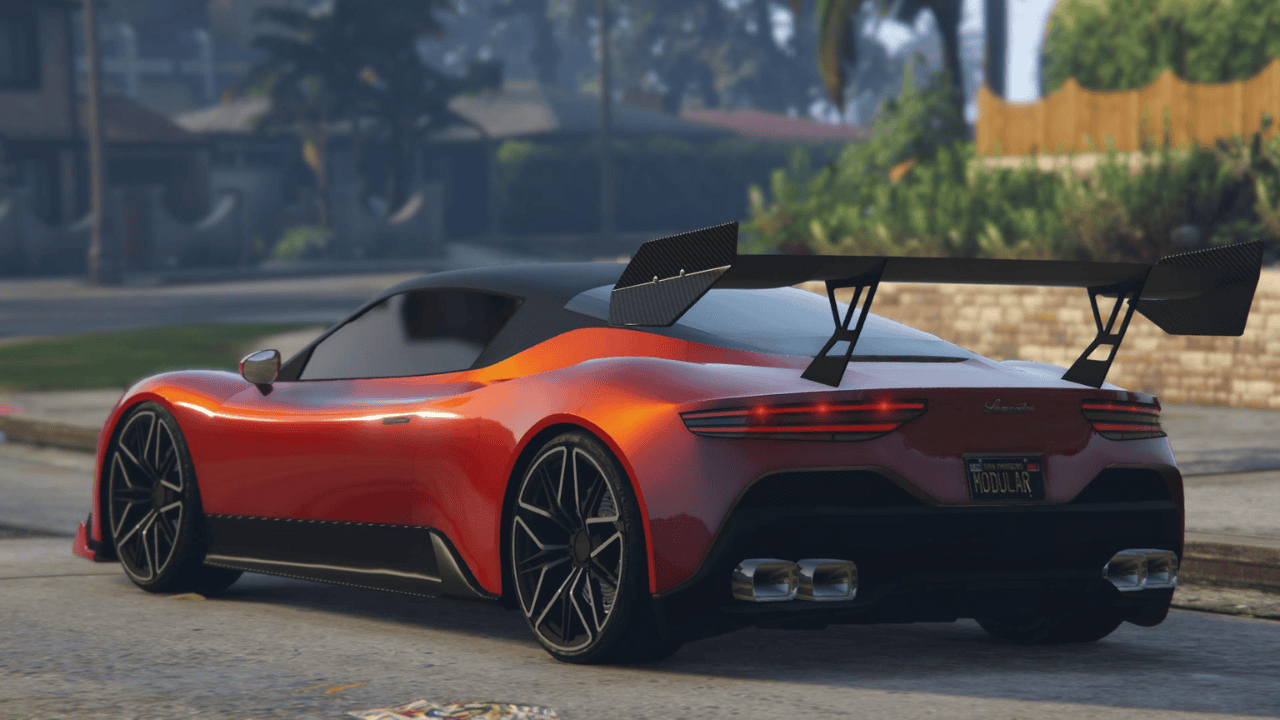 The Maserati MC20 is the real car that the Corsita is built on. It costs $1,795,000 from Legendary Motorsport in GTA Online.
These are the top 7 quickest vehicles in Grand Theft Auto Online. There are additional fast cars in GTA Online, of course, but the vehicles listed in the list take the top seven positions. In the meantime, purchasing a car in GTA Online based just on its appearance is very different than doing so based solely on its specifications.
Last but not least, it is still up to gamers to decide what kind of automobile they want to drive—whether it be one of the quickest vehicles in GTA Online or a gorgeous muscle car.
Also Read
FAQs
Q.  What is the fastest car in GTA 5 2023?
The Ocelot Pariah is GTA 5 Online's quickest vehicle on the road. The $1,420,000 sports vehicle has a record peak speed of 136 mph/218.87 kph.
Q. What car in GTA V has the best acceleration?
The Grotti Itali RSX is the fastest vehicle in Grand Theft Auto V, and let's be honest, just looking at its photo should be enough to persuade you that it's a force to be reckoned with.
Q. What is the fastest car under 1 million in GTA?
The Bravado Banshee 900R, which costs less than $1 million, is the finest and fastest vehicle available in Grand Theft Auto Online.
Q. Is there a Tesla in GTA 5?
Although the GTA online market is always changing, there are now three vehicles made particularly to appear and operate like Teslas. The name of the manufacturer, Coil, is a pun on the electric Tesla coil.