Final Fantasy 7 Rebirth announced and "Final Fantasy VII Crisis Core: Final Fantasy VII-Reunion" are coming to a gaming console near you soon, Final Fantasy 7 Rebirth has revealed!
A new trailer for Square Enix's Final Fantasy VII remake, Final Fantasy VII Rebirth, continues the journey into the unknown. Crisis Core: Final Fantasy VII, the prequel game to the original Final Fantasy VII, would also be remade as Crisis Core: Final Fantasy VII – Reunion, it was revealed in addition to this news.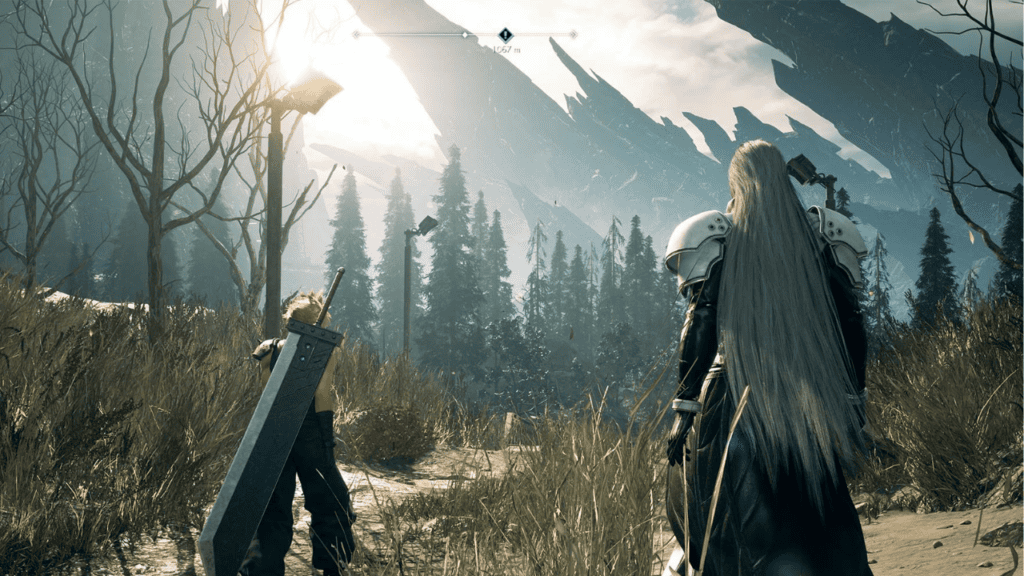 During the Final Fantasy VII 25th Anniversary Celebration Livestream, the announcement was made through a trailer that was shown. 
When Aerith first appears in the new trailer, she says that while the past cannot be reversed, the future can be altered. In a flashback sequence that will be familiar to everyone who played the original game, Cloud Strife and Sephiroth are seen strolling together towards what appears to be the mountains leading to the Nibelheim Reactor in a small sample of gameplay. On their walk, we can hear Cloud and Tifa talking about a vision Cloud had of her being slain by Sephiroth in the first game. Zack Fair is shown bringing an unconscious Cloud into Midgard in a moment that seems very similar to the ending of the previous remake. Rebirth will be followed by an untitled third film in the remake trilogy, it was also confirmed. It is anticipated that Rebirth will be released only on the PlayStation 5 in the winter of 2023/2024.
The plot of the Final Fantasy VII Remake, which was released in 2020, will be continued in Final Fantasy VII Rebirth. 
The original city of Midgard, which served as the game's starting point in 1997, was revisited in the remake, and many of the events and characters that appeared there were elaborated upon. Many fans were left wondering what to expect from this sequel, especially since it was announced that the project will now be broken into three sections. It's going to be interesting to see how this new entry in the Final Fantasy VII series ties everything together.
Immediately following the news, the official Final Fantasy 7 Remake Twitter feed was filled with statements from members of the production team. 
He claimed that the new title is "being built so that people may enjoy. This game whether they know the original game or not," referring to Tetsuya Nomura's work on Final Fantasy VII Remake. Naoki Hamaguchi, the director of Rebirth, also made a statement. Claiming that the 2023 title will be released "A lot more than just a single chapter of the story We're working on it with all the zeal and commitment it takes to create a unique game and provide players with the best possible gameplay and world-building experience." This second sequel will feature an even more compelling storyline and a more in-depth investigation of the characters, according to the game's producer, Yoshinori Kitase, who talked about how smoothly the game's development has gone over the last several years. Please be patient as we work to create Final Fantasy VII Rebirth a more engrossing and unforgettable event than Final Fantasy VII Remake. The full statements from the Final Fantasy VII crew are available below.
Also Read: 
The Best PlayStation Days of Play 2022 Deals — Huge Savings
When Will Sony Playstation Ps5 Restock on Amazon, Walmart, Bestbuy
Xbox One vs Playstation 4 – Which Is The Better Next Gen Console?
Here's how to get your hands on the most PS 5 Restock Walmart
FAQs:
Q1: Is  PS4 version of Final Fantasy X7 Rebirth is not yet available?
A PS4 release of Final Fantasy 7 Rebirth has yet to be confirmed by Square Enix; at this point in time, it has only been announced for the PlayStation 5. Because the team has stated that they want to take advantage of the PS4's potential for this project. There is a great likelihood that it will not be released on PS4.
Q2: Why FF7 reincarnation isn't available on PC.
According to series producer Yoshinori Kitase, who spoke at the Final Fantasy 7 25th anniversary Livestream. The second part of the remake will be called Final Fantasy 7 Rebirth. And will launch for PlayStation 5 in winter 2023.
Q3: What can you expect from the upcoming Final Fantasy 7: Rebirth?
After 2020's Final Fantasy 7 Remake, Square Enix will release a trilogy of Final Fantasy 7 games. The first of which debuted in the game's first trailer. On Thursday as part of the company's 25th Anniversary Livestream. In the winter of 2023, PlayStation 5 owners will be able to play a new RPG.
Q4: Does FF7 Intergrade count as an add-on in the game's canon?
Final Fantasy VII REMAKE INTERGRADE is an improved and enlarged version of the critically praised. And award-winning Final Fantasy VII REMAKE for the PlayStation 4.
Q5: ff7 Remake Part 2: Will It Be Playable On The PS4?
PS5, PS4, Xbox Series X/S, Xbox One, Nintendo Switch, and Steam users will be able to play it this winter.
Q6: Is Yuffie's FF7 Remake Yuffie free?
If you buy Final Fantasy 7 Intergrade at full price, you get the bonus episode INTERmission included. But if you upgrade from a PS4 to a PS5, Yuffie DLC will cost you an additional $20