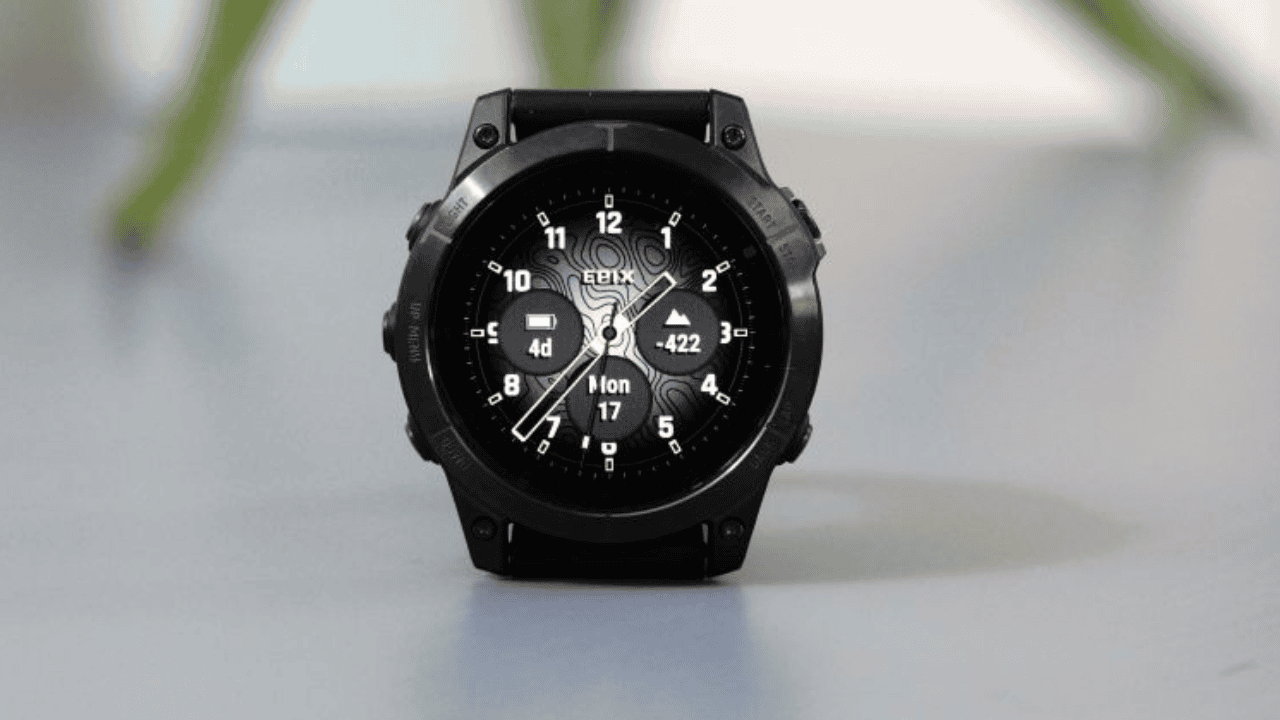 Garmin Fenix 7 review: The best GPS sailing watch
Garmin Fenix 7 review.  Garmin's all-in-one adventure watch gets an upgrade with the addition of a touchscreen. The Garmin Fenix 7 Sapphire Solar has a touchscreen, longer battery life, and a slew of capabilities, but it is unlikely to replace your bike computer.
Pros: 
The new touchscreen, longer battery life, and a wide variety of features and activities are all included.
Cons: 
Some functions require a power metre; the optical heart rate monitor had some problems; cost was a factor.
Redesigned training capabilities and a new touch screen are included in the Garmin Fenix 7 Sapphire Solar, the company's flagship solar-enhanced GPS multisport smartwatch, which replaces the Garmin Fenix 6. Battery life can be extended for weeks thanks to its solar collecting capabilities in the Fenix 7.
Maps and activity profiles for a variety of sports are included.
Supports interval training, high intensity interval training (HIIT), and specific training routines. Data from the optical heart rate monitor is used to give you an idea of how well you're doing in terms of performance and recuperation. The 'Body Battery' and stress levels are two examples of 'wellness' functions.
Users of Garmin smartwatches and the top smartwatches will be familiar with many of the day-to-day capabilities. Push notifications from your smartphone, contactless payments, and the ability to store music on the watch are among these features.
Using the Garmin Connect IQ app, you may download apps and change the look of the watch face.
The Fenix 7 Sapphire Solar costs £779.99 / $899.99 / €899.99 / $899.99 / €899.99.
Details and characteristics of the Garmin Fenix 7 Sapphire Solar GPS smartwatch
Size, design, and connectivity
With a 1.3in display, this Fenix 7 boasts a 47mm carbon grey titanium case. Designed for wrists up to 108mm in circumference, the watch is 14.5mm thick and 73g in weight with a regular silicone strap.
Because of its transflective LED display, the Fenix 7 can be read well even in direct sunshine. When visibility is limited, the display features a backlight for easy viewing.
Garmin's Fenix watch with solar harvesting and a Sapphire reinforced screen is now available for the first time.
To upload data to Garmin Connect or apps like Strava, you can pair the watch with heart rate monitors and power metres using Bluetooth and ANT+. You can also use WiFi to connect the watch to your home network.
The watch has a 100-meter water resistance rating.
Battery life and solar charging
Fenix 7 comes with a solar charging system from Garmin, which can extend the watch's battery life up to 73 hours in GPS mode or 22 days in smartwatch mode With solar power, the battery conserving option extends that time to 173 hours.
Compared to the Garmin Fenix 6 Pro Solar, which has a battery life of 40 hours in GPS mode and 16 days in smartwatch mode, this one has a significantly longer battery life.
Although these estimates are based on 50,000 lux circumstances, it is important to note that they require three hours of daily sunlight exposure. If you're wearing the watch under a sleeve, you'll notice a decrease in these claimed figures, which can be difficult to pin down.
Types of athletes
More than 60 activity profiles are pre-installed on the Fenix 7, ranging from cycling to climbing to working out at the gym to parachuting. If you don't see what you're looking for in the Garmin Connect app, you can always make your own.
Road, mountain, and cyclocross cycling are just a few of the cycling profiles that are available, and you may customise the data panels for each profile to meet your specific demands.
Fitness monitoring is provided by in-built sensors.
Garmin's 'Pulse Ox' sensor and an in-built heart rate monitor are both included in the Fenix 7. Thus, training data can be obtained from the watch without the inclusion of any sensors.
The 'wellness' aspects of the watch rely on the heart rate data to provide snapshots of your sleep quality, subjective energy levels, and stress. Training load and VO2 max predictions are also based on this data. The watch suggests a recovery time (the amount of time you should relax after an activity).
Monitoring your menstrual cycle and keeping track of your respiration may all be done with this watch.
With the Pulse Ox feature, you may get an idea of how well your body is adapting to the new environment.
The use of maps as well as mobile apps
Topographical maps for cycling, walking, jogging, and golf are included in the Fenix 7
Using Maps doesn't necessitate an internet connection or a smartphone to get the job done. Maps for certain locations can be purchased separately from the Garmin website if they are not preloaded on the watch.
Multi-GNSS, a constellation of GPS, GLONASS, and Galileo, powers the watch's mapping capabilities.
Fenix 7 Sapphire Solar includes multi-band support, which Garmin claims was previously exclusively available to the military and not available on the Fenix 6
With this capability, a wearer's location is more accurate in regions where satellite signals don't ordinarily reach, such as dense woodlands or high-rise buildings.
The colour display enhances the maps' high degree of detail. Maps can be adapted to suit different objectives and lighting circumstances by altering their look.
The new 'Up Ahead' function on the Fenix 7 can alert you to these things while out on an activity by showing points of interest on the map.
Downloading apps like Komoot, Trailforks, and Spotify from the Garmin Connect IQ store will allow you to make the most of your Fenix 7's capabilities.
Apps for Garmin Connect
It is possible to use the Fenix 7 in conjunction with the Garmin Connect app in order to have access to additional information about your activities and health.
While the Fenix 7 may be used without the app, this is where features like Garmin Pay are set up.
In order to provide you a complete picture of your training and activities, the app integrates data from your Fenix 7 and any other Garmin devices you may be using.
The GPS smartwatch performance of the Garmin Fenix 7 Sapphire Solar
Over the course of three months, I put the Fenix 7 through its paces on the road, on the gravel, and while running.
I've used the Fenix 7 for a variety of activities, including recording rides and utilising the heart rate monitor to gauge exertion. My Garmin Edge 1030 bike computer and the watch have been great companions for my workouts.
I also wore the Fenix Garmin Fenix 7 review when I wasn't cycling or running so that I could get a feel for how its health features worked and what it was like to use it with a smartphone on a daily basis.
Although there are other sports and activity profiles to pick from, I primarily tested the watch while road cycling and hence have a unique perspective on it.
Wearability and ease of use
Despite its eye-catching size, the Fenix 7 is comfortable to wear.
As with the Fenix 6, it's light weight means it won't add extra bulk to your wrist and will be virtually undetectable while you're active.
Although the Fenix 7 is shallower than the Fenix 6, I found it difficult to put it under my slim cycling jacket or jersey sleeves despite its shallower design.
In order to benefit from solar charging, you cannot view the face of the Garmin Fenix 7 review while it is hidden away. However, due to the frigid temperatures in January, avoiding wind or water intrusion was more important than viewing what was presented during testing.
Also Read: 
Garmin Forerunner 255 review: Running back to the top
Garmin announces Forerunner 955 with solar charging and Touchscreen
Arm Immortalis-G715 GPU Will Bring Hardware-based Ray Tracing to More Android Devices
10 Samsung Galaxy Watch 4 Issues Solved With Potential and Other Solutions
Affordability
Fenix 7's touchscreen is one of the most significant changes, bringing it in line with more traditional smartwatches, a market Garmin is obviously trying to break into with this new model
Incorporating a touchscreen expedites the learning curve for the Fenix 7.
When contrasted to the five buttons on the bezel, it is much easier to navigate through the watch's many options. However, the buttons on the bezel proved to be easier to use than the touchscreen while wearing gloves.
Even in low light, the Fenix 6's lowest brightness setting was enough for me to see the screen clearly, as Alex Evans discovered when he tested the device.
Despite the fact that the colour screen makes maps and heart rate zones easier to see, I found it to be less clear than the Garmin Instinct 2's monochrome display.
The lifespan of the battery and solar power
In terms of battery life, the Garmin Fenix 7 review does not disappoint. When I used the watch to record five hours of activities each week and to monitor my heart rate while it was continually connected to my phone, I only needed to charge it every two to three weeks.
It's hard to tell how much of a drain the watch will have on its battery based on how and what it's being used for.
When I used the watch for four hours of exercise, the battery fell down 22% from 100% to 80% of capacity. I didn't use solar charging or a route for this exercise; instead, the watch was connected to my phone through Bluetooth.
I didn't observe a boost in battery life while the watch was exposed to sunlight for long periods of time — for example, while on a trip to Tuscany. The battery's charge did, however, appear to be less quickly depleted.
Using GPS mode, Garmin estimates that the watch's battery will last 22 days if it is exposed to three hours of sunlight per day in 50,000 lux settings.
Even after three hours of direct sunlight and periodic cloud cover, the watch's battery only dropped by one percent. Time spent in this light amounted to 63,700 hours, according to the watch.
In other words, you shouldn't expect the watch to run exclusively on solar power, but solar power will undoubtedly prolong the battery life.
Training, fitness, and monitoring of heart rate
Training load, training status, recuperation time, Body Battery, and sleep tracking are just a few of the algorithm-based fitness monitoring features included on the Fenix 7.
In theory, these features can provide you a lot of information about how your fitness and performance are changing over time and about how much rest your body requires.
Garmin's Fenix 7 had some challenges when it came to receiving the data it needed to perform these tasks.
The optical heart rate monitor on the Fenix 7 showed readings that were inconsistent with those of a chest-strap heart rate monitor connected to my Edge 1030 quite frequently.
Fenix 7's display of my heart rate was often inaccurate while I was climbing hills and exerting more effort, and it had a hard time keeping up with the Edge 1030's display of my heart rate when I was merely pedalling.
The tightness of the watch strap, the colour of the skin, the vibrations, and the flow of blood can all affect the accuracy of wrist-based sensors.
These aren't only concerns with Garmin's heart rate monitors; other reviewers who have used smartwatches have also noticed problems with this type of heart rate monitor. When it comes to fitness tracking on the Fenix 7, I've come to treat it with scepticism because of this.
I had to use a chest-strap heart rate monitor in order to get the most out of the watch's features while cycling. Because it no longer had to come into contact with my flesh, I was able to wear the watch in the rain or cold without having to take it off.
Garmin Fenix 7 review uses heart rate data to give you with a Training Status and an estimated VO2 max when you're running. Garmin's new Stamina feature, which tracks your exertion during an activity, makes use of this data.
A power metre must be connected to the Fenix 7 in order to take advantage of these features while cycling. In addition to the watch's high price, this could be an additional expense if you want to unlock the watch's full capabilities. However, if you want to use these features on a Garmin cycle computer, you'll need a power metre. As a result, the Fenix 7's capabilities are on par with those of the brand's cycling-specific devices.
The lack of a power metre made it more difficult to use the watch for running and cycling. Despite the fact that the watch would represent my training level based on running, this was not a genuine reflection of what was happening for me across sports.
Detector precision
The Garmin Fenix 7 review didn't have any issues detecting satellites, so I never had to wait for a ride to begin.
When comparing my experience with the watch's other sensors with Alex Evans' experience with the Fenix 6, there doesn't appear to have been any improvement.
Even if the watch hasn't received a GPS signal in a few days or its altitude calibration hasn't been utilised, its barometric altimeter will still vary, much like the Fenix 6. When recording an activity on the go, I have never had drastically erroneous results due to this issue.
The compass is still accurate, but I rarely used it because I didn't use it for orienteering.
In the same way Alex mentioned, the temperature function has the same concerns with body heat.
Using a map to find your way around
The Fenix 7's map is easy to read and shows roads, pathways, attractions, and other natural elements in great detail: 
It's only until you zoom in to 800 metres or less that you get a genuine sense of the map's fine details.

Garmin claims that the watch's UK map only has contour lines in a few places, however this would make the map more informative and useful if contour lines were available throughout the map.

Instead of having to rely on the buttons on the bezel to scroll across a map, the Fenix 7's touchscreen makes it more easier to use the maps than the previous Garmin Fenix 7 review.

There is no escaping the fact that the small screen of the Fenix 7 makes utilising the map on a larger bike computer more cumbersome than on a smaller device.

A large screen doesn't significantly hamper navigation because of the clarity and turn-by-turn guidance provided.

However, I had to make sure the watch was connected to my phone in order to get routes from the Komoot app on the Garmin Connect IQ.

The map can be made black or high-contrast to improve visibility in low-light settings.

The map was completely obscured unless I rested my hand on the top of the handlebars when using the watch as a navigation tool on my road bike.

When I first started using the Fenix 7, I didn't realise how frequently I checked my bike computer while using it as a navigation tool.
Incorporation of smartphones into everyday life
Wearables like the Apple Watch and the Garmin Fenix 7 will be able to connect to your smartphone and operate as an auxiliary device, just like the Garmin Fenix 7 review does.
While these features have little to do with the watch's usability as a tool for cycling, I'm sure they're what entices many people to buy one, as well as one of its most significant differences from a bike computer.
A feature that I found useful was the ability to pause or skip songs while listening to music. While I was gone from my phone, I was able to check my schedule, get message notifications, and see who was calling.
Using the watch's built-in payment system, Garmin Pay, was a feature I was eager to test. My bank was sadly not one of those supported in the UK at all.
GPS smartwatch Garmin Fenix 7 review Sapphire Solar
An adventure watch with more features than most people could ever utilise, the Garmin Fenix 7 Sapphire Solar does it all. The touchscreen, solar charging with a strengthened screen for the first time, and enhanced positioning are just a few of the features that have been added to the Fenix 6.
It's up to par with the greatest bike computers, and the only areas where it falls short are those where smartwatches as a whole fall short are. A wrist computer is less apparent than a handlebar-mounted computer due to its smaller screen and the fact that it is worn on your wrist rather than your hand.
Mountain biking and cyclocross may benefit from smartwatches, but the Fenix 7 will never replace my bike computer completely. However, it's impossible to refute the watch's ease of use. While the heart rate monitor is not as accurate as a chest strap monitor, at least it is built in, thanks to the long battery life.
Garmin's bike computers have power metres, thus some training features may be unavailable without one.
To me, the Garmin Fenix 7 is overpriced for its intended use as a bicycle GPS device. But in the end, this watch isn't about that. Those who can afford the Fenix 7 Sapphire Solar and want a device that can accompany them on virtually any activity or trip while also making a statement will likely find it tempting.