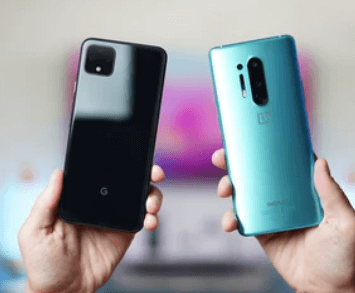 Google Pixel 4 XL vs. Pixel 5
In October 2019, right before Covid-19 pandemics, we had an upgraded Pixel 4 in the form of Google Pixel 4 XL. On the exact same date, a year later, we've got Pixel 5. So, if you haven't upgraded your old Pixel 4 and thinking of doing so, how to choose between these two models? What is the main difference? Is Pixel 4 XL just a larger version of Pixel 4, as the name itself suggests, or is there something more?
We've done a little research for you, so get ready. By the end of this review, you will know exactly which model you want and why.
Pixel 4 XL vs. Pixel 5 comparison
| | | |
| --- | --- | --- |
| Characteristics | Pixel 4 XL | Pixel 5 |
| Size | 160.4 x 75.1 x 8.2 mm | 144.7 x 70.4 x 8 mm |
| Weight | 193g | 151g |
| Display | 6.3" OLED | 6" OLED |
| Processor | Qualcomm SD 855 | Qualcomm SD 765G |
| RAM | 6 GB | 8 GB |
| Battery | 3,700 mAh | 4,000 mAh |
| Network | 4G | 5G |
| Storage | 64, 128 GB | 128 GB |
| Camera | Dual-rear 16MP + 12.2 MP; single front 8MP | Dual-rear 16MP + 12.2 MP; single front 8MP |
| Video | 4K at 30fps, 1080p at 120fps, 720p at 240 fps | 4K at 60fps, 1080p at 30fps |
| Bluetooth version | 5.0 | 5.0 |
| OS | Android 11 | Android 11 |
| Unlocking options | Face ID | Fingerprint sensor |
| Prices | Starting from $899 | $699 |
Now you've seen which phone contains which features, hardware, and software add-ons. Also, we've listed some average prices in the stores. Of course, when you're buying a phone, you can find bargain deals on a discount or second-hand phones that are as good as new.
You can compare both of the phone's characteristics here.
Design and Display
Let's focus on what really matters, how your phone looks! Joke, of course, but some people love to walk with a nicely designed phone. That's why we have to say, Pixel 5 looks much better compared to 4 XL. Assumingly, it's because it's a smaller and lighter phone, which gave designers more space to focus on shape, edges, etc. Also, 4 XL has a larger display, making it look robust compared to Pixel 5. Again, it's all up to your preferences. If you need a phone for someone older, who has trouble seeing all those tiny letters on a small screen, Pixel 4 XL might be just the right pick.
However, XL has a better screen, thanks to its size. It packs 2340 x 1080 pixels, meaning better screen resolution. If this is something important to you, choose 4 XL, and you won't regret it.
It looks like in this field, both of the phones have their advantages.
Battery Life
Opposite to size, Pixel 5 has longer-lasting battery life. If you compare, 4 XL has 3,700 mAh, while Pixel 5 has 4,000 mAh. It's a slight difference, but sometimes this small distinction can make a huge change. Since 4 XL has a more quality processor, and assumingly, will be used for more quality apps, this can be considered a significant disadvantage of the phone.
It looks like Pixel 5 got its first round.
Processor, RAM & Storage
Both of the phones come with Qualcomm Snapdragon processors. However, Pixel 4 XL has a more advanced version, SD 855, while Pixel 5 has an older generation, SD 765G. If you are looking for a multitasker that can support heavier apps and advanced usage, Pixel 4 XL won this one. Yet, Pixel 5 comes with 8 GB of RAM, while Pixel 4 XL has only 6 GB, so we just got a tie.
And for the end of this round, Pixel 5 offers 128 GB of internal storage as a standard, while you will have to pay an additional $100 for Pixel 4 XL to get it. This model comes in a standard version of 64 GB, which is somewhat limited considering its power with such an advanced processor.
To conclude, Pixel 5 showed as a better option here as well.
Camera
As you had a chance to see in our list, both phones have a dual-rare camera 16MP with a wide lens of 12.2MP. More-less they are entirely the same, except the Pixel 5 has a 16MP ultra-wide lens, while 4 XL went for a 16MP telephoto lens. Arguably, we can say that one or another won, but we can consider them equal unless you need a phone camera for a specific purpose. These two phones have the best camera you can find on the market, making them good value for the money for this category.
However, Pixel 5 can capture 4K video in 60fps, while Pixel 4 XL can do the same in 30fps. Therefore, if you're planning to make videos, Pixel 5 could be a preferred model.
After everything being said, it's clear that Pixel 5 won on this list. Of course, we have to mention that, besides characteristics, it's a cheaper model currently, which is just another benefit. Another important thing to add, Google Pixel 5 is a 5G model, while Pixel 4 XL does not support new technology. Another reason to choose Pixel 5.
Let us know in the comment section below which of the phones you are using and why.
Editors' Recommendaion