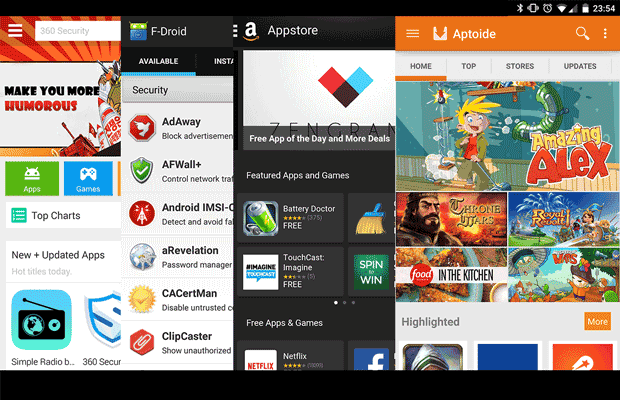 Best Google Play Store alternatives
Google Play is by far the largest Android app store out there with over 1.3 million apps. It's the most popular destination for those who are looking for apps, and also the best way for developers to show their app to the whole world. However, there are many alternatives on available for you to try out.
So, without further ado, here are the best Android app store alternatives:
Amazon App Store
The Amazon App Store is probably the most known Play Store alternative. Amazon's store has quite a lot of advantages compared to the ones below, one of it being that it links to your existing Amazon account. This means, that if you already have a credit card associated with your account, you won't need to do anything else to purchase apps (also works with Amazon gift cards). And, most importantly, you can trust Amazon with your information.
The App itself feels very intuitive, working very similar to what we are used to with the Play Store: You can select categories, top charts etc.
However, the Amazon App store is quite an expensive alternative to Google Play. Let's compare the prices for some popular apps in the Amazon App store vs. Google Play:
Minecraft: Amazon $8.46 vs. $6.99 Google Play
Goat Simulator: Amazon $6.04 vs. $4.99 Google Play
Plex: Amazon $6.04 vs. $4.99 Google Play
Monument Valley: Amazon $4.83 vs. $3.99 Google Play
Leo's Fortune: Amazon $3.26 vs. $2.99 Google Play
But, at the end of the day, you will get many paid apps for free every day. Check out Amazon's current "Apps of the Day"!
[su_divider top="no" size="1″]
Aptiode
Aptiode is more than just an alternative Android app store – it's a platform from app stores. This means that developers, OEMs, telecom companies and anyone else can create their very OWN app store! As I'm writing these words, Aptiode users have created 125.474 individual app stores, uploaded 269.280 apps and downloaded over 1.2 BILLION apps.
On Aptiode you will find all the popular apps that you might need on your device, sometimes cheaper than on Google Play. However, be aware of malware! Aptiode tries to scan all apps in the store for viruses, but can't keep up with new apps coming in. Apps marked "trusted" can be downloaded without the need to worry about anything, but I would stay away from not-yet-scanned ones for security reasons. Great alternative, especially if you want to try to create your own app store (just click the button on the homepage).
1Mobile
1Mobile is used by many Android users to find apps that they would not find on Google Play. It's an app with a wide selection of "indie" apps, games and wallpapers, which can also update apps that you have previously downloaded from Google Play.
Solid performance, simple UI. Also comes with an Apk Manager, which gives you a nice overview of the .apk files in your download folder and allows you to install or uninstall the apps easily.
F-Droid
F-Droid is THE Google Play alternative for free open-source apps (you can even get source codes on the official website), being a non-profit voluntee project. As a user, you don't have to register on the app store, so the only thing you need to install apps from F-Droid is the client itself.
Apps with advertising, tracking or other so-called "anti-features" are being flagged, which makes selecting new apps for your Android device a lot easier. Similar to Aptiode, anyone can add their own repository to F-Droid or connect to any other ones out there.
The downside of it all is that there's no guarantee that the app you have just downloaded from F-Droid won't contain any viruses or malware, so please use it at your own risk.
How to install a third-party Android app store
These third-party app stores can't be downloaded from Google Play, so you need to put a little bit of effort into it (won't take longer than a minute though). First, you need to change your Anroid security settings to allow apps from "unknown sources" (everything except Google Play, basically) to be installed on your device. For that go to Settings > Security > enable "Unknown sources".
The easiest way to install the app stores is by visiting the mobile websites of the individual stores and downloading the .apk file. If you are reading this post on mobile, simply click one of the links below, which will lead you directly to the installation page:
F-Droid (here's a direct .apk link)
After downloading the installation file, all you need to do is tap on the download notification and start the installation process.
Which third-party Android app store is your favorite alternative to the Google Play Store? Please share your thoughts in the comments section below!