After many many leaked specs, images and rumors, after so many false release dates, it is finally here: The Nexus 5. It can be ordered since yesterday and should be available in most major electronic stores within the next days. With it, Android's 4.4 KitKat update is rolling out! Google is saying that it will be available for the Nexus 4, 7 & 10, the Samsung Galaxy S4 and HTC One Google Play edition in the coming weeks. So, a lot of people (including me) have to be patient for a little longer.
As an Android supporter, I'm glad that I don't have to look for clues, rumors and predictions anymore. It's finally official. Let's be honest, if you were also really excited to update your smartphone to Android 4.4 or to get the Nexus 5, you were probably visiting many tech blogs out there the last days to find a reliable release date.
So let's take a look what Google brought to us yesterday without having a proper event.
The Nexus 5 is finally here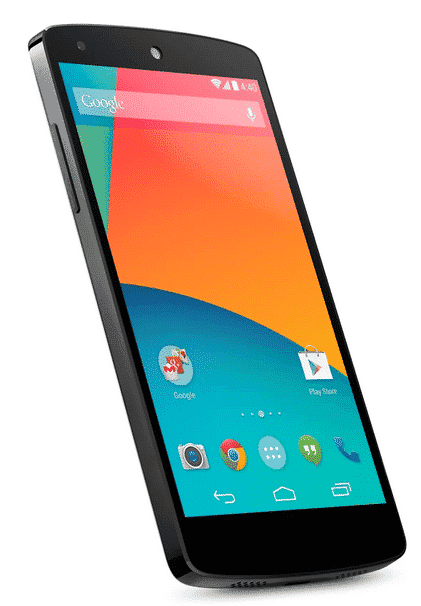 There were hardly any surprises. The specs and mostly every other detail about the Nexus 5 were leaked over the last days or weeks already. People were only waiting impatiently to finally hit the "Add to cart" button on Google Play.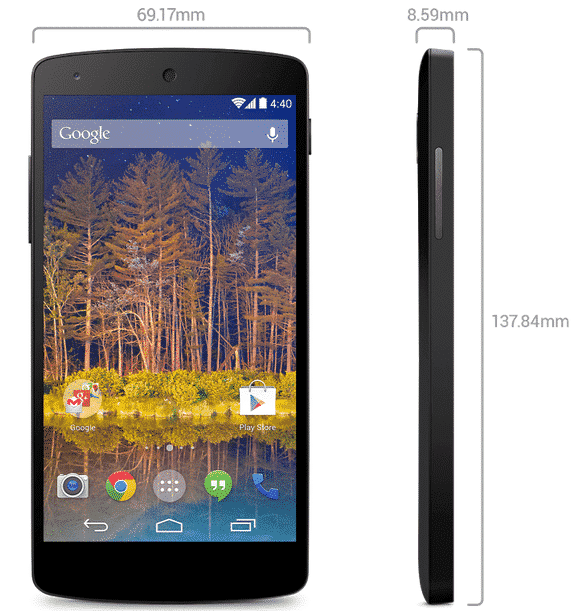 The Nexus 5 definitely looks good. Better than the Nexus 4 in my opinion. It comes with a 4.95 inch screen, a 1920×1080 resolution (445 ppi) and a 2.3GHz Qualcomm Snapdragon 800 processor. There's much more to it, but, compared to the Nexus 4, the most significant difference for most people in the U.S. is probably the official support of LTE. The Nexus 4 was already a great device offering a flawless stock Android experience but the lack of LTE was a dealbreaker for many Americans. Logically, Google fixed that weak spot with the Nexus 5.
Personally, I will probably stick with my Nexus 4 and skip the Nexus 5. This is simply because I'm still happy with the Nexus 4 and can't complain at all. It's still a great phone. The Nexus 5 doesn't offer me enough to justify the upgrade. But should my Nexus 4 fall and break in the near future, I'll have a good excuse to head over to Google Play and click on "Add to cart".
Screen:

4.95-inch 1920×1080 display (445 ppi) with Corning Gorilla Glass 3

Processor:

2.3GHz quad-core Qualcomm Snapdragon 800 processor

Cameras:

1.3MP front facing, 8MP rear facing OIS

Weight:

130 grams

Ram:

2GB RAM

Battery:

2300mAh

Dimensions:

69.17 x 137.84 x 8.59 mm

Wireless:

Wi-Fi (2.4/5GHz) 802.11 a/b/g/n/ac, NFC (Android Beam), Bluetooth 4.0

Network:

GSM: 850/900/1800/1900 MHz, CDMA: Band Class: 0/1/10, WCDMA: Bands: 1/2/4/5/6/8/19, LTE: Bands: 1/2/4/5/17/19/25/26/41

Operating System:

Android 4.4 KitKat
KitKat – what a sweet treat you are!
With the Nexus 5, Android 4.4 is being released. Due to all the buzz around the Nexus 5, the news platforms tend to overlook the 4.4 update a little, which they shouldn't. This KitKat update is supposed to run on most devices that have as little as 512MB RAM, meaning that lower-end devices and non-phone devices shouldn't have a problem running KitKat.
But let's have a look at what KitKat has to offer:
Full-screen album and movie art while in lock screen
While you're listening to music or casting movies to a Chromecast, your lock screen will display full-screen album and movie images. In the lock screen, you also have the options to play, pause and, which is new in KitKat, go to a specific moment of a song or movie.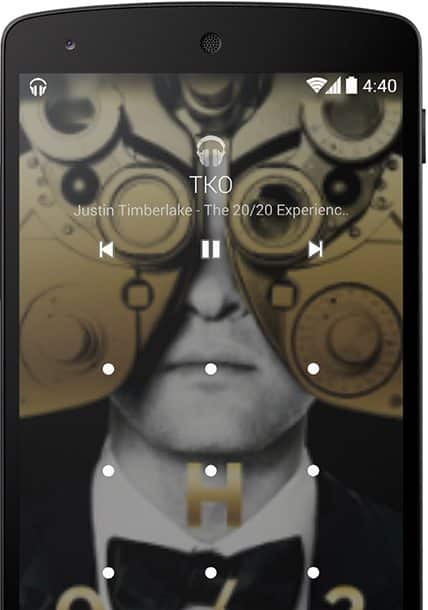 Immersive Mode
The new immersive mode let's you focus completely on the book, game or movie you are enjoying. It hides the status and navigation bar completely so that you only see the actual content. With a simple swipe from the edge of your screen brings them back, in case you need them again.
Faster multitasking
Android 4.4 increases touchscreen and multitasking performance by optimizing memory and improving your touchscreen. Google says that "that you can listen to music while browsing the web, or race down the highway with the latest hit game, all without a hitch."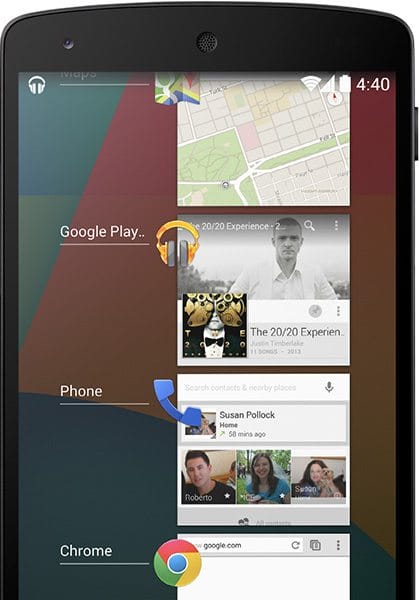 Always listening function [Nexus 5 only]
With the Nexus 5, you can simply say "Ok Google" to make a voice search, send out a text, play a specific song or to get directions, for example. All this is possible without even touching the screen. The Nexus 5 is constantly "listening" to its environment and starts up Google Now once it hears you saying Ok Google. We're all hoping that Google manages to bring this awesome feature to other devices, like the Nexus 4.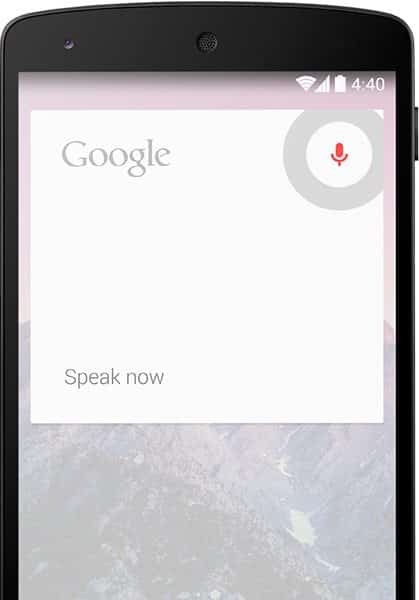 Smarter caller ID
You know those annoying calls from an unknown number, right? You have no idea who's calling and, sometimes, you don't really want to answer. KitKat takes the unknown number, which is calling you, and tries to match it to businesses having a local listing on Google Maps and displays the details found next to the number.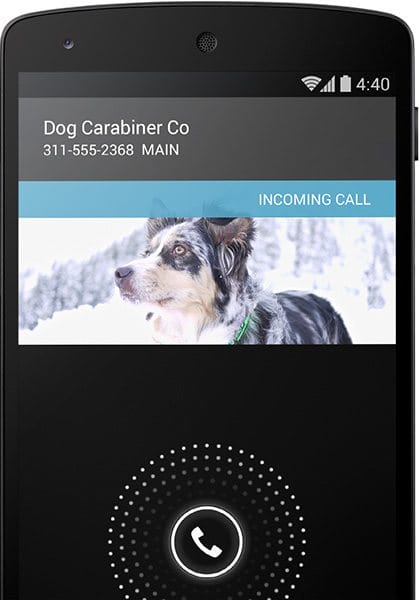 All messages in one place
With the new Hangouts app update, you will have everything gathered in one place. All your SMS will be within the app, so that you only need to use a single app to communicate with your friends.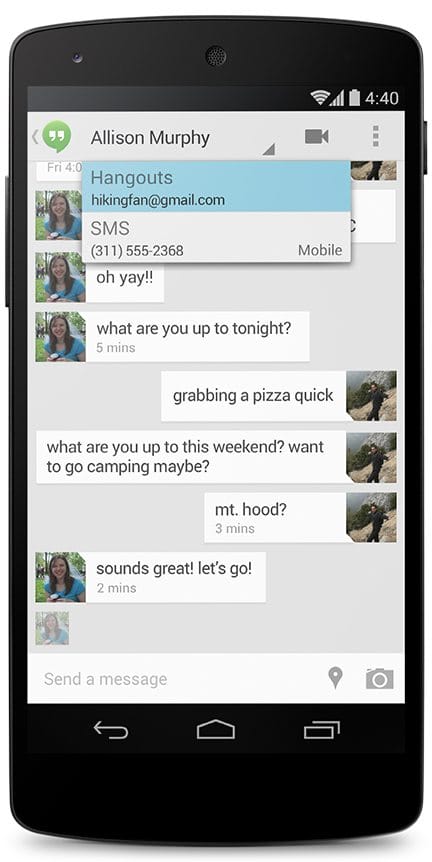 Print wherever you are
Now you are able to print documents, images and web pages directly from your smartphone or tablet. For that to work, you only need a printer connected to Google Cloud Print, an HP ePrint printer or any other printer that has apps in the Google Play Store.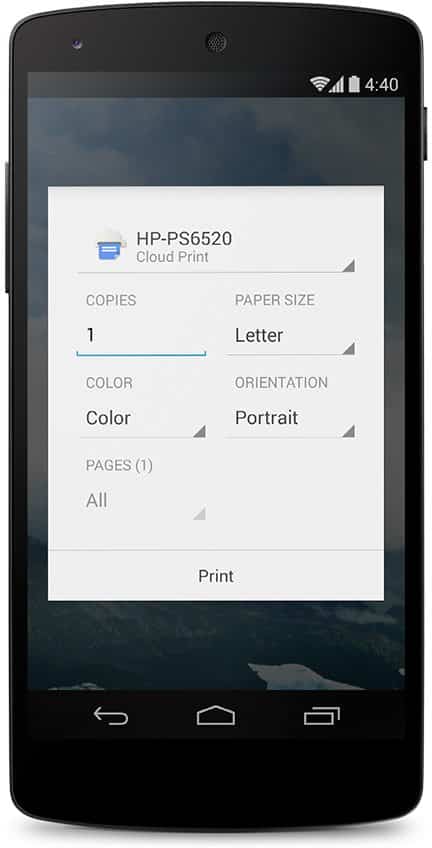 Step counter
The Nexus 5 has a built-in pedometer that opens up a lot more possibilities for Android fitness apps. Guess Google wants you to lose the pounds you might have gained from snacking too many KitKats the last weeks.
Google claims that thanks to KitKat and the Nexus 5's hardware, measuring your activity won't have a significant impact on battery life.
[PIC]
To see a complete list of all new features of Android 4.4, visit this link.
Want to get your hands on some of the new apps already?
With the release of the factory image of the Nexus 5, people were able to extract some of the new apps and offered the apk files to download. The guys over at Phandroid accumulated all these app files (apk) and made a list. So if you cannot wait to try out the new Hangouts app, there's a way to do so! I, for example, installed the new Hangouts on my Nexus 4 and I really like the new features.
Many people are eager to get their hands on KitKat and the Nexus 5, let's be a little bit more patient and see how KitKat performs on other devices and how happy the new Nexus 5 owners are going to be.
Have you tried out some of the extracted apps already? Which features are you waiting for the most?