How to add friends on Nintendo switch. Are you searching for friends while playing games? I agree as the best part of a game console is the permission to play with beloved friends. But in some cases, few companies do not provide the same and. Even they do not allow or provide a restriction to add friends among those in the sorted list as player buddies. Now, in case you are a Nintendo Switch user, here you must feel free to not only add friends in different ways but can play as well with the help of  Friend code. 
How to Add Friends on Nintendo Switch
If you have an Internet connection and you are a user of Nintendo Switch then you are allowed to add and as soon your friend comes online, you can play games along with your friend together. The only thing to remember if you want to add friends on the Nintendo Switch, a Nintendo account should be linked with your user account. There are two ways to add friends on Nintendo Switch. Let us discuss those:
1) Through Sending a Friend Request
Fetch the HOME Menu first then Click on the user icon to move to your user page.

There Choose "Add Friend".

By following the rules given to add friends, click on the method of your choice to add friends.
Note: You can search for making friends by these categories as per the options for you: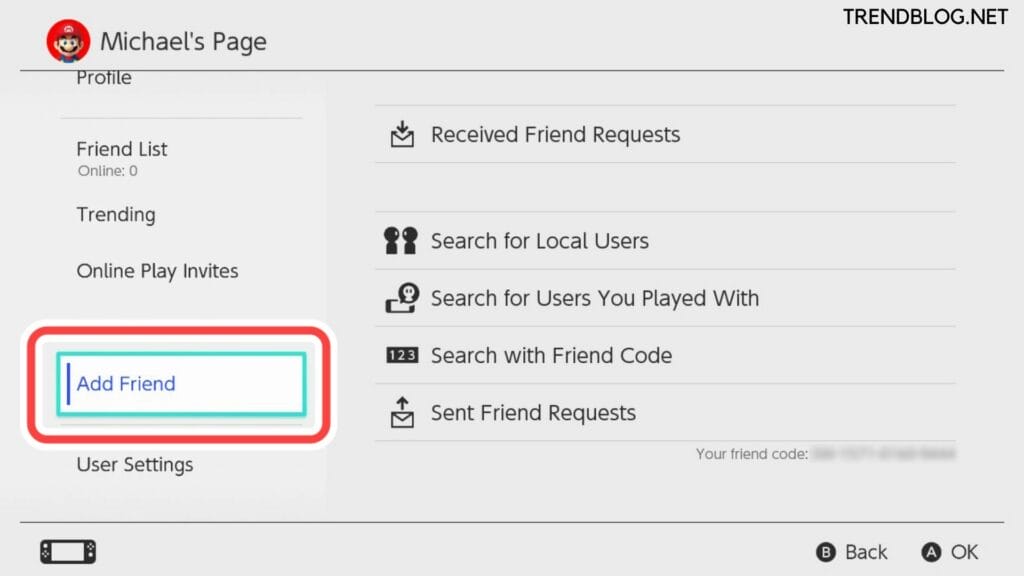 2) Search for Local Users/friends: 
Now it's a very good option for everyone as the option will help you interchange friend requests with individuals sharing the same place/room. Even in this case, there is no need for internet connections too because only Bluetooth is only required for the purpose.
But although a Wi-Fi connection will be required for you to get connected to add friends locally. Now if your friend is not connected to the internet, your friend request will be saved temporarily. As soon he comes on the internet, then and there he receives the request to accept.
Note: Now to add friends to your Nintendo Switch's local user account, you have to link it to your Nintendo Account, the account which will help you to sort out work like purchases, downloads, friend requests etc.
3) Search for Friends You Have Played Before Sometime:
There are some games for more than one player on the Internet. These games pair you with random users as friends. You can send a friend request to these later if you wish to do so. Choose the option the "Add Friend" and from the submenu, choose "Search for Users You Played with, and " and offer an invitation to play to the user you played with before.
4) Search With a Generated Friend Code:
Here, you will be selecting "Friend Suggestions such as you can simply send "friend requests to your friends using Nintendo device apps, or you can use many such devices like Nintendo 3DS, Facebook, Twitter, or any of them. 
5) When Accepting a Friend Request Sent by Someone
Go to HOME Menu, select the icon of your user to access your user page.
As soon you get a friend request from someone, a blue sign will appear at the top right side of your user icon.
Go to your user page, choose"Add Friend" then "You have received a friend request!
6) Add a Friend Through a Friend Code:
So, you have got the Friend Code and are now ready to add your friend to your Nintendo Switch.  
 Move to Your profile page, so choose your avatar on the top left-hand side of the home screen. 

Tap on "Add Friend" in the pop up on the left side of the page

When you are sharing the same room as the person, you can just select "Search for Local Users," or you can link them as someone you have played with before. 

Still, the best way is to choose "Search with Friend Code."

Only fill in the friend code you want to get connect with. As soon you are done, just press enter to continue after confirmation. Now you can visualise their name, avatar and play history too.
Also Read: 
Dying Light 2 Release Date PC Game in 2022: Complete Guide
Pokémon Legends Arceus: In Advance of Its Official Release, Arceus Was Leaked
Best Guide for How to Boot People Offline Xbox With Phone
When Will Sony Playstation Ps5 Restock on Amazon, Walmart, Bestbuy
Nintendo Switch User Settings
In case you want to regenerate a new friend code, you have to manage your blocked user list, or discard any social media accounts you are linked with. You just have to do all to use the "User Settings" menu and from the drop-down choose your avatar on the Nintendo Switch's main screen to move to this drop-down menu.
At last, We congratulate you to have friends to play with, once you linked to some friends on the Nintendo switch, You can enjoy the games with multiplayer strategy altogether with your friends there.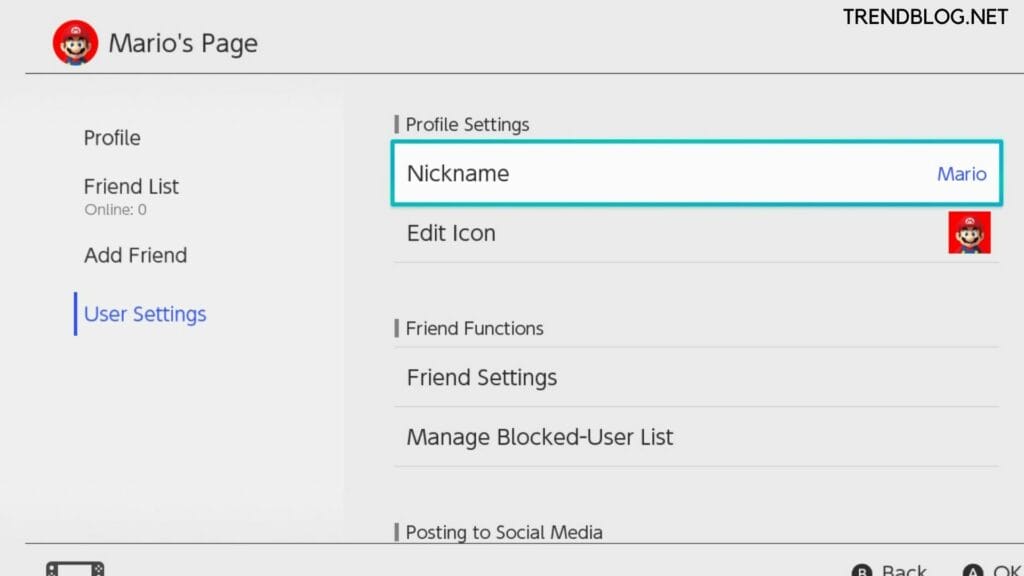 So, friends, did you like the information provided to you? Please do comment to encourage us to search and serve more innovative info in the pipelines ahead of you.
I hope this Article is helpful for you. If you have any queries or want to share something related feel free to reach us in the comment section below.