Instagram is now more than just a place to share photos. The Instagram story feature lets you tell creative stories. That's now in the right place. Many people enjoy reading stories, and adding more than one picture can really make them stand out. Follow these steps to correctly add more than one picture to your Instagram story.
Using the Instagram App
The Instagram app is the best way to add more than one picture to your story. Things to do:
Open Instagram: On your phone or tablet, open the Instagram app.
To get to Stories, swipe right on your home screen or tap your picture in the upper left corner.
Choose a Few Pictures: To add pictures to your story, either swipe up on the camera or tap the gallery icon in the story camera. You can choose from ten pictures.
To make a picture your own, you can change it by drawing, adding text, or using stickers.
Share Your Story: When you're ready, click "Your Story" to share your story with people who follow you.
Creating a Collage Story
An interesting way to get people's attention is to put together a collage story with the photos you've picked out. Do these things:
Pick Out Your Pictures: Pick out the pictures you want to use in your collage story.
If you don't already have one, get a collage app and use it. People often choose apps like Canva and Unfold.
Make a Collage: The app lets you put your photos together like a collage. There are many layouts and styles to choose from.
You can make your story more interesting by adding stickers, captions, and other things.
You can save this collage to your tablet or phone. After that, you can just put it on your Instagram story like any other picture.
Using Third-Party Apps
Adding third-party apps to your stories can really make them better. There are many art supplies built into the Instagram app. With these apps' extra effects and features, you can make stories that are truly unique and fun.
When you use third-party apps, be careful because they might not keep your privacy safe and could hurt your stories. Make sure they add something to what you're writing and don't use them too often.
Adding Captions and Stickers
You can tell stories on Instagram with tags and stickers. With well-written captions and expressive stickers, you can give your story more depth, humor, or tone. Things to do:
Pick a picture: You can pick one from your gallery or take a new one.
To add a caption, tap the text icon and type something. You can change the color, font, and space between lines.
Tap or swipe up on the sticker icon to see more. Pick one that goes well with your story.
To get the best look, you can change how big your text and stickers are and where they are placed.
Engaging with Your Audience
You can do more with Instagram Stories than just talk to other people. There are many ways to talk to people. Comment and message quickly, make polls, and get people to talk to each other. Being interesting to talk to is a great way to keep people interested in what you have to say.
Best Practices for Instagram Stories
To make sure that people always want to see your Instagram stories, remember these tips:
Make sure you write each story the same way.
Telling stories is a great way to keep people interested.
Motivate people to watch by making them laugh, scared, or amazed.
Plan your stories ahead of time to make sure they flow well.
When it makes sense, use "swipe up" to send people to your website or other content.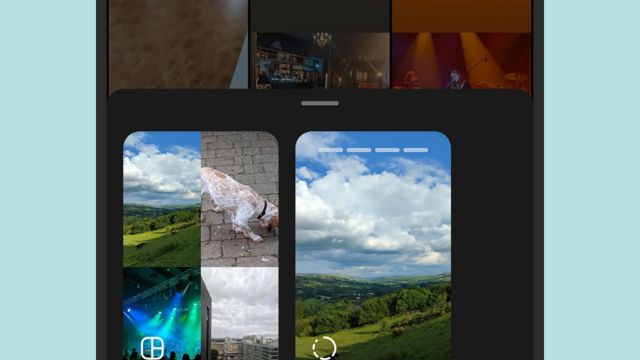 Sharing Multiple Stories
Your story might be too long for one post sometimes. Now you can split your story into more than one part. This will make the story interesting the whole time.
End each part on a cliffhanger or a hook to get people to swipe to the next one. This makes it simple and fun to tell the story.
Insights and Analytics
As you work to improve your posts, you need to see how well your Instagram stories are doing. Instagram's insights and analytics tools let you see how many times your stories are seen and interacted with, among other useful information.
This will help you figure out what your readers like best. Then, change what you write to reflect that. Always keep an eye on things and make changes if you want people to stick with you.
Conclusion
You can tell a better story and keep people interested on Instagram by adding more than one picture to your story. Don't forget to keep track of your progress, try new things, and talk to the people who follow you. If you use Instagram stories often and in fun ways, they can help you connect with your followers and reach your social media goals. To read more content like this, visit https://www.trendblog.net.
Frequently Asked Questions (FAQs)
I want to add more than one picture to my Instagram story. Do I need to use a different app?
The Instagram app has tools built in that make it easy to add more than one picture to your story. Once you've picked out a picture to use, you can change how it looks inside the app.
Could I add more than one picture to a story?
You can post up to ten photos at once on Instagram. If you want to say more, you could divide your story into more than one part.
How can I put pictures in a collage story in a fun way?
You can arrange your photos in a lot of different ways with apps like Canva and Unfold. Layout should be changed until it fits your story.
How can I make my Instagram stories look like my brand?
Use the same colors and fonts and the same style as your brand. Also, make sure the stories you tell fit with your brand's values and message.
Is it possible to leave links to other websites in Instagram stories?
If you are a business or creator account owner with more than 10,000 followers, you can even link to other websites in your stories. This is the "swipe up" link, and it can help you send people to your site or share other content.