Pop-ups can be both beneficial and irritating. Each website you visit every day has its own pop-ups showing you to subscribe to newsletters or some face ads. They are irritating. On the other hand, some pop-ups contain important information as well. If you're a Mac user, then its default site pop-up blocker saves you from irritating pop-ups. Each of the browsing platforms like Safari, Google Chrome, or Firefox blocks pop-ups as default settings.
But these blockers can impact other software's work as well. Even if you set your default pop-up blocker then you will not receive your important pop-ups as well. So, how you can enable pop up on your Macbook? Let's find out.
How to allow pop-ups on Mac in Google Chrome
The most popular browser in the world doesn't fall short when it comes to its capacity to manage arbitrary pop-up windows. To enable or disable pop-up windows in Chrome:
Access Privacy and security in the Chrome settings.
Click "Pop-ups and redirection" under "Site setting"
Choose Chrome's default setting for pop-up blocking or allowing.
Chrome offers one-time exceptions via the address bar, much like Safari does. There will be a little symbol to show what has been blocked, and you may choose to enable pop-ups from that website (once or always).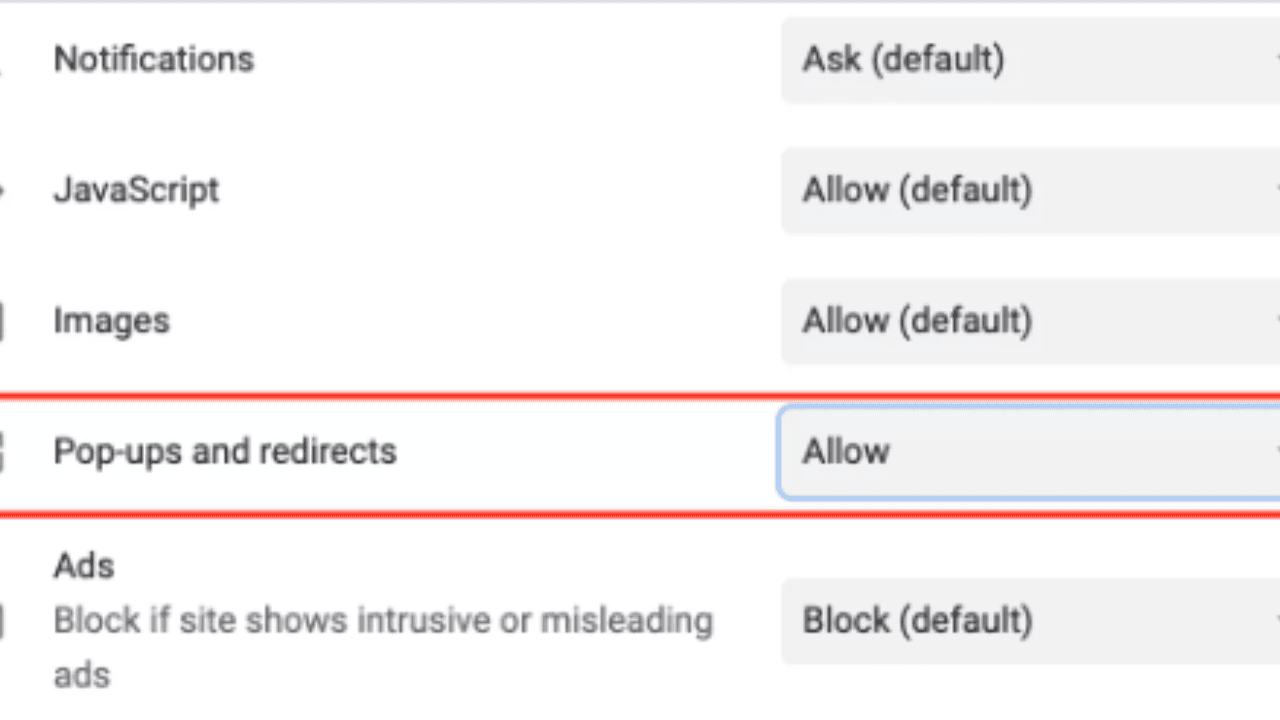 You can allow pop-ups for some particular websites as well. For that use AdLock, the all-purpose solution we previously discussed, or make the following adjustments to Chrome's settings to enable pop-ups for certain websites:
Access Privacy and security in the Chrome settings.
Click "Pop-ups and redirection" under "Site setting"
Add your website by selecting "Add" next to "Allowed to send pop-ups and redirects."
How to allow pop-ups on Mac in Shutter
It's a good idea to know how to manage Safari's pop-up blocker because it's a popular Mac browser. To enable pop-ups and open Safari's pop-up blocker:
Access Safari Preferences.
Select the Websites tab.
Click the sidebar's "Pop-up Windows" link.
Open the menu and choose "Allow" for any live website.
Open the "When accessing other websites" menu and choose "Allow" as well.
The Safari pop-up blocker displays a little red notification in the address bar while it is active (indicating something is being blocked). You won't even need to change any Safari pop-up blocker settings if you only need to check the blocked pop-up once because clicking on it will reveal the option to view the blocked window.
Using Safari's pop-up blocker, you may enable pop-ups just for particular websites, or even only one website:
Open the website from which you wish to accept pop-up ads.
Access Safari Preferences.
Select the Websites tab.
Click the sidebar's "Pop-up Windows" link.
Locate the desired website on the list, click the dropdown menu, and select "Allow."
Utilizing AdLock is a simpler method if you don't want to access the website every time you wish to enable pop-ups. Essentially an ad blocker, it contains the Allow List where you may add any website that should have pop-ups and prevents adverts, pop-ups, and alerts on the web.
How to allow pop-ups on Mac in Firefox
To enable pop-ups in Firefox, which is likely your primary browser, follow these steps:
Select Settings from the hamburger menu in Firefox by clicking on it.
In the sidebar, select Privacy & Security. Scroll down to Permissions.
Uncheck the option next to "Block pop-up windows"
If some websites should be exempt from the default settings, open the Exceptions dialogue box.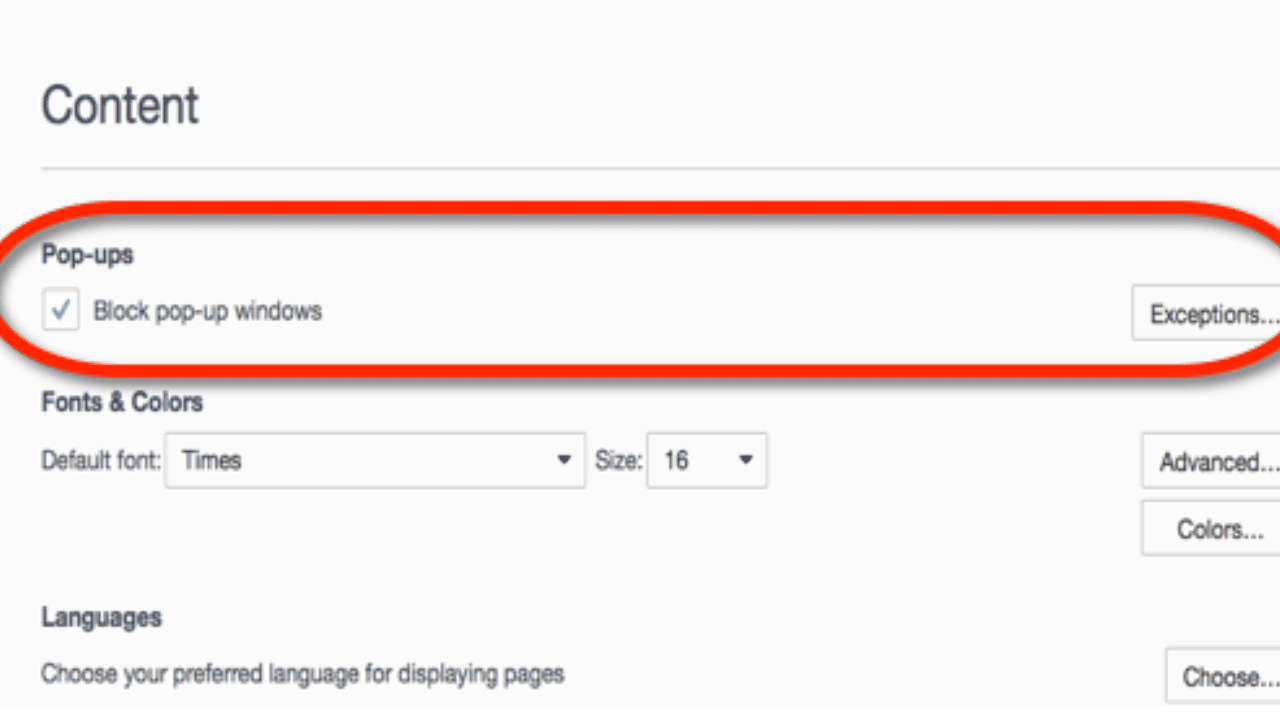 Now, you can enable your pop-ups irrespective of what browser you're using. Make sure you're not distracted by them.
Also Read
Steps to Install and Run Java on Mac within 5 Minutes
How to mirror mac to tv without apple tv
How to stop pop up ads on Android
How to undo Google app updates to Android Lollipop
FAQs
Q. How do I get Mac to allow pop-ups?
Follow the simple steps to allow pop-ups on Mac.
Your web browser's top right corner will show an ellipsis (…); click it to access Settings.
Click View advanced options in the Advanced settings section.
Turn the setting to Off under the Block pop-ups section. Now, pop-ups are permitted.
Click the switch back to On to start blocking pop-ups once more.
Q. Why are pop-up windows blocked on my Mac?
If you wish to prevent pop-ups once again, you may activate the pop-up blocker by following the same instructions. On a Mac, follow these steps to disable the pop-up blocker: launch Safari, then select Preferences from the menu in the top left corner of the browser window. Uncheck the box next to Block pop-up windows under the Security tab in the top menu.
Q. How do I turn off the pop-up blocker?
Open the Chrome application on your Android smartphone. Go to More > Settings. Select Pop-ups and redirection from the Site Settings menu. To enable pop-ups, enable redirects and pop-ups.
Q. How come when I click a link it doesn't open?
The security settings of your web browser, which forbid opening pop-up windows, or your Flash player plug-in, which forbids opening URLs in local Flash files, are most likely to blame for hyperlink opening issues.