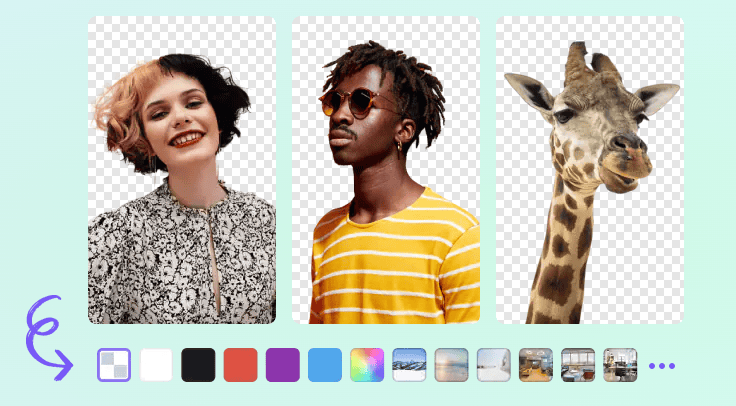 A perfect background captured in images is mandatory to influence the viewers. If the background looks blurry, dark, or unappealing in pictures, you would need a background remover. By using a suitable and professional background removal tool, you can replace and remove unwanted backgrounds from your images.
To help you find the best software for removing backgrounds, this article will introduce Media.io to remove backgrounds online. Moreover, we will also highlight an offline tool known as Wondershare UniConverter for the batch removal of backgrounds from the photos.
Part 1: Introduction of Wondershare UniConverter – An Efficient Background Removal Tool
Have you ever tried Wondershare UniConverter before? This free video converter can be used for different functions, such as compressing, converting, trimming, or merging video files. It's a compatible tool that can be instantly launched on Windows and Mac operating systems. If you want to enhance the visual appearance of e-commerce products, cars, portraits, or logos, you can try the image background removal feature of UniConverter. It supports various image formats like PNG, JPG, BMP, and GIF.
Through this distinct feature, you can not only remove unappealing backgrounds but also add a new background efficiently. It uses AI-powered technology through which you can make a transparent background with a single tap. Along with deleting a background, you can also add background colors to your images. UniConverter also gives you an option to add an image to use as a background.
Part 2: How to Batch Remove Background from Photos with UniConverter
Are you ready to use the background remover feature of UniConverter? Read this section to learn how to remove the background from photos easily.
Step 1: Select Background Remover
Start the process by launching UniConverter on your system. On its main page, click on the "All Tools" option and locate the "Background Remover" option.
Step 2: Add your Images
On the new window, click on the "Add File" button to upload your image. You can upload multiple photos for batch background removal by clicking on the "Add File" button again. Once done, click on the "Start" button for background removal.
Step 3: Perform Background Modifications
Once the background removal process gets finished, you can tap on "Click to check details" for a preview. Or, you can click on the "Edit" button to add further modifications. In the editing window, you can add and change the background color from the right section. Moreover, you can also add an image background from your computer instantly.
Part 3: Other Useful Tools of UniConverter
UniConverter is not only restricted to a background remover tool. It offers tons of features that can help you in various aspects. To learn about its distinct key features, check the below points:
Vocal Remover: This feature allows you to efficiently separate vocals and musical sounds from an audio track. Thus, this feature lets you download the vocals of a particular song.
Voice Changer: If you want to change your voice, this feature can help you. Through this option, you can transform your voice into a male, female, robotic, or child's voice.
Subtitle Editor: To add more details to your video, you can use this feature to add, create, and edit subtitles. You can add subtitles manually or upload a subtitle file using this feature. This tool can also generate subtitles for your video through its AI feature.
Noise Remover: Does your video or audio track consist of unnecessary voices? The noise remover feature can help eradicate background noise from audio and video tracks.
Smart Trimmer: This advanced feature can automatically trim the unnecessary or silent parts of your video file. It uses AI technology to detect unwanted parts and removes them instantly.
Watermark Editor: This helpful feature allows removing and adding watermarks on media files. It will enable you to efficiently delete or create customized watermarks for your video files.
Other Tools: Through UniConverter, you can crop, merge, trim, screen record, and convert media files effortlessly. Moreover, you can also add effects to your video files to make them look captivating.
Part 4: Introducing Media.io – An Online Tool
Another great tool you can utilize for removing background is Online UniConverter, formerly known as Media.io. Using this platform, you can remove backgrounds online without damaging the original quality of images. This tool also supports batch processing, through which you can remove background in bulk. You can conveniently upload 30 images at a time and remove their backgrounds with a single click.
Besides being an online background remover, Online UniConverter also acts as a professional video editor. Using this program, you can decrease the file size of your videos and images through its compressor. Furthermore, you can resize and crop images and video files by setting the desired aspect ratio. Thus, this online tool provides an ad-free user experience and enables you to efficiently conduct various functions on video, audio, and image files.
Part 5: How to Remove Background from Photos Using Media.io
Do you want to remove backgrounds online from your images? Check the following instructions to remove the background from photos using Media.io:
Step 1: Navigate to Remove Background Feature
Visit the official website of Media.io and proceed to its Tools section. From there, click on the feature called "Remove Background." Following this, click on the "Upload Files Now" button from the Remove Background tool page.
Step 2: Upload Desired Images
A new window will be open from which click on the "Upload Image" button. You can also upload multiple images for batch background removal. Once you have uploaded the picture, the tool will automatically remove the background.
Step 3: Download or Edit the Image
Once the background gets removed, you can click on "Download HD" to save the image in high quality. Moreover, you can tap on the "Edit" option to create a customized background.
Verdict
Online UniConverter is a professional tool for removing unwanted backgrounds from images effectively. It also offers other prominent features that can help you to enhance the quality of your picture, audio, and video files.
However, if you face unstable internet issues, you can proceed to the Wondershare UniConverter desktop tool. This free video converter and background removal tool produce excellent results within a few minutes. Also, you don't need an active Wi-Fi connection while using UniConverter, which will allow you to remove image backgrounds comfortably.