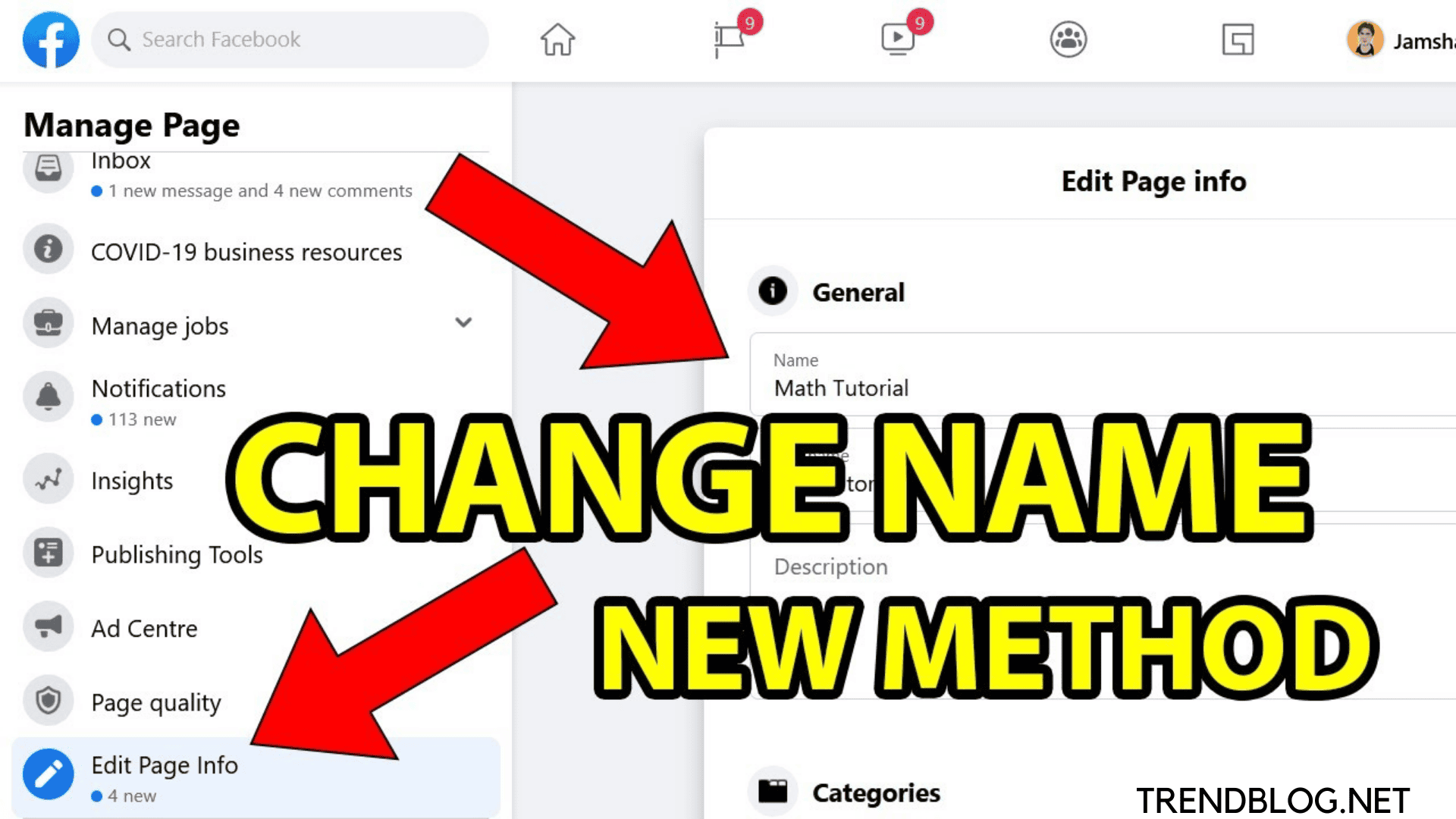 Steps to Change Name on Facebook and Alter My Name
How to change name on facebook?  Only if the new name for your Page or personal profile satisfies our requirements may you request a name change. Several social media apps have flooded the internet, but Facebook continues to be one of the most popular. While many users have been using the platform for a long time, some have recently decided to update their personal information on the Facebook app. While many users alter their profile photo on the app, others ask if they may change their name on Facebook.
QUICK Answer: 
To alter your name on Facebook, go to Settings and privacy—>Settings—>General by clicking the downward arrow in the top right corner of the website. To alter your name, click the Edit button next to it. You can also use the Facebook app to alter your name.
how to change name on facebook
Review our Profile Name Requirements.

Select Settings from the top-right corner of Facebook.

Select Name from the drop-down menu.

Click Review Changes after you've entered your name.

Click Save Changes after entering your password.

It's important to remember that you can only alter your name once per 60 days. Your profile name should be the same as the name on your driver's licence or other official documents.
How can I alter the name of my Facebook page?
The name of a Facebook Page should correctly reflect the topic of the page. To alter the name of your Page, you must be an administrator. Changing the name of your Page has no effect on its username.

To request a name change for your Page, send an email to:

Review our naming guidelines for pages.

On the left-hand side of your Page, click About. Click Edit under General and Name.

Click Continue after entering a new Page name.

After you've reviewed your request, click Request Change. If you don't see the option to modify your Page's name, it's because you don't have a Page role that permits you to do so. Find out how to view your Page's role.

Your Page's name was recently updated by you or another admin. There could be restrictions on your Page. If you are able to submit a request for a name change, keep in mind that it may take up to three days for us to consider your request, and we may need further information before we can make a final decision. You won't be able to unpublish the Page or alter the name again for seven days if your name change is authorised. We may also notify those who like your Page that the name has been modified during this 7-day period.
What is the procedure for changing my Facebook username?
To alter your Facebook profile's username (URL/vanity), go to:
Select Settings from the (drop-down icon) in the top-right corner of any Facebook Page.

Go to Username and click it.

Click Save Changes after entering your new login and password.

You must be a Page admin to modify your Page's username:

Check out our Username Rules.

On the left-hand side of your Page, click About.

Click Create Page @username or Edit under General and Username.

Create a new username by entering a new username and clicking Create username.

It could be for a variety of reasons that the username you desire isn't accessible. Even if you believe a username isn't in use, it could be grabbed by a Page that hasn't yet been published. If a username becomes available, it may be provided to the first account to request it when it does.

If you're thinking about changing your Facebook name, keep the following in mind:

You are only allowed to alter your name once per 60 days.

Numbers, unique capitalization, punctuation marks, and symbols are not permitted on Facebook.

If you use a fake name, you risk being banned from the Facebook app. However, instead of Elizabeth, one may use a pet name, such as Lizzie. The software, however, prohibits the usage of pseudonyms.
How do I change the name of my Instagram account/username?
To change your username, go to:
Tap to get to your profile (icon).

Edit your profile by tapping the Edit button.

Tap Done or Save in the top right after typing in your new login.

Your username can also be changed through your web profile.
Also Read: 
How to Know My Wifi Password: On Windows, Laptop: Android Phone
How to Change Wifi Password: What Happens If You Forgot Password
Let us Know How to Take Screenshots in Laptop From Windows to Mac
Guide for How to Cancel Youtube Tv Using Android, iPhone, Computer
FAQs: 
Q1: What is the cause for the change in Facebook's name?
Regular users of the app were taken aback by the rebranding, but Mark Zuckerberg, the business's founder, maintained that it was done to show that the company was expanding and was tied to more than one product. He went on to say that Meta was a better representation of the company's goals.
Q2: Is it possible to change your Facebook name?
In the Facebook Settings area of the website or mobile app, you can modify your name. Once every 60 days, you can alter your Facebook name. Nicknames are acceptable if they follow Facebook's community standards.
Q3: Is it possible to change my Facebook name without alerting everyone?
Select "See more privacy settings" from the Privacy menu. Select "Edit next to Who can view your future postings" under Your activity. "Only me" should be the picklist option. Now you can change your name without having to notify everyone by following the methods outlined above.
Q4: Will my Facebook friends be alerted if I alter my name?
No, when you change your name on Facebook, you will not receive any notifications.