How to Change Weight on Apple Watch Within Minutes
How to Change Weight on Apple Watch? It was released in 2015 and became the most selling smartwatch around the globe.  This apple watch connects with iPhone for functions like configuring the watch and syncing all the data with apps on the user's iPhone. It can also connect with the wifi network for data-relevant work, including basic communication and audio streaming. 
The main goal of the apple watch was to complement an iPhone and new features and make people use fewer phones. This can be useful as many accidents occur because people are on their phones. So this apple watch is an advantage as you can access your iPhone through this watch. Therefore a new feature was introduced to change weight on the apple watch. 
 How to Change Weight on Apple Watch
Update your height and weight in the apple watch:-
Open the apple watch app on your iPhone. 

Tap on the My Watch and then go to the Health. 

After going in Health section go to the Health details section and then tap on the edit. 

The tap on the height and weight section,  and then you are able to edit the weight and height in that section. 
Your apple watch used the only information that you provide about your physical condition that is height, weight , gender, age and how much step you take to calculate the calories burn through out the day. 
The apple watch estimate more accurate the data of your calories burn when it learns more about your physical fitness. 
Apple Watch uses the GPS to calculate the steps and distance you covered through out the day and then estimate the calories you burned. 
Change your workout view:-
Again open the apple watch app on your iPhone. 

Then you have to choose stats for each and every workout type – for example id you go somewhere on hiking and you wana know how much steps you walk or how much your calories burned then you just have to go on  workout type and then edut according to your workout and also you can record your workout stats. 
While doing workout you jaust have to turn on digital crown for highlight the different metric for how much you coveree distance and all. 
Change measurements unit:-
The unit of measuring like kilojoules, yards ofrom meter can be changed as per your choices and the way of understanding. 
You have to click onthe setting app on your Apple watch . 

Then you have to tap on workout and have to scrool to bottom and then tap  on units of measure
 You can change unit for energy, pool oengty, cycling workout and for walking and also for running workouts.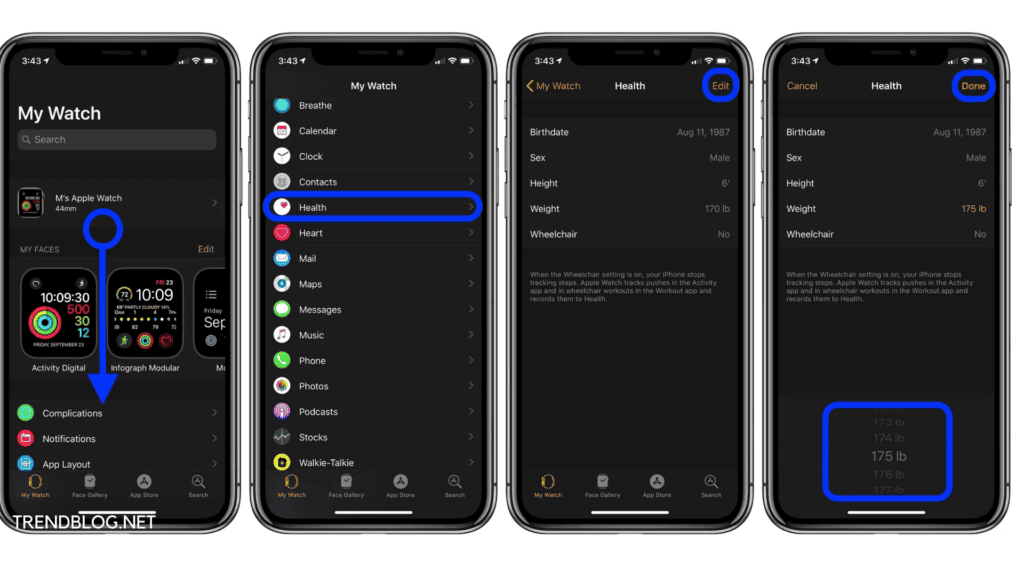 Avoid accidental traps:-
 If you are doing some kind of workout or gear you are wearing while doing that workout which can cause accidental trap on your apple watch then lock the screen so your workout doesn't get Intrupeted. 
Lock the screen:- just swipe right and then click on the lock. 

Dismiss a notification:- press the digital crown. 

Unlock the screen :- turn the digital crown. 
Also Read:
How to Buy More Storage on iPhone, Mac, iPad Within Minutes
How to Pair and Charge Apple Pencil 2 With the Devices are Compatible
Fixing Xbox One Error E102: A Step-by-Step Guide
How to Use EBT on Amazon Within Simple, Easy & Quick Steps
Specifications:-
–
Design and material:-
The launching event of the apple watch is presented in three variable designs and materials used. 
Apple watch sport:- it is in aluminium case this kind of is used mainly for athletic purpose luke to measure the heartbeat, blood pressure and many more. 

Apple watch:- it comes in a stainless steel case, which means it is kind of waterproof its case will not get rusted if we put it in water. 

The Apple watch edition:- it is originally as in 18 kt gold casing and with the new materials in the latest model. 
Size:-
Apple watch comes in two sizes that affect the screen resolution and area of the watch. The smallest size of the apple watch at the launching event was 38 mm that is 1.5 inches, and the largest size of an apple watch is 42 mm that is 1.7 inches. 

Like this, there are many changes in sizes that occur during every series that is launched but overall the size of the apple Watch remains under 1.5 inches to 1.8 inches. 
Input and sensor:-
The sensor like barometer, accelerometer and gyroscope sensor are fitted in tue apole watch to measure the movement and analysing the orientation and altitude of users. 
Battery:-
The battery life of apple watch is 18 hours after being fully charged, and also get notified if the battery drops below 10 percent battery. 
Software:-
This apple watch runs on the watches which help the watch to perform every work . 

This watches also be used for measuring the height and the weight of the user. 

The apple watch is able to receive notifications,  message and phone call via  paired iPhone. 

Apple watches also  able tonuee apple pay and can do payment with the apple watch. 
I hope this article, is helpful for you.