How to Customize Your Folders' Colors in Windows 11
Same yellow color folders on your PC seem pretty dull, and at the same time, a single color makes it difficult to navigate.
Wouldn't it be nice if you could change the color of your folders in Windows 11? Unfortunately, by default, there is no way that you can change the color of the folders in Windows 11 or any version of Windows. This does not mean it is not possible, you can change the color of folders with the help of third-party apps.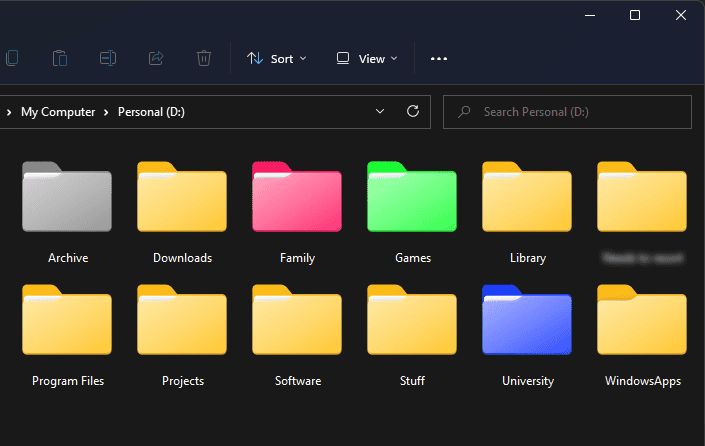 Now, you must be wondering, which is the best folder color changer application that can help you assign a custom color to different folders. Don't worry, because, in this article, we are going to present you with an application that can help you with this particular task. So, without further wasting your time, let's get on with our guide.
Assigning Customized Colors with Folder Colorizer 2
Folder Colorizer is software developed by Softorino that lets you label any folder in Windows Explorer with colors. The app Folder Colorizer was launched way back in 2012 and it still holds the number 1 spot as the best folder color changer for Windows. Here is a step by step guide to show you how to change the color of folders using Folder Colorizer 2.
Step 1
The first step is to download the Folder Colorizer 2 from the Softorino website and then follow the installation wizard to install it on your computer. The app is compatible with Windows 7 and all the above versions.
Step 2
After installing the application, right-click on any folder and you will see a new color option named "Colorize!" which contains different colors. You can pick the existing colors for the folders or you can also customize a new color by clicking on the Colors button at the bottom of the menu.
To create custom colors, you need to click on Colors > choose any shade you like > Tap on Add Color to Library > Hit Apply.
Step 3
As soon as you add the color, the folder which you have selected will be automatically colorized. If you don't like the color you choose and want to re-assign the folder another color, then you can restore the original color by clicking on the "Restore the Original Color" button from the menu.
That is it, that is all you need to do in order to change folder color on Windows 11 using the best folder color changer Folder Colorizer 2.
Why Should You Choose Folder Colorizer 2?
Here are some of the reasons why we think you should choose Folder Colorizer 2 to colorize folders on your PC.
The Palette in the Folder Colorizer includes more than 30 colors. Besides that, the app also includes the HEX Color codes.
If you don't like the existing colors, there is always an option to create a custom color for your folder.
The functioning of the Folder Colorizer is so easy that even a kid can use it. All you need to do is Right-click on the folder of your liking and colorize it. Adding colors to Windows folders does not get easier than this.
The speed of the Folder Colorizer is exceptional, it changes the color of any folder in just 0.67 seconds.
Folder Colorizer is received well by the users as it has more than 5 million downloads worldwide and it got covered by lots of leading tech blogs.
The Folder Colorizer is developed by the same company named Softorino that has made the famous WALTR and Softorino Youtube Converter applications.
Final Verdict
There is no doubt that there are tons of ways through which you can organize your files folder on your computer but no app will provide you with the simplicity and fun as Folder Colorizer.
In this article, we have presented to you the most intuitive way through which you can assign customized colors to your desired folders. If you are still unsure how the Folder Colorizer 2 works, we suggest that you download the application on your Windows PC and see for yourself how easy it is to assign colors to folders using the Folder Colorizer 2 application.