Do You Also Want to Know How to Electronically Sign a PDF
How to Electronically Sign a PDF? Exactly! when we have to sign a PDF document or form, we can either draw, type, or include a picture of our handwritten signature. Even we include text like our name, company if in a case related to business or any other, title, or the date etc. As soon you save it, all these are also saved as a part of that PDF.
Now let us learn about the process to do so. You can save a PDF file after signing it. But in case you are online and wanted to sign then remember, you have to download the file first then take out the print of that then sign. It is because few documents are having which do not allow electronic signature due to its security policy.
Also called as Dry Sign.It is the highly secure, fast, and legally strong electronic signature blend for any business. It gives you a paperless future ahead.
How to Electronically Sign a PDF?
Let us see the steps ahead.
1) Use Adobe Reader for Windows
First, open the PDF in Adobe Acrobat Reader DC.

Select the "Fill and Sign" button in the right side portion.

Then tap on the "Sign" button at the toolbar and choose "Add Signature" to include your signature to Adobe Acrobat Reader DC.

In case you wish to include more information like checkmarks or text etc. to the document, you can use the other options on the toolbar as per your comfort.
There are three ways to put a signature here. 
As usual, the normal way is by choosing "Type" and typing in your name and turning it will get a chance to your signature but it's not that appealing or unique.
But if you choose "Draw" then use it to draw your signature via mouse or a touch screen. Even you can scan by the scanner, a paper having your signature and then add that to Adobe Reader. Now select "Apply" to apply the done signature to the document. Let the "Save Signature" be done for future usage. Keep at a place your signature via mouse and select Apply. If you save the signature, then easily can be retrieved in future. Choose a location to save your signature document after selecting the File menu and Save option from that.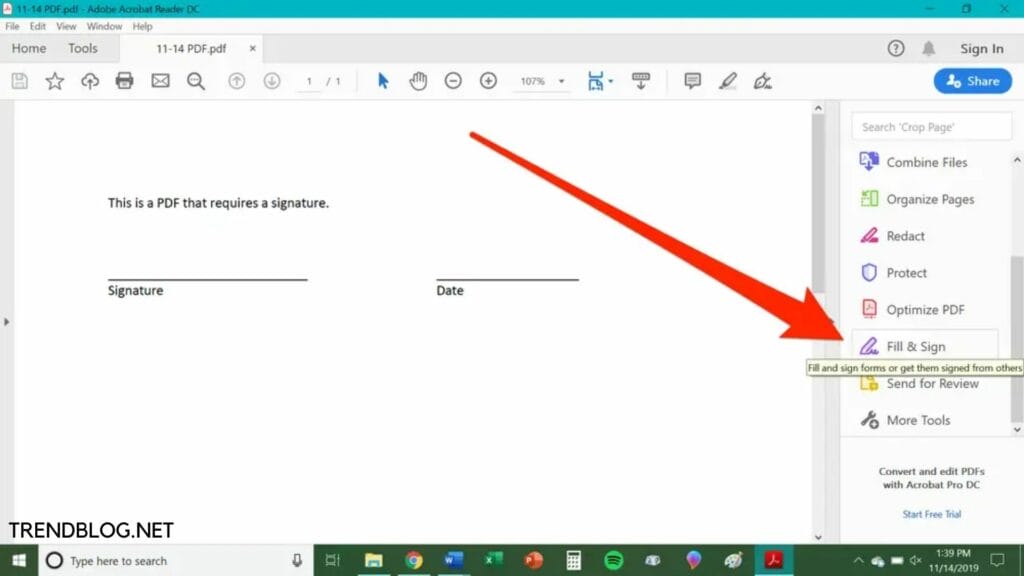 Read Also: 
Notepad ++ | 3 Best Alternatives to Notepad++ Text Editor for Mac OS X | How to Install Notepad++ in Mac
Need a solution to get Music & Videos free? Download Videoder – Video Downloader App on any platform… Android/Mac/Windows
How to Change Alarm Sound on iPhone Using Effective Methods 2022
How to See the Archived Posts on Instagram Using Effective Tricks
2) Use Preview on Mac:
Mac has a very good feature of the touchpad, it helps to draw your signature on the trackpad with one of your fingers to enter it into Preview. As Preview application is attached with Mac OS via an integrated document signing feature. 
Concerning signing a document,
Go to preview and then open a PDF document. 

Select the "Show Markup Toolbar" option, and then tap on the "Sign" option.

You will get notified to put your signature by moving your finger on the trackpad, or by signing on paper and scanning it with your webcam. 

Capture your signature only once and Preview will save it for the future.

After that, you can select that in the menu by selecting on 'Sign' option. Now you can resize your signature as a drawing to fit into the document. 

Now as discussed before go to the File menu and select the Save option to save the. Even You can also choose the File and then Duplicate option to make a duplicate copy along with the changes this new copy will be saved instead of the original one.
3) Use Mail or Adobe Fill and Sign on iPhone and iPad:
Now on an iPhone or iPad, you can create a signature with the help of the markup feature on the iPhone or iPad app. If you are a Mac user and you are using Preview to keep signature on documents will go on from your Mac to your iPhone or iPad so that you do not have to do it again. So be happy! 
It is one of the best facilities but has the restriction of signing a document in the mail app first to use this feature. 
For this purpose, you have to get an email with a PDF file attached to it, select the PDF attachment, and choose the "Markup and Reply" image icon at the down of the screen at the right corner when you are seeing the PDF document.
Now you can put a signature by choosing the signature button placed at the downside right corner of your screen. It is up to you that instead of that, even you can o type in text or draw on the document to save further.
At last when you select "Done", that Mail app will subconsciously make a reply to the email with your signed document attached to it. Now it's easy to handle as you just type an email message and then send the signed document along with that. Hope the article helped you to an extent. Do comment.