How to Enable and Use the Walkie Talkie on Apple Watch
How to Use Walkie Talkie on Apple Watch? As we all know about the walkie-talkie is a device used for communication between two people. Within the specific range limit. 
These Walkie Talkie radios solve many different kinds of problems. On school and college campuses. It can help students easily communicate. With facilities instead of searching for them. Many members of staff teaching or non-teaching staff often move around. A large campus, and it is very difficult to track them down when needed for some essential work. 
So imagine, instead of keeping walkie-talkie radios, there is a function in your apple watch just like walkie-talkie radios for communicating with others. It will be very easy for people to find and communicate. 
How to Use Walkie Talkie on Apple Watch
There is a function in the apple watch, and for sure you heard of it, and this feature is called walkie talkie app. Imagine if you lost your friends or separated from them during the festival celebration and that friend is also wearing the Apple Watch, then you can communicate and find him.  So this feature makes it easier to communicate with each other just with your watch. So it kind of makes life a little bit easier for a person. 
If you want to use this feature that is walkie talkie app, the first thing you have to need is an apple watch, and also, the other should have it if you want to communicate with them. This walkie-talkie app is available for the apple watch series one and the other latest version, but the requirement is that the watch should have watchOS 5.3 or the latest version. If no yellow talk icon is not visible in the menu, you haven't probably set up your face time app on your iPhone yet, so do that first. 
How Do You Add a Friend?
To communicate with someone, you have to add that person to your walkie-talkie app to communicate. For this, first of all, you have to set up the face time app on your iPhone so that the walkie-talkie app appears on your Apple Watch screen, and it is a kind of yellow icon that says TALK. 
You just have to do a few steps for adding a friend, and the steps are given below:-
You have to first open the walkie-talkie app on your apple watch. 

Then you have to tap on the + sign symbol, and then you have to select the name of the friend with whom you want to connect, so send a message to them with this walkie-talkie app. 

And now all you have to do is just wait for a friend of yours to accept the request you sent to them. When your friend accepts your request, the contact card becomes yellow, which means you can talk with them with the walkie-talkie app on your apple watch. 
Also Read:
How to Restrict and Unblock Contacts in Gmail (2022) UPDATED!
How to Buy More Storage on iPhone, Mac, iPad Within Minutes
Geforce Experiences Error Code 0x0003: 4 Unique & Effective Solutions
How Do You Accept the Requests?
Just like you send the request to someone, also the way someone can send you the request, and you can also receive the invitation by yourself. You can accept the invitation by following the simple steps given below. 
You just have to do with your fingers and touch and hold on to the top of the watch face and then have to swipe down to open the notifications center. 

When you get a request from your friends, you get a notification from the walkie-talkie app, so you just have to tap on that notification. 

Now then, you have to tap on the always allow. 

And if you are not a bow to find the invitation, you have to check if Do Not Disturb is on or off, and if Do Not Disturb is on, then make sure to turn it off.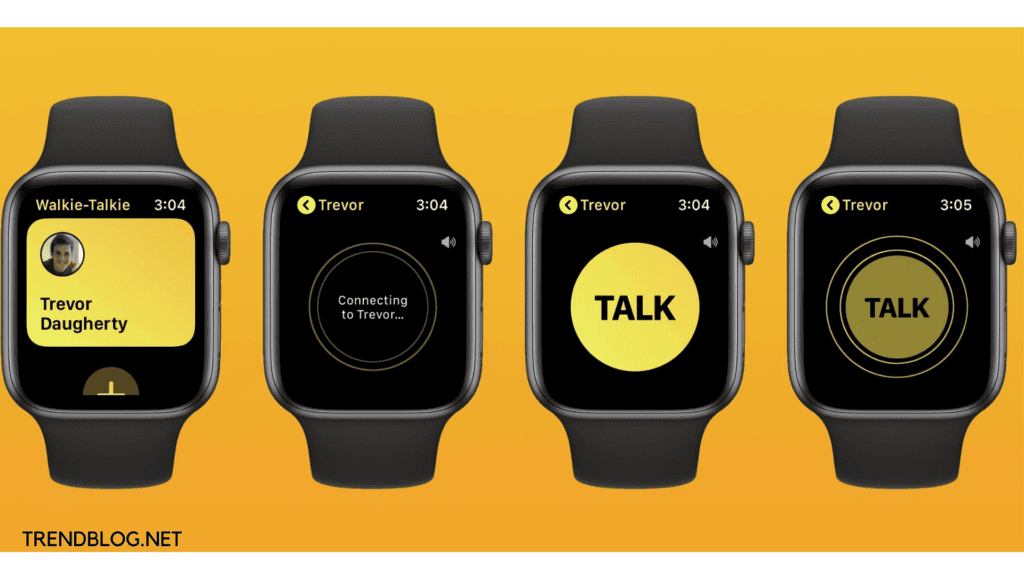 How Do You Start Communication?
 After completing all the steps like adding and receiving requests, you can start communicating with your friends easily. 
You just have to follow some easy steps that are given below:
You just have to open your apple watch and go on the walkie-talkie app. 

Now you have to just tap on the friend's name with whom you want to have the communication. 

You just have to hold down on the talk button while you talk and see whether the screen is connected. If you are not connected, you should get a establish connection, and when you release the talk button, your friend receives your message and can reply the same way you have done. 
Sometimes there is a problem with the sound, sometimes the sound is too low, or sometimes it is too high that can irritate any person, so for managing the sound volume, you just have to turn on the digital crown on your Apple Watch or iPhone.