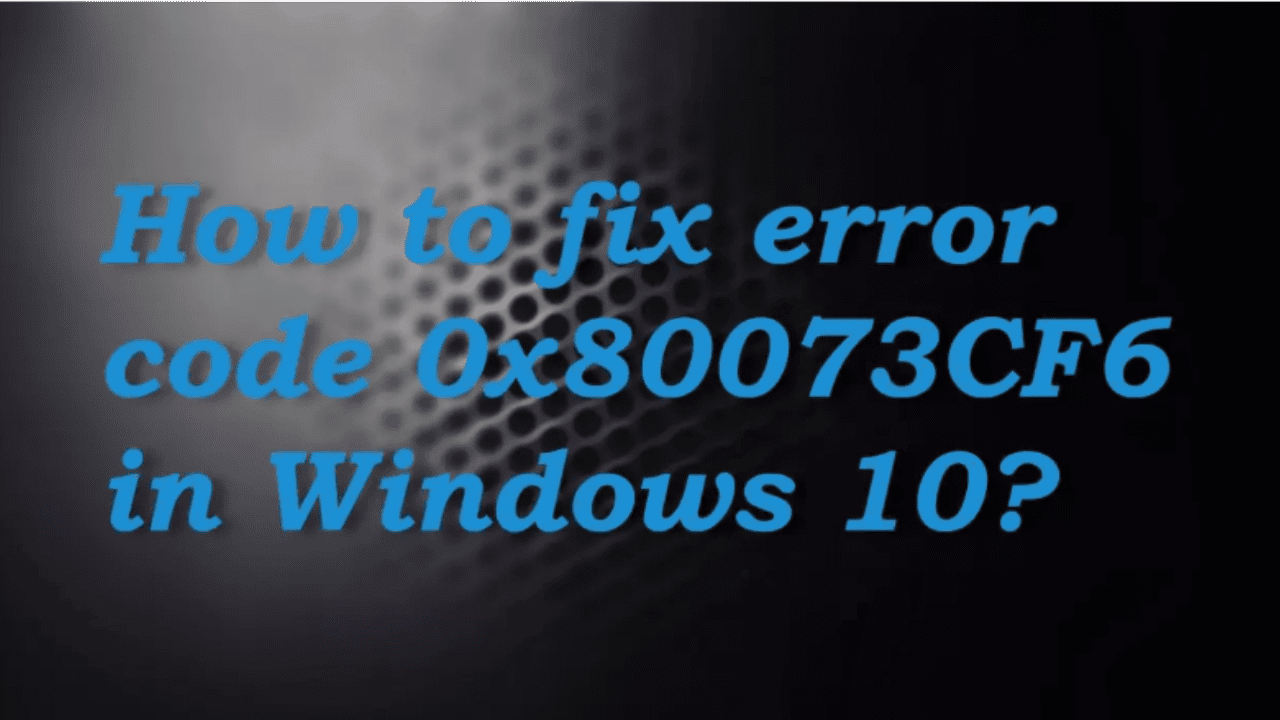 How to fix error code 0x80073CF6 in Windows 10?
This Xbox error number 0x80073cf6 typically appears following an update to the Xbox app or the Windows 11/10 app. This error notice, nevertheless, could also appear in other circumstances. The error code 0x80073cf6 was seen by certain users when installing a game.
In Windows 10, the failure of specific updates or installs results in the error number 0x80073CF6. Users may encounter this problem when installing, removing, or updating an existing application. When the problem shows, there may be a specific sign that the program cannot be installed or that the process failed. so that you can determine the precise cause of the problem.
You can attempt the remedies offered in this post if you get this issue on your Windows 11/10 PC or Xbox Console.
Why does this error code 0x80073CF6 appear in Windows 10?
This problem may be brought on by a general Windows 10 system bug or a specific operating system upgrade. Installing the most recent pending update can resolve any flaws that may still be present in older releases. The issue could potentially be brought on by a specific Windows Store corruption. Corrupted files or dependencies that the Store components employ, this is the most frequent reason for the issue. The Windows shop can be reset to fix the issue.
Corrupt user accounts are yet another issue that might cause a 0x80073CF6 error in Windows. The problem may be entirely resolved by adding additional local users. Additionally, you shouldn't rule out the possibility of third-party program intervention when separate procedures fail as a result of a potential application conflict. By disabling specific programs or performing a clean PC startup, you can eliminate these problems, which can be helpful.
Remember that system file corruption is a common reason for computer faults as well as the failure of processes and applications. When malware terminates or disappears from the engine, it may leave behind such damaged bits. Additionally, underlying instances of system file corruption can cause serious problems.
Steps to fix error code 0x80073CF6 in Windows 10
The following solutions may help you fix Xbox error code 0x80073cf6.
Check the status of the Xbox
Checking Xbox Live Status should be your initial action. Users can get various error messages as a result of Xbox Server outage problems. If the Xbox Live Status indicates a server outage, you must wait until Microsoft fixes the problem. Typically, faults brought on by a server outage will be automatically
Power Cycle your Xbox Console
You should Power Cycle your Xbox Console if the error is occurring while installing a game to see if it fixes the problem. Here are the methods to restart an Xbox console:
To switch off the console, press and hold the Xbox button for about 10 seconds.
From the wall outlet, unplug the power cable.
Wait a short while.
Reconnect the power cord, then turn the Console on.
Now, check if the issue is fixed. If not, try the next potential fix.
Run the troubleshooter
As previously mentioned in this post, running the Windows Store Apps Troubleshooter and Windows Update Troubleshooter can assist if this problem also occurs after upgrading an app or game from the Microsoft Store. Both of these troubleshooters may be found under the "System > Troubleshoot > Other troubleshooters" section of the Windows 11/10 Settings app.
Reset your Microsoft Store
For some people, this method has been effective. You may also give it a try and check whether, following a Microsoft Store reset, you see the problem code 0x80073cf6. The actions listed below will help you with this:
Go to Settings in Windows 11/10.
Then select "Apps > Apps & Features."
Locate Microsoft Store by scrolling down the list of installed applications.
Select it once you've located it, then click Advanced Options. After selecting the three vertical dots adjacent to Microsoft Store in Windows 11, you will find Advanced Options.
Tap Reset.
The data associated with your app will be removed when you take the aforementioned step. Therefore, be sure that you have backed up your game data to the cloud before you reset the Microsoft Store.
Clear persistent storage on your Xbox Console
Clearing the persistent storage on your Xbox Console can assist if the error notice is appearing while installing the game from a disc. The Blu-ray discs are subject to the "Clear persistent storage" option. You will eliminate any remaining cache files and trash RAM after completing this procedure. You may delete persistent storage on your Xbox Console by doing the following steps:
To access the instructions, press the Xbox button.
"Devices & connections > Blu-ray" should be selected.
Decide to use Persistent Storage.
Select Clear persistent storage after that.
Delete your other unwanted games
Conflicting programs or games can sometimes cause issues. You can remove any games that are still in your library that you don't use or play. Additionally, this will make some room on your disc.
Factory Reset your Xbox Console
Reset your Xbox Console to factory default settings if none of the alternatives above work for you. When you take this action, Xbox will give you the choice between deleting all of your data and keeping it. You can choose your preferred choice. The following are the steps to factory reset the Xbox Console:
To access the instructions, press the Xbox button.
"Profile & system > Settings > System > Console info" should be accessed.
Choose any of the following choices after selecting Reset console:
Clean up and reset everything.
Reset my games and apps but retain them.
The latter option prevents the deletion of your data.
Also Read
Fixing Xbox One Error E102: A Step-by-Step Guide
Fix Roblox Errors Not Updating on Mac: Check Compatibility With OS
How to Fix tap to Load Error on Snapchat on Android or iOS Device
How to Fix Generac Error Code 2800 using 6 Steps
FAQs
Q. How do I fix error 0x80073CF6?
Press Windows key + Q. In the Search box, type WSReset.exe and hit Enter. Update the app and check if an error has been resolved.
Q. How do I fix the error code on Windows 10?
Restart Your Computer. The first fix is the easiest and most obvious: restarting your computer.
Run SFC and CHKDSK. SFC and CHKDSK are Windows system utilities you can use to fix a corrupt file system.
Update Windows 10.
Q. What does error code 0x80073CF6 mean?
The error code 0x80073CF6 in Windows 10 is the failure of particular updates or installations. Users get to experience this issue, installing or uninstalling the program or the existing application getting the update.
Q. How do I fix the stop error code?
Run the Hardware and Device Troubleshooting Tool.
Run the Deployment Imaging and Servicing Management Tool.
Run the System File Checker.
Run an Antivirus Scan.
Update Your Drivers.
Uninstall Recent Windows Updates.
Perform a Clean Boot.
Restore Your System.