Kodi (formerly called XBMC) is an awesome open source home theatre software that runs on almost all operating systems. In the following weeks we'll provide you with guides on how to properly install Kodi on all sorts of devices. The first part of this series will be MacOS based systems like the MacBook, iMac or Mac Mini. It does not matter if you want to connect an old Mac Mini to your TV and use it as a media center, or you want a convenient way to check your media library on your gorgeous Retina display, Kodi is the perfect solution for you.
5 reasons to install Kodi (XBMC) on your Mac
Good looking, highly customisable user interface
Keep track of all your media: music, movies, TV Shows or pictures
Endless amount of add-ons to add new features and media sources
Recording and watching live TV on your Mac
Ability to connect to remote sources
How to install Kodi on a Mac
Installing Kodi on a Mac is pretty easy and can be done within a few minutes. Here's how to do it:
First, download the latest Kodi release for Mac OSX (most likely the 64 bit version). Most modern Macs have a 64 bit processor and it should work fine for you.
Next, install the App on your Mac. To do so, open the dmg file and drag the Kodi icon to the Application folder. This is it, your Mac will now install Kodi.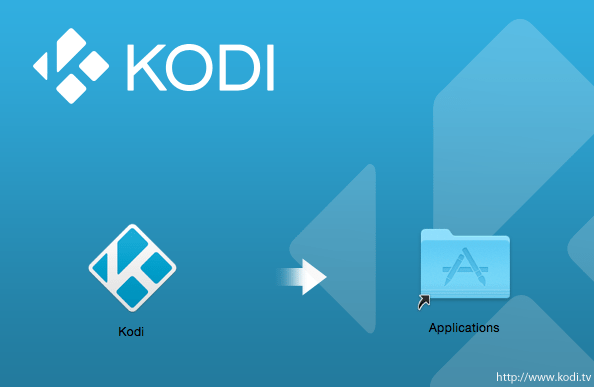 You may now find Kodi in your Applications folder. As usual, double-clicking the icon will launch the app. However, there is a chance that your Mac security settings prevent you from launching apps from outside the App Store or trusted developers.
Luckily, there is an easy fix for that. Go to your System Preferences and open the Security & Privacy Settings. Have a look at the lower section of the menu and you'll find an area dedicated to  App security.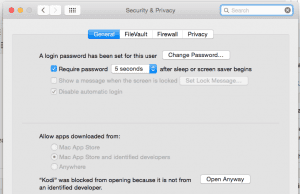 You now have the possibilities: Either you change your settings and always allow apps from anywhere or only allow your Mac to open Kodi. I would personally recommend clicking "Open Anyway" as this protects you from installing potentially harmful apps in the future. You might be prompted to provide your admin-password but that's about it. From now on you won't have any problems to launch Kodi.
That's it. Kodi is running on your Mac and you can start adding media sources, themes and addons. Have fun!