How to Install Windows 11 on Unsupported CPU
How to install Windows11 on an unsupported CPU?  Well, Windows 11 has certain listed system requirements to be followed to get installed. Are there ways to upgrade? there are ways around upgrading too to fit the system as per the requirements.
See actually windows 11 does not hold a very big or vast features list, so it's not compulsory to upgrade. But as Microsoft indicated that PC does not have the required support to install and run. Even it will not provide support for the security purpose in such a case. However, if you are interested in executing Windows 11 on an unsupported CPU, you have to follow the steps.
It's suggested in case you are doing so still must have the backup of your important data. It's very important when you are upgrading such an operating system for which you do not have a strong supporting system for your hardware. 
How to Install Windows 11 on Unsupported CPU?
Now before installation of Windows 11 to your computer, it's better to use the Microsoft PC health checkup app for the support to get assured whether your system allows it or not. 
The minimum system requirements for Windows 11 are listed hereunder
CPU: Now your PC processor must have 1 GHz or faster with two or more cores on a 64-bit processor or system based on a chip.

RAM: Remember, the size of Ram must be 4 GB or more.

Memory Storage: It must be of size 64 GB or more. 

System firmware: As if now UEFI, Secure Boot capable.

Graphics card: must be well suited with DirectX 12 or later and with a WDDM 2.0 driver too.

TPM version: Trusted Platform Module version 2.0 is required

Display: High definition (720p) display, 9″ or bigger monitor, 8 bits per colour channel is required.
 Now if the PC is supported, then upgrading is easy to Windows 11 by following certain steps. But in case it does not support, you will get a prompt via PC health check-up.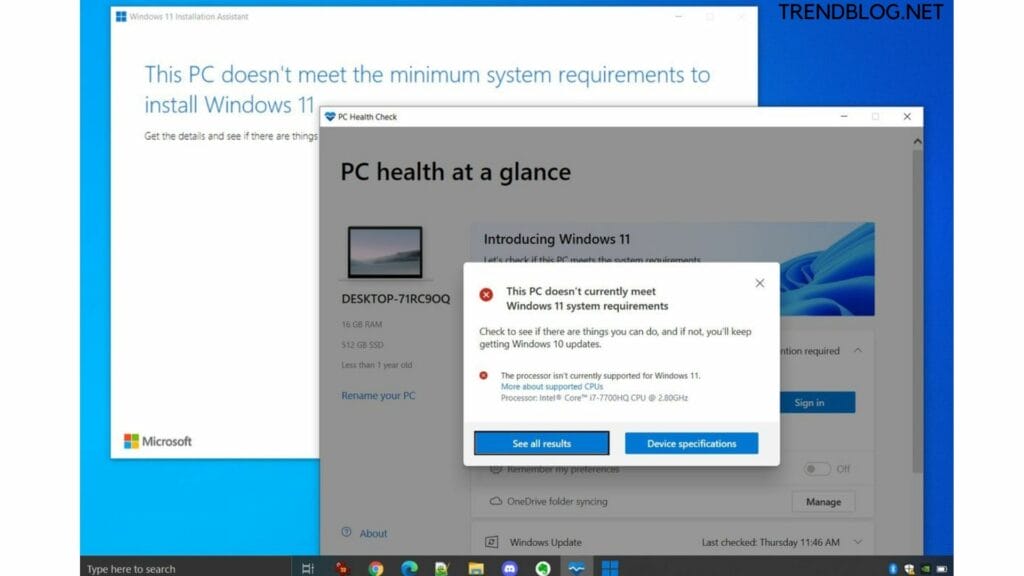 If Windows 11 doesn't formally support your PC, the PC Health Check will say it "doesn't currently meet Windows 11 system requirements" along with the drawbacks. 
Let's go through the process to get supported in just three easy steps:
1) Download Windows 11 ISO
First, we have to download ISO, on this Microsoft page just go down to download Windows 11 Disk Image (ISO).
Now click on the Select Download dropdown and choose Windows 11, click the Download button,
choose your product language from the Choose one pop up that visualize beneath,

Click

Confirm,

then select

64-bit Download

.
Till the period 5.1 GB picture is downloaded, we can start the 2nd step.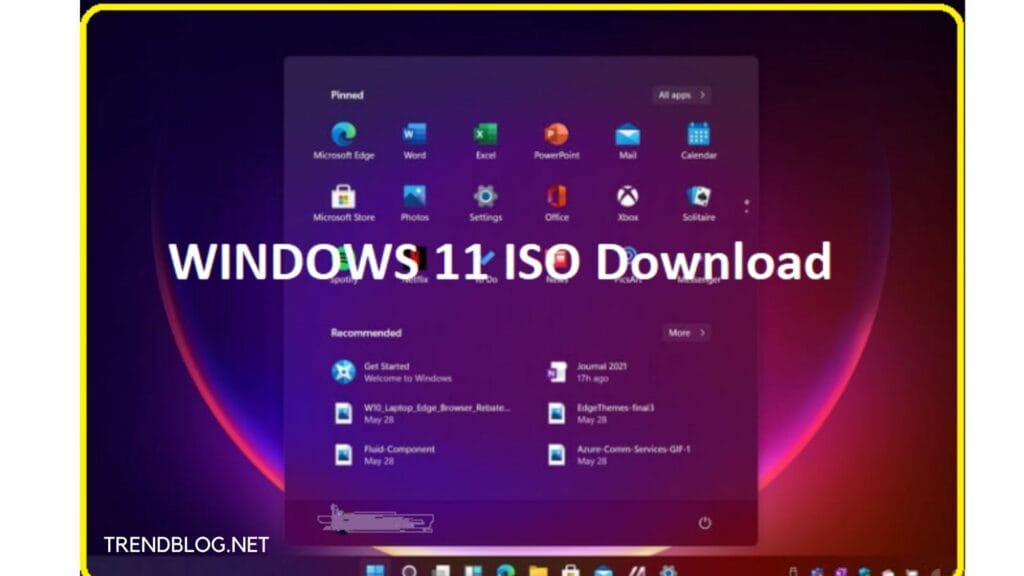 2) Manage the Windows Registry to Bypass the CPU Check:
Now on Windows, click

Start

and fill

regedit

, 

After that tap enters to bring out the

Registry Editor.

 

Move to Computer\HKEY_LOCAL_MACHINE\SYSTEM\Setup\MoSetup, you can do so by simply pasting that whole address into the box just down of "File, Edit, View, Favorites, Help" 

or by scrolling down via the

HKEY_LOCAL_MACHINE

and

System

and

Setup

and

MoSetup

folders one at a time.

Now in the right section, right click and select 

New > DWORD (32-bit) Value

. 

Name the value "

AllowUpgradesWithUnsupportedTPMOr CPU"

minus the quotes. Doubleclick at the new value you created, and type

1

into the

Value data

field. Tap on

OK

and close the registry editor.
Read More: 
How to Stop a Program From Running At Startup Windows 10
Multimedia Option, Purposes and Download GoodNotes for Windows
3 No-sweat Ways to Fix Inaccessible Boot Device Windows 10
How to Pair/Unpair Apple Watch with iPhone | In Simple-Steps
3)Next, Open the Iso in Windows Explorer and Initiate Setup
Has your ISO finished downloading? If yes Then just right-click on it and select Open with > Windows Explorer to arrange the virtual disc, then double click the setup file to start the installation.
Here it's completed. Now if it went successfully by a registry hack, you will receive a warning in spite of any other rejection message. And then you are allowed to install Windows11 without losing your important data there. If the registry hack worked, you should soon see a warning message instead of a rejection message, and be given the option to install Windows 11 without losing your data. 
So, Microsoft facilitates a formal method to install Windows 11 with older CPUs and TPM 1.2 chips, for example. You just have to change a registry setting. 
See their methods to install Windows11 even if you do not have TPM 1.2 or UEFI. Although this is exactly unsupported and you will be at a high risk of collecting malware and do not get future security notifications. But you can get it done based on the three steps methods as told before to get the solution to your problem to work in Windows11. Even your data is also not lost and got the features too in future to utilize.
You are welcome to leave a comment down in the comment section to let us know whether our solution was helpful or if you have other tricks on how to install Windows 11 on an unsupported CPU. 
I hope this Article, is helpful for you. If you want to share something related or have any queries feel free to reach us in the comment section.