Imagine opening your contact list to make a phone call and discovering that all or most of your contacts are gone! You family, friend, and work phone numbers are missing and, of course, you do not keep them written in a notebook like we used to do 20 years ago.
Sounds terrible, doesn't it?
It doesn't matter if you have accidentally deleted your contacts or if they were lost while you were rooting your Android device or doing any other kind of tweaking and tinkering.
Now you are thinking about all the hard work you'll have to do; collecting those numbers again and inputting them one by one back to your contact list.
Luckily, there are more straightforward solutions to get your contacts back! I'll go with you step by step through all of them, and you pick the one that works for you the best!
 Check if Your Contacts are Hidden Somewhere
Our devices may get wholly bugged. For some reason, instead of showing you all contacts, you can see some group or specific list on your Android device. Just to make sure your contacts are nowhere on your device, check the list "All contacts". It's a simple thing to do:
Open the "Contacts" app
Press on the "Menu"
Tap "Contacts to display"
If "All contacts" were not automatically selected, this was the issue, and now you should be able to see all of the phone numbers listed. Yet, if "All contacts" were selected, it means that something else is the issue. Let's see how to fix this one.
Using Google Account (Gmail) to Restore Your Contacts on an Android Device
Note: For future safety, I recommend you transfer your android contacts from one device to the other.
Most likely, your Android device is synced to your Google account. If that's the case, you're in luck. The Google account has an option to back up your contacts, and simply by re-syncing your device with the Gmail account, you will get all of your contacts back. However, here is the catch. If you did a backup within the last 30 days, you would be able to use your Google Account to restore your contacts.
Let's see how to check if your contacts are backed up on your Gmail account.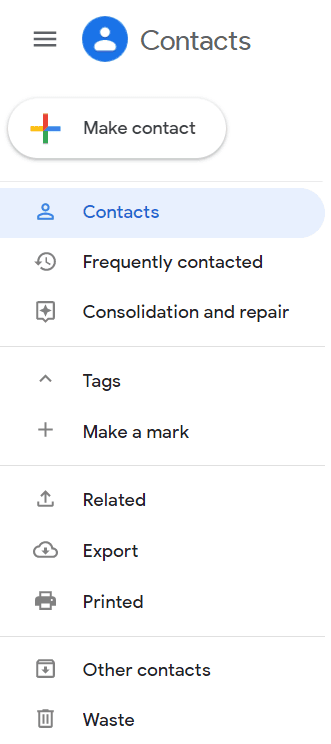 Click "More" > "Restore contacts"
You can select a time to restore the contacts – 10 minutes, 1h, yesterday, a week ago, or Custom time
Select the backups you want to restore and tap on "Restore"
After the process is done, re-sync your Android device and your Google account.
 As I already mentioned, this option will work only if you had a backup of your contacts within the last 30 days. If not, do not panic. There are still a couple of things to try.
Retrieving your contacts from a device without backup
Chances are that you might forget to backup your contacts, then here's a remedy for you. iMobie's DroidKit could help you recover contacts with a few simple clicks. This app provides two different mordes for you to recover contacts which ensure a high recovery success rate.
Quick Recovery from Device without root required
Deep Recovery from Device with root but a thorough scan
Followings are the detailed operation steps:
Download and open DroidKit app
Click "Quick Recovery from Device"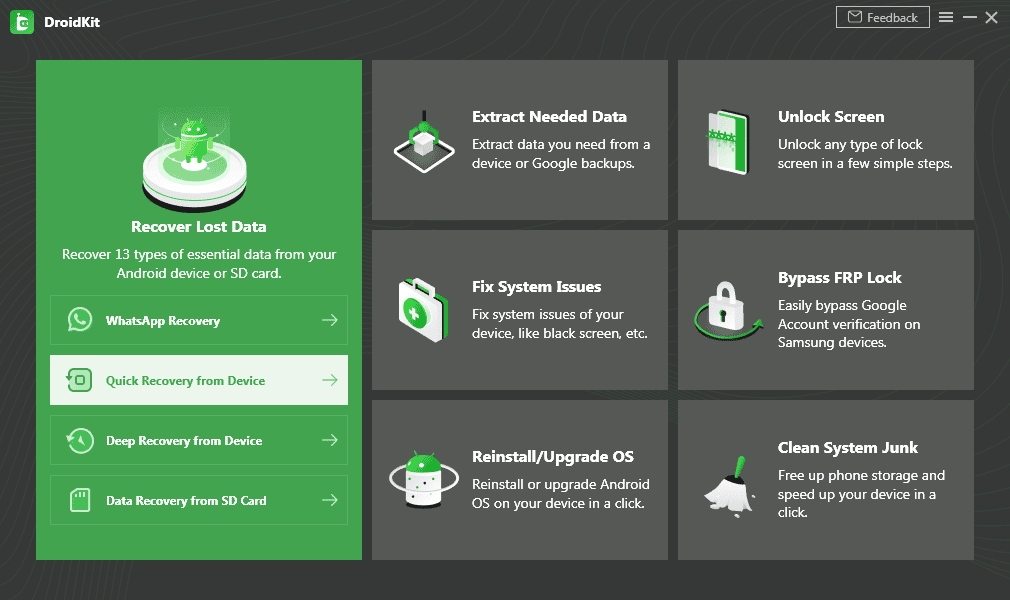 Select "Contacts" and click "Start" button
Then connect your Android device to your computer
Waiting for the data scanning process
After scanning done, you can preview and select the contacts you need to recover
Click the "To Device" button to restore contact directly to your Android device.
This method could be an easy solution if you are a non-techie, only a few clicks are needed. And if DroidKit – Data Recovery Quick mode doesn't meet your demands, you can choose the Deep Recovery mode.
 Restoring Your Contacts from the Phone Memory
If you've deleted your contacts, there is a good chance they are still stored somewhere in your phone's memory. For this type of recovery, you will need your PC, and you need to root your Android device before we start. In case you are not sure how to root it, you can check our Android root guide.
Also, you will need to download the MobiKin Doctor of Android app. The app is completely safe and compatible with all Android devices.
 https://www.mobikin.com/doctor-for-android/ 
 Now let's go step by step through this process.
Connect your Android phone to your PC
Authorize connection with your phone by clicking "Allow"
Download and open MobiKin app
Open "Contacts" and click on "Next"
You will see your computer scanning your entire phone memory and showing you all contacts you have, whether they are deleted or still existing.
If you wish to see only deleted contacts, you will see a switch "Only display the deleted item(s)" – turn it on
On the left side, you will see the "Contacts" button; press it
Now, you can select which of these contacts you want to restore
Click "Recover"
Find the folder on your computer containing deleted contacts and transfer it to your Android device.
This option is a little bit more complicated, but trust me that it's worth a struggle in certain situations! Better than to reach out to all of your contacts via social media and ask for their number again, right?
 Android Apps that will help you restore your lost contacts
With the development of Android software, luckily, we got a couple of excellent apps to help you restore your lost data, including your contacts. I will list just a couple of them here based on user experience.
Restore Lost Contacts
An appropriate name for such an app, huh? With this application, you can restore all of your lost or deleted contacts with no struggle. The app works without a previous backup, and it's free. Enjoy the perks of the app!
Download App: https://play.google.com/store/apps/details?id=recoverynumber.restore&hl=en_IE 
Backup & Recover deleted contacts
This app is a little bit different since it works only with a backup. You need to install it on your Android phone, backup your contacts, and later on, you will be able to restore them at any time. This is a good option for those who want to switch their phone, root their device, or simply be safe in any situation.
You can backup contacts from your phone or SIM card and deleted duplicated phone numbers. This app is also free, so if you want to protect your contacts in time, Backup & Recover is the right choice!
EasyBackup
Yet another option to preserve your contacts by doing a backup. You can back up all of your contacts with a single click, making this app simple to use. Also, it allows you to export your contacts as a .vcf file and send them to any email address. So, if you need to send your contact list to someone else or make sure it's saved, EasyBackup is a good solution.
Hopefully, one of these options helped you restore your contacts. If you have an any better option, you can suggest us in the comments below!
Editors' Recommendation: