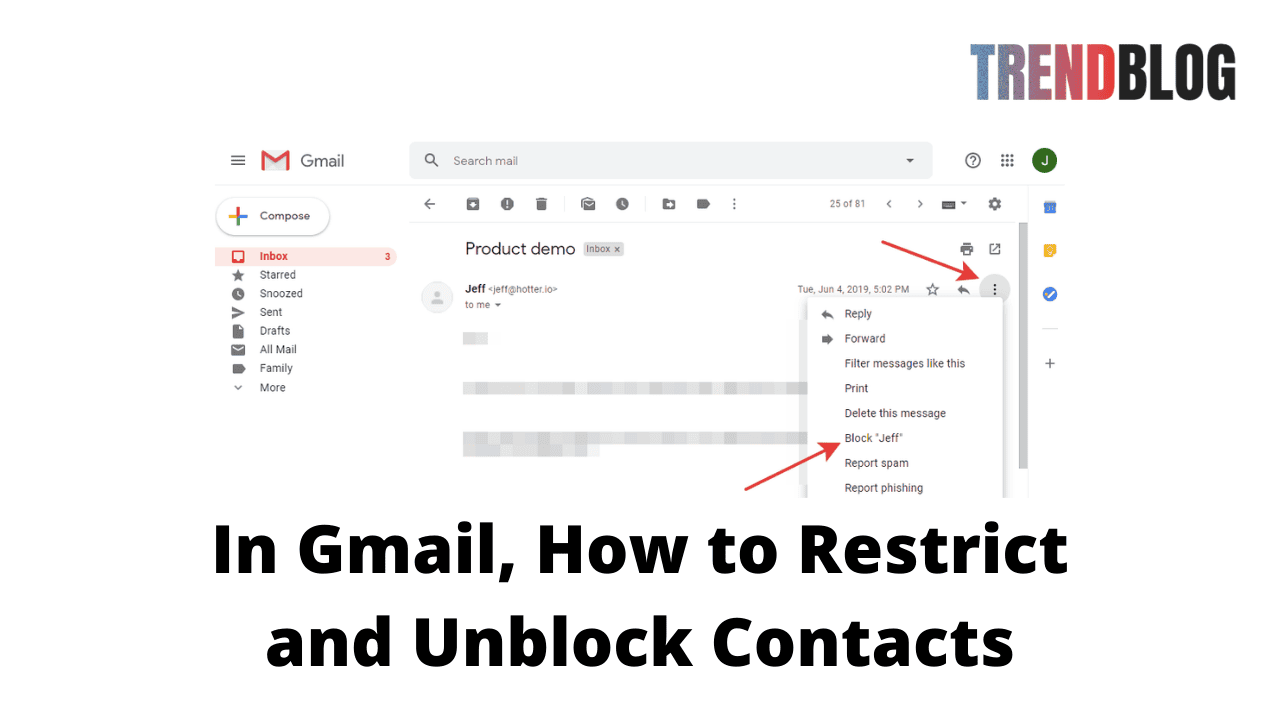 How to Restrict and Unblock Contacts in Gmail (2022) UPDATED!
With just a few clicks of the mouse, you may block and unblock contacts in Gmail without their knowledge.
It's important to know how to utilize Gmail's blocking and unblocking features in order to keep your inbox safe. Gmail makes blocking and unblocking your contacts a two-button process.
Blocking someone means that mails from their addresses go to your Spam folder, but they have no idea that they were blocked. If you were just going to block them for a short period of time, be sure you unblock them afterwards.
You can block someone on Gmail by following these steps:
Do the following if you want to block someone from emailing you:
Open the email sent by that person.

Next to the respond button, click the ellipsis (three vertical dots) button.
In the Block [Contact Name], type the individual's name and click [OK].

To confirm your decision, click Block in the resulting popup box.
Using the Gmail mobile app, you can put a stop to spam.
For Android and iOS users, the Gmail mobile app makes the procedure more simpler. Rather than a vertical ellipsis, the iOS mobile app features three horizontal dots that represent the block option.
The sender's future emails will be labelled as spam if you don't click on the little banner at the top. The image that follows is a screen shot taken from the Gmail iOS app.
On Gmail, how to Unblock a Person?
If your mind changes and you decide to unblock a contact, follow these steps:
Go to the Gmail settings.

Filters and Blocked Addresses can be accessed by clicking the tab.

The blocked addresses are listed at the bottom of the screen.

In order to unblock a contact, you'll need to find them in the list and then click the Unblock button. Multiple or all addresses may be selected and clicked on to be unblocked.

Click the Unblock button to confirm your selection in the popup window that appears.
How to unblock a contact on the Gmail mobile app
Find an old email or account from the blocked person and click the three dots again to see the menu that appears. Unblocking Remove the bar by clicking the Unblock [Name] option.

You can also return to your Gmail settings and remove the block as we previously mentioned.
Blocking Emails from a Specific Domain Using a Rules-Based Approach
All emails from a single domain can be "blocked" just like individual email accounts. It's necessary to set up a rule to automatically remove incoming mail from that site as soon as it arrives in your inbox.
Rather than having to add each individual contact from that domain to your own Gmail's blocked list one by one, this feature saves you time. Create a rule that filters and blocks all emails from a specified domain automatically by following the steps below
Go to your Gmail account's settings page (by clicking the gear icon).
Select the Filters and Blocked Addresses tab.

Create a new filter by clicking the Create a new filter button.

You'll be presented with a new window where you can enter the details for your filter. Enter the domain in the "From" field. If you want to prevent emails from the gmail.com domain from being delivered, simply enter @gmail.com.

Click on the Create filter with this search button.

Select Delete from the list of options.

Select Create filter.
A single email from the domain can also be used to access these settings.
Go to Gmail.

Select the email by checking the box next to it.

More information can be found by clicking here. These kinds of mails should be eliminated from your inbox.

Enter your search parameters here.

Create a new filter.
Please keep in mind that only newly received emails will be impacted by the rules you define to eliminate spam. You'll need to press a button in order to proceed. Filter out older emails that satisfy the criterion by applying the same filter to [X] matched discussions.
For the next 30 days, all of your deleted emails will be accessible in the Trash. In case the filter has missed anything significant, you can go through the garbage and see if it's there.
Remove the rule that blocks the domain. Click on Preferences > Filters and Blocked Addresses to see the list of filters you've set up. You can delete a filter by selecting it from the list and clicking on the delete button.
Why not block emails with the Spam Button?
To stop spam in your inbox, you can take a few measures. The spam button, on the other hand, is a nuclear option that you should save for persistent junk mail.
If you recognize an email address but don't want it in your inbox right now, you can use the Block option. Marketing communications from a bank, for example, can be prevented unless you elect to subscribe.
Block Unwanted Emails 
Any email software makes barring or unblocking a known contact a simple task. Spammers, who employ smart workarounds such as changing email addresses or spoofing to overwhelm your inbox, are a more difficult war to fight. Blocking them doesn't always work, and classifying them as spam doesn't always work.
Your best friend could be the Delete key. To eliminate automated emails and keep your inbox clean, you may also use clever Gmail filters with keywords.