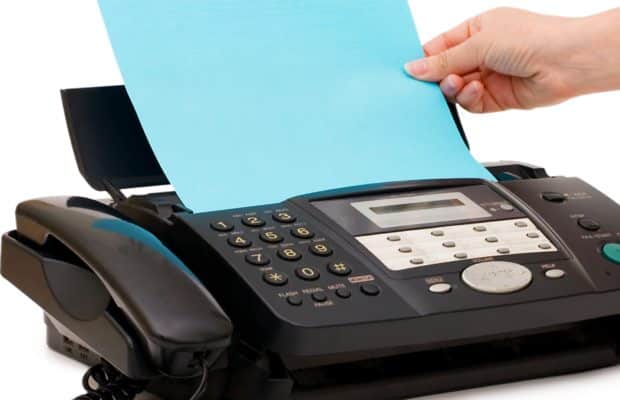 How to Send and Receive Faxes Online Without a Fax Machine or Phone Line
Fax Machines? Who uses that in present times when we have online documents service? Many of you might have such questions popping in your head right now, but you would be surprised to know that many small businesses and government agencies still use fax services. Many of us still come across fax requirements, and to make it simpler for you, we have come up with this article that will walk you through various methods of Faxing without the need of a Fax machine or a phone line.
Before we take you through the alternatives for fax machines, let us enlighten you about how they work!
For starters, a fax machine usually needs an active phone line to function. The standard machine makes a phone call to the phone number you want the fax to be sent. As soon the phone call is received, the device transmits the document to the same number. Before the advent of Hi-Fi computer technology, fax machines were all we had. To send a fax one had to type the entire document on a typewriter and then scan it into the fax machine, which was then transmitted to the specified phone number. Fax documents used to lack image quality and clarity. We have come a long way since then.
Even now, many businesses consider faxing to be a safer method than email. However, it is not as safe as we think and the documents can still be rigged if someone decided to tap your phone call. Network intruders can easily block faxes from reaching their destination. Also, there is no way we can connect a Fax machine to a computer or the Internet. These machines can only connect to phone lines (DSL). To send a fax online, one has to sign up for specialised online services that take up documents on the internet and send them through a gateway, which transmits it to the fax machine on the other end.
Online services that let you send and receive faxes for free
In this post we listed a few of those specialised fax online services. Occasional users can send a fax online for free, while the more frequent users have to pay a one-time fee or take up monthly subscriptions. You can upload your documents on the service's website, and they will take care of the herculean task of sending it through a phone line to the specified phone number. Also, many of these services have a mobile app that can ease your work even more.
RingCentral Fax (paid, offers 30-day trial)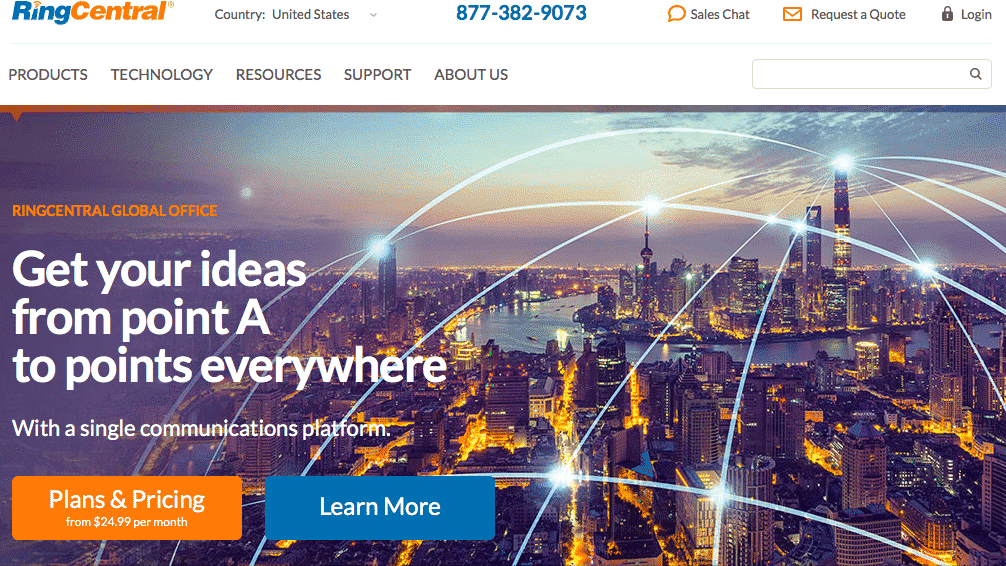 For the ones who send faxes daily, RingCentral could be your best bet. The service is co-owned by Cisco and AT&T. Regarding security, our research suggests RingCentral to be the safest. It also features extensive support for different users with separate fax lines. Also, it has a mobile app that can come handy for sending faxes on your smartphone. RingCentral accepts faxes in the form of e-mails, PDFs/DOCs along with support for Outlook, Google Drive, Dropbox and other cloud-based services. It is a paid service, but a good choice for businesses. Their cheapest plan starts at $7.99 per month or you can also go for a 30-day trial.
MyFax (free & paid)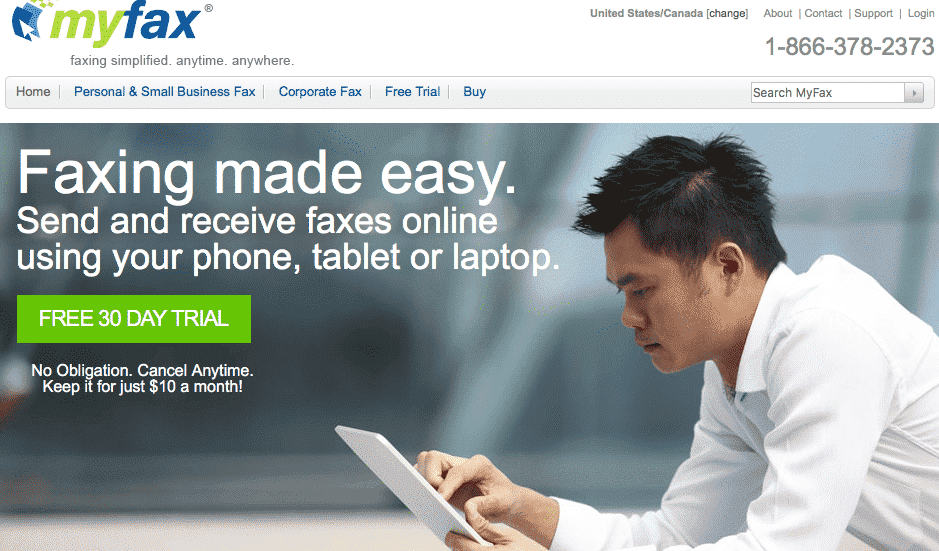 MyFax could be a perfect fit for the occasional Fax senders and receivers. It allows a maximum of 10 pages fax free every day, supporting 41 different destination countries! You can paste any e-mail or text into the text box or upload your documents in form of a PDF or DOC file.
GotFreeFax (free & paid)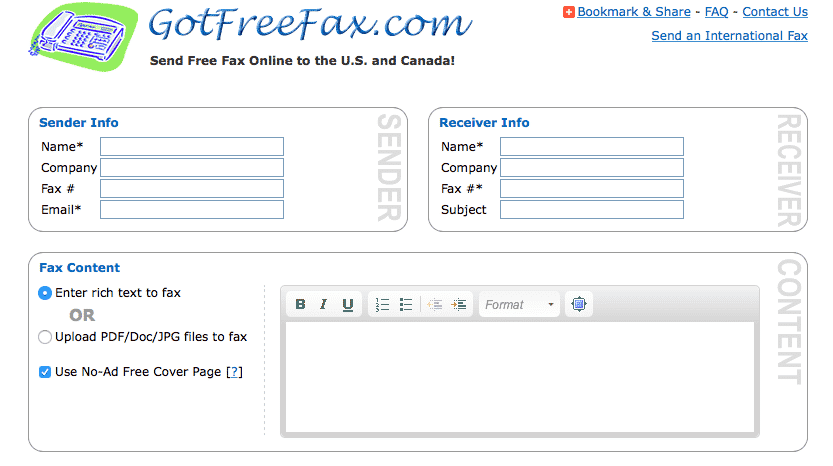 We found the website minimalistic, and it lets you get to the business quickly. As soon as you open the site, you will find a form layout where you can fill the details for your fax. It requires the receiver's information along with the fax number; you can either paste the e-mail (even in formatted form) into the text box or upload a PDF or DOC file. GotFreeFax could be an excellent service for the occasional users as it allows a maximum two free faxes every day limited to three pages per fax. For the ones who use the service daily, there are various subscription plans. Sadly, this service is restricted to the US and Canada.
FaxZero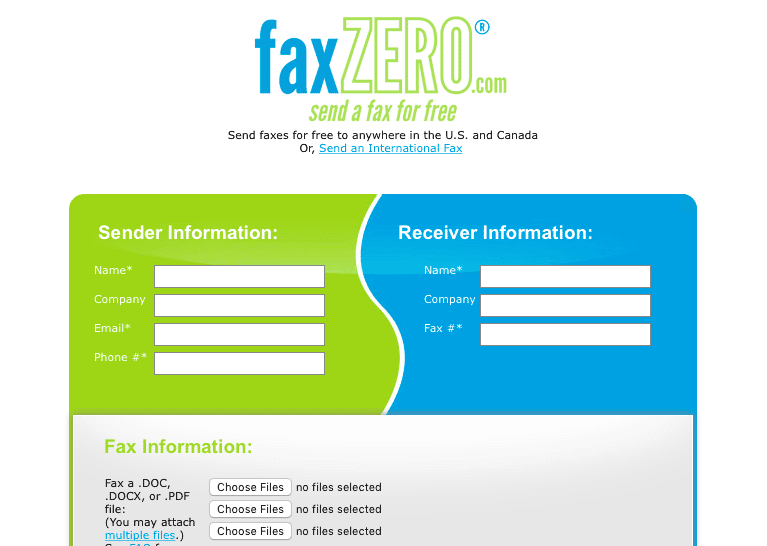 As the name suffices, FaxZero is yet another free online fax service that will let you fax easily within the comfort of your computer. Just like GotFreeFax, this one also lets you upload the fax document in text form or a PDF/DOC file. Also, it is limited to numbers in the US and Canada. The free version shows advertisements on the cover page. It's starting package of $1.99 allows 15 pages per document without any ad on the cover page. The free service only allows five faxes a day.
FaxORama (now Fax.com)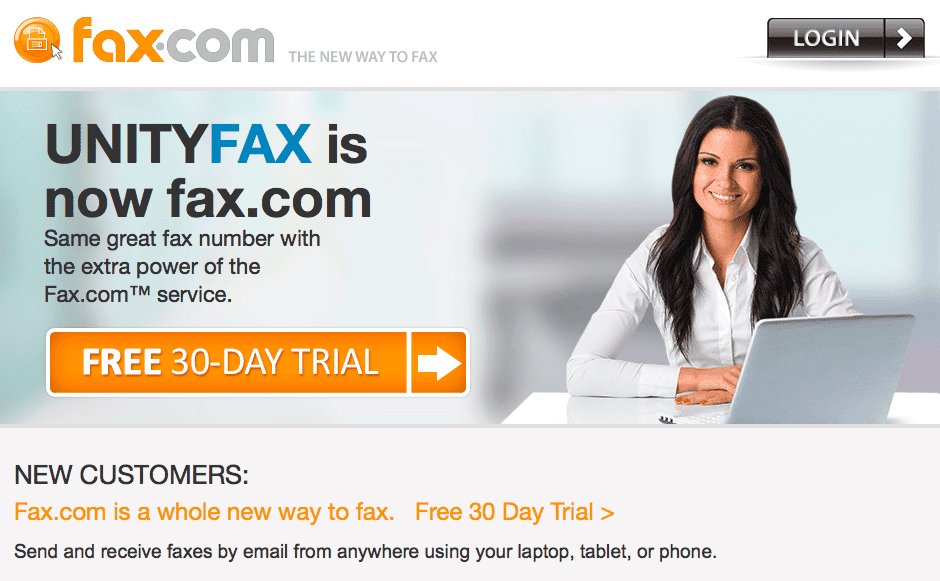 This one is pretty much similar to the GotFreeFax. The service lets you upload the document in the form of text or PDF/DOC file. FaxORama allows two faxes a day with a limit of 5 pages, but that also shows ads on the cover page. To avoid ads, you would need to sign up for a $1.99 package that allows 15 pages per document.
You can also use your computer to send and receive faxes
…but there are certain pre-requisites…
Microsoft's Windows and Mac OS X (now MacOS) also come with dedicated Fax and Scan application. However, these applications need an active phone line connected to your computer. Yes, you would also need a dial-up fax modem and a proper landline connection. For the ones who use such services frequently, it is better to get a permanent dial-up connection.
For the users who do not have a phone jack on their PC, you can use a modem USB dongle. You have to shell out a minimum of $20 to buy this dongle, but they will come handy for your everyday faxing needs. It will work on both Mac and Windows through their dedicated apps.
Conclusion
Faxing has just become easier with the advent of the aforementioned online services. Do you use any other online service to send and receive faxes online? If yes, then let us know in the comment section below. We would love to know what you guys think about the presence of Fax in the era of PDFs!