The reason why iPhone is so popular even when you can get an Android phone with better features at a lot less price is due to it security and privacy features that it provides to it's users. One of the main security features of iPhone is 2FA aka two factor authentication.
It is a feature that works as an additional security to your Apple accounts like iCloud, etc by sending a verification code to your phone number everytime someone trys to log into your account.
Mostly iPhone spyware like the ones mentioned in this list monitor iPhone through iCloud. So if you think that you can spy on an iPhone with a spyware without the target person knowing about it then you might have to think again.
Don't lose hope, you can still spy one iPhone with 2 Factor authentication and that too remotely and without them knowing. In this article, I share with you ways which you can use to spy on iphone with two factor authentication.
1. Manually Monitor Their Phone
Since spyware might not be able to monitor an iPhone properly due to the 2FA, you should try to manually chek their phone to see their call logs, read their messages and check their browsing histories. If you want to spy on your kid's, spouse or partner's iPhone then it is easily doable because you can get access to their phone when they are not around.
If you know their iCloud credentials then its even better because you can simply log into it and see all their activirtes in one place. This way they won't be able to tell if someone is spying on their iPhone. However, you need to be careful because if they caught you with their phone they will get suspicious. So only check their phone while they are sleeping, bathing, or busy with some other stuff.
2. Make Your Device As A Trusted Device
If you want to remotely spy on iPhone with two factor authentication without touching the target phone then I have a solution for that as well. However, for this method also you have to get your hands over their iPhone but only for once. Also, you must know their iCloud password and username.
So this is how this trick works, first of all, you need to access the target phone and then launch a browser on your personal Apple device be it iPad, iPhone or Mac. If you use Windows or Android phone then this trick will not work.
On the browser you should visit iCloud.com and log into their account by entering the right password and username.
After loging in you will have to allow and enter the verification code that is received on the target phone. After entering the code it will ask you whether you want to make this browser a trusted device. Click on the Trust button and your device will be considered as a trusted device and the next time you login to their account they will not receive any verification code.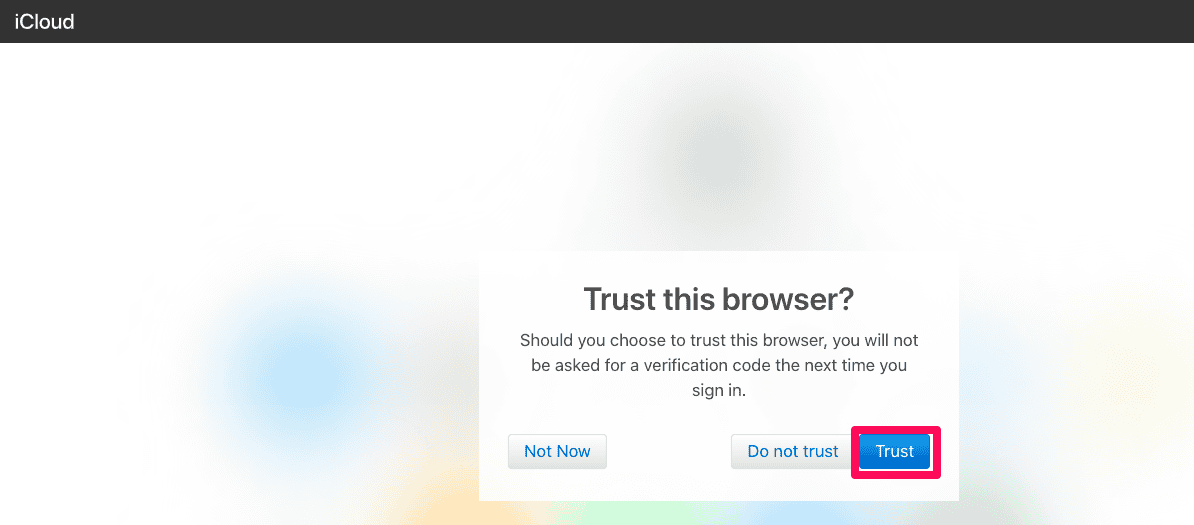 However, one thing you should note that your device is only considered a trusted device until you manually sign out of their account.
Once you sign out you have to again enter the verification code in order to log into their iCloud. If you don't want that to happen then choose Trust and Sign Out option instead of just Sign Out.
3. Jailbreak iPhone To Spy On It With Two Factor Authentication
If you did't find success with the previous two methods then you have only one solution left in your hands and that is jailbreaking the target iPhone. Don't worry if you don't know how to jailbreak and iPhone you wil find lots of resources on the internet like this one.
Once the iPhone is jailbroken you can make use of a spyware known by the name of FlexiSPY. It is the only spyware that can spy on iPhone without iCloud. To use FlexiSPY you will need to create an account on their website and then purchase a plan that suits your needs.
After the plan is purchased you can download the app which you need to install on the target phone. So you will need the iphone handy for few minutes. After the app is installed you can now remotely monitor their iPhone without them knowing.
FlexiSPY is an advance spyware it gives you full access to the target phone so you can see everything they do on their phone lik read their Facebook messenger chats, or see their Instagram activities and much more.
Is It Possible To Spy On iPhone With 2-Step Verfication? Conclusion
No one can deny that an iPhone is way more secure than an Android phone especially due to its two factor authentication feature. Due to this feature a spyware can't access the target phone without notifying the target person. However, that does not mean that you cannot spy on iPhone that has 2FA enabled on it.
You can manually monitor that devices or you can make your own device as a trusted device so that you can access their iCloud without them knowing. However, if you want proper monitoring of iphone and that too remotely then you must jailbreak the iPhone and install the FlexiSPY app on it.
To conclude, I would like to say that yes, it is quite possible to spy on iPhone with 2-Step Verfication. It is tough to get into an iPhone remotely but not impossible if you know how to do that, and I am sure after reading this article you know how to spy on iPhone without them knowing.
FAQs
1. If I Jailbreak My iPhone Will I lose My Data?
Yes, jailbreaking an iPhone will reset everything. So it's better that you keep a backup of all your data before jailbreaking the iphone.
2. Can You Turn Of 2-Step Verfication on iPhone?
No, you cannot disable this feature on iPhone anymore.
3. Do iPhone Spy Apps Really Work?
Most spy apps that track iPhone through iCloud could only monitor a limited number of activities. However, FlexiSPY can completely monitor the iPhone in and out.