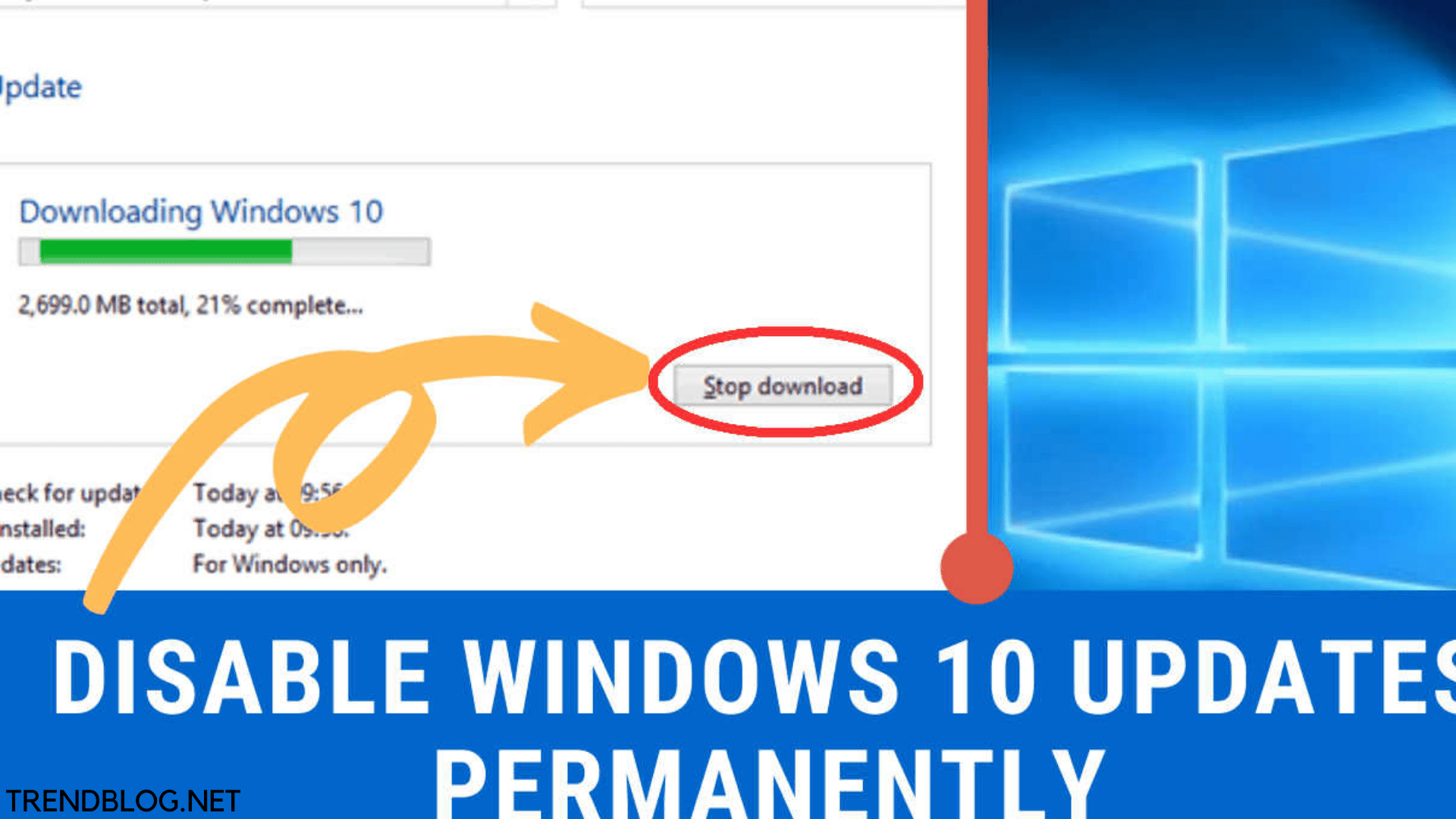 3 Ways to Stop Windows 10 Update: Block Update
How to stop windows 10 update? A new way that Windows 10 manages updates is one of the operating system's most divisive aspects. When Windows decides to apply cumulative updates, it does so automatically. For Windows 10 users, this can be highly inconvenient because they are frequently compelled to restart their laptops at inopportune times.
How to stop windows 10 update
Before you go any further, keep in mind that some of the automatic updates will be security or stability upgrades that you will want to have loaded on your PC. If you decide to turn off automatic updates for an extended period of time, keep this in mind.
Making registry changes to your Windows operating system to deactivate automatic updates is one technique that we will not go through in detail. This is a risky process that should only be attempted by experienced users who have made a complete backup of their computer before making the registry modifications. Mistakes made during this process can have a significant detrimental impact on the performance of your computer.
Method1: Disable the Windows Update Service
Windows Update is essentially a Windows Service that may be disabled in the same way as other services.

To disable Windows 10 updates, follow these steps:

Start the Run command by pressing Win + R. Enter "services.msc" into the search box.

From the Services list, select the Windows Update service.

Change the "Startup Type" to "Disabled" on the "General" tab.

Restart your computer.

When you want to re-enable automatic updates, simply follow the same steps as before, except this time choose "Automatic" as the "Startup Type."
Method 2: Install a Metered Internet Connection
You have the option of setting up a metered connection if you connect your Windows 10 laptop to the Internet over WiFi. Only priority updates are automatically downloaded and installed on a metered connection to save bandwidth.
Although Microsoft's classification technique is unknown, this option for blocking Windows 10 automatic updates reduces the number of driver and software feature updates that may cause stability issues.
Open the Windows Settings app (Win + I) to turn off Windows 10 updates.
Select the 'Network & Internet' tab.

'Wi-Fi' should be open, and then 'Manage recognised networks' should be selected.

Toggle the 'Set as metered connection' option to 'On' in the 'Properties' section of the network.

For some reason, Microsoft only gives you this option if you're connected to the internet via WiFi. You won't be able to set up a metered connection if you connect to the Internet via Ethernet cable.
Method 3: Edit Group Policies
If you have Windows 10 Education, Pro, or Enterprise editions, you may use the Group Policy Editor to make modifications. How to stop windows 10 update, This method of blocking Windows 10 updates is not available to users of Windows 10 Home edition.
Security updates will still be installed automatically if you choose this option. All other updates will be alerted to you when they are available, and you can install them whenever you like. This was how Windows Update used to function in the past. Today, Microsoft wants to eliminate the necessity for inexperienced users to install updates, but it has done so at the expense of more experienced users' freedom.
To block automatic Windows 10 upgrades, change your Group Policy Editor as follows:
Start the Run command by pressing Win + R. To open the group policy editor, type "gpedit.msc" and press Enter.

Drill down to "Administrative Templates" under "Computer Configuration."

Select "Windows Components" and then "Windows Update" from the drop-down menu.

"Configure Automatic Updates" is the option on the right.

Select the "Notify for download and auto installation" option.

"Apply" and "OK" should be selected.

Select "Windows Update Settings" from the Start menu after typing "Windows Update."

To finish updating the group policy editor, restart your computer.

Keep an eye out for new information. If Windows discovers them, it should notify you, but they should no longer be installed automatically.

Windows should now inform you when updates are available, and it will be your responsibility to ensure that they are downloaded and installed.
Why should I know how to turn off Windows 10 updates?
Updates to the operating system, drivers, and applications can all cause unexpected behaviour on the computer they're installed on. Perform a backup before installing upgrades to your system to protect yourself and your machine from unanticipated difficulties.
Unfortunately, if automatic updates are done without your permission, you won't be able to take this cautious measure, and you'll have to rely on an older backup if you need to revert back before the update.
Many updates necessitate a reboot of your computer after completion, and they consume a significant amount of bandwidth while downloading. This can result in slower reaction times and unexpected reboots, which can disrupt your workday.
So there are good reasons to disable Windows 10's automatic updates. Just make sure you don't forget to check for updates and don't turn off the service. While automatic updates can be inconvenient, allowing your machine to fall behind on crucial updates can be disastrous.
Also read: 
How to Delete Snapchat Account: What You Should know
Let us Know How to Take Screenshots in Laptop From Windows to Mac
[Free] 4 Methods to Put iPad in Recovery Mode: 2022 Updated
How to Make Mac Dark Mode: Make Apps and Features Interact Dark Mode
FAQs:
Q1: Can I pause a Windows Update that is currently running?
Here, right-click "Windows Update" and choose "Stop" from the context menu. Alternatively, on the top left side of the window, beneath the Windows Update option, click on the "Stop" link. Step four. A little chat box will appear, describing how to halt the progress.
Q2: How can I prevent Windows from updating to version 11?
Open Settings to temporarily disable Windows 11's automatic updates.
From the left pane, choose Windows Update, which is normally near the bottom of the list.
You'll see a 'Pause updates' option under 'More updates.' After pressing the 'Pause for 1 week' button, the automated updates will resume.
Q3: What is the best way to halt or stop Windows 10 Update?
Choose Start > Settings > Update & Security > Windows Update from the Start menu. Select either the 7-day update pause option or the Advanced choices.
Q4: Is it possible to turn off Windows 10 updates permanently?
The ability to permanently block Windows 10 updates has sparked a lot of debate. Some people claim that Microsoft is so obstinate that there is no way around it. The updates come back on once you restart your machine.
While this may be true for some software versions, it worked in our tests on Windows Home version 10.0.19041 in December of 2020. If the approach you're using doesn't seem to be working, try one of the other methods indicated above, or uninstall any problematic updates using the instructions we've supplied.