If you want to have an effective and productive working environment, communication is crucial. As in many modern businesses, the point is to say a lot with the least possible amount of words. It doesn't necessarily mean that more words mean better communication. Whether you want to send your colleagues instructions on some set-up, your manager a quick update on sales, or just a cheesy chat or photo to your friends, there is no better tool than a screenshot.
These days, screenshots are as well called screengrab. It's a digital recording of your screen. You have probably heard of the phrase, "A picture is worth a thousand words." In the business world, this sometimes means precisely that. You can save a lot of time and unnecessary questions that appear to have a straightforward solution, but if you are looking at the right source of a solution. In this case, that's a screenshot.
Imagine working in a corporation where you are all working on one massive project. You want to get feedback from your colleagues, who maybe have more experience than you.
Just to check out your progress and to give their opinion. But you need to send the file that is too big or requires special software to open that it. Too many complications without reason. That's where the screenshot comes into play. Simply make a screenshot of the screen with the information you would like to share, and you are already set up.
No matter is it a code you are trying to create for your website, or if it's a fantastic new marketing design you would like to present, or simply short margin calculations for your product, just take a screenshot instead of writing a boring email about all of that and, of course, get your feedback instantly.
Usually, we use screenshots to demonstrate some specific action or present a problem on our device. This saves a lot of time and allows others to immediately check the problem and solve it in the shortest possible time.
In this guide, we will present how to take screenshots on your HP laptop.
All HP (https://www.hp.com/us-en/home.html ) laptops have integrated keyboard buttons and functions for screen capturing. Besides that, we will show you a couple of valuable tools that you can use as well.
Full-screen capture is a basic one, default
If you are using an HP laptop, you definitely have Windows operating system. Just within a couple of keyboard clicks, you can have your screenshot ready. Usually, on the top right corner of your keyboard, above the "Backspace" button, you have your "Print screen" button located. Sometimes, it's written "PrtScn" or "PrtSC." In case you bought your laptop in Germany, you will see "Druck."
If you press this button, that will just copy the captured image to the clipboard. To save that image, you will need to follow these steps. The screen dims for a second with an HP laptop as a visual confirmation of the screenshot taken.
After taking a screenshot, open any program used for photo editing. It can be Microsoft Paint, Photoshop, Paintshop Pro, or any other. For people who like shortcuts, just press CTRL + V to paste the object from the clipboard to the blank page of the program. You can right-click on your mouse for old-school ones and click on "Paste" in the drop-down menu. The last step is to save your photo as PNG or JPG ( most common photo file extensions ). Make sure that you keep your screenshot somewhere easily accessible. The whole point is to save time, so think of that as well.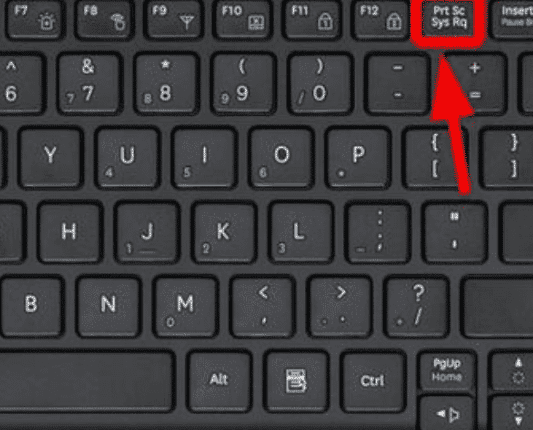 Partial screen capture
If you want to send only one specific portion of your screen, we have a solution to that as well. Since 2018, Windows has implemented into Windows 10 operating system on laptops excellent tool for screenshots. This tool does not require any applications to be downloaded. We will show you here how to the quickly grab, save and share the screen.
First of all, click on Windows Key + Shift + S simultaneously. If you ever played FPS games, this part will bring you to the past. Instead of the pointed cursor on your screen, you will now see a crosshair cursor. A screen will be faded, and you will see the overlay.
With your left mouse-click button, select part of the screen you would like to grab. After moving to the opposite corner of that "Cutting box" and releasing the left mouse-click button, captured part will be saved in your clipboard.
Open a program for photo editing. Press CTRL + V on your keyboard or tap on the right mouse click and click on "Paste."
Save the file as JPG or PNG and save it somewhere you can find it easily.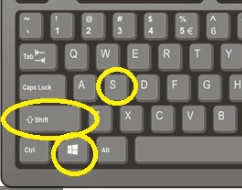 Snipping Tool
Non-regarding the operating system you are using, from Windows 7,8, 10, or Vista, the snipping tool is an impressive built-in feature that helps you take screenshots of any size. Like any other application, you can find it in your startup menu. We are presenting you here a straightforward 3-step process.
In your search bar, type in "Snipping Tool." After opening, create a new screenshot, press on "New," or use CTRL + N on your keyboard.
To make a screenshot of your desired size, use a crosshair cursor, drag it until you make a rectangular shape of the area you would like to capture.
In the snipping toolbar, you can click on the "Disk icon" to save your file. As usual, you are keeping it in the form of a JPG or PNG file.
A handy adjustment on this built-in tool is that you can switch between different snipping modes. Instead of rectangular snip, you have three other ways.
Free-form capture – This is letting you take a screenshot of a free-formed shape. Ovals, circles, or figures are easily screenshotted with this mode.
Window snip – This is making a screenshot of the active window in just one click.
Full-screen snip – is taking a screenshot of the entire display. It can be beneficial if you are using multiple monitors and if you would like to capture them at the same time.
If you have something important to point out on the screenshot you have made, you can always use a pen or highlighter tool.
Snagit
Fantastic tool for capturing not only photos but videos as well. Straightforward and user-friendly interface, with some additional features that make your life easier. In this software, your screenshots can be edited. Besides screenshots, it can help show scrolling screens by capturing video files.
You can download the app here >> https://www.techsmith.com/screen-capture.html <<
When you install it, on top of your screen, you should see a red circle button. That button gives you access to the screenshot camera. If you are just planning on taking a screenshot, click on the camera icon. On the other hand, if you'd prefer to take a video recording of your screen, click on the recorder icon.
After that, you will be asked to select part of the screen you would like to snap or record. After taking a screenshot, it will be saved in the application itself. From there, you can edit it, annotate or resize it, and after cleansing to send it to whom it may concern.
Conclusion & Tips
If you are working in a team, it can be very beneficial for the team to save time. Instead of writing long emails, or sending huge files, just take a screenshot in one of the ways given above and send it to your colleague or friend for an instant checkup and feedback. Screenshots can make your life way easier.  We are hoping that this guide helped you to make your workspace more productive. In the comment section below, you can let us know which one of these are you using most of your time and why
Editors' Recommendations