First things first. What is a Smart lock on your Android device?
Let's say you are checking your phone regularly for all the necessary information. And you are tired of having to input your password, PIN, Face ID, or any other security lock you are using. I mean, if you need to unlock your phone over twenty times a day, it can really be tiring, right? So, not underestimating the value of your phone's safety, Google introduced us with the new feature called Smart lock.
In case you enable this feature, your phone will go over the built-in lock and stay unlocked and ready to use whenever you need it. However, as I said before, do not underestimate your safety. You can use the Smart lock to mark specific locations where your phone won't be locked. So, if you sit in a crowded coffee shop or walk around the city, where someone can take your phone, obviously, you will want it locked. But, once you come home, the need for the lock is most likely done, and you can set up your device to remain unlocked.
Let's see how to turn on a Smart lock on an Android phone and how to use it.
How to turn on Smart lock an Android phone
If you want to enable the Smart lock option, it won't take much of your time. Follow the steps below.
Open the "Settings" app
Click on "Personal" > "Security"
Go to "Advanced"
Tap on "Trust agents" and check if Smart lock is on; if not, move the toggle on
Now, go to "Screen Security"
Tap "Smart lock"
You will be prompted to enter your screen lock
Once you do it, a Smart lock is enabled.
Now, the question is how to use the Smart lock. What is it actually for, and how can it help you?
Once you enter Smart lock, you will see three options – trusted devices, trusted places, and trusted face. So, let's see how to use Smart lock with each of these options.
How to use Smart lock with trusted devices
You can set up your Smart lock in your Bluetooth settings or with NFC Android devices. Once you set it up with these features, you can connect your phone automatically via Bluetooth with your car, watch, etc. Also, with other NFC Android devices nearby.
Go to "Settings"
Choose Security"
Tap on "Smart lock"
Under trusted devices, you will see paired devices
At first, there will be no devices at all
Tap on "Add trusted device"
Choose "Bluetooth" or "NFC"
Now choose the device nearby
If you choose Bluetooth, it will show you devices you've previously paired with, so you can choose from the list
Tap on "Add"
That's it. Next time you turn on the paired device, the Smart lock on your Android phone will automatically enable it. Similarly, you are adding NFC Android devices.
How to turn on Smart lock with trusted locations
As I aforementioned, if you are outside, of course, you want your phone to be locked. But once you come home, it can stay unlocked. So, let's see how to set a trusted location to your Android phone and turn on Smart lock.
Go to the "Settings" app
Choose "Personal" > "Lock screen and security" or similar
Tap on "Secure lock settings"
Tap on "Smart lock"
Tap on "Trusted places" > "Add trusted places"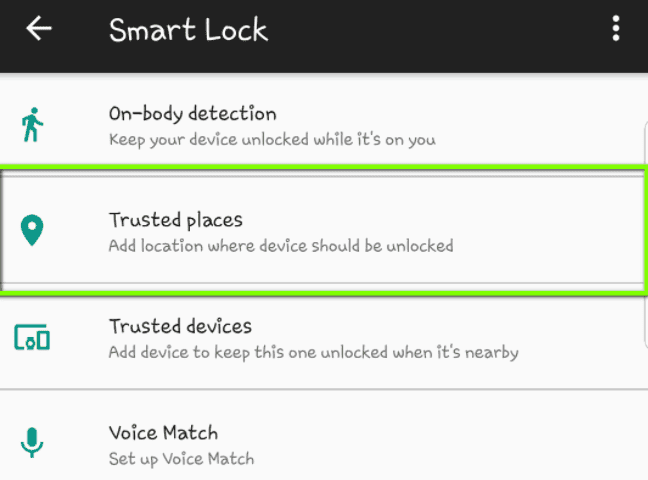 Start Google Maps on your phone and make sure your Internet and GPS are switched on
Here, you can toggle work or home directly from Google Maps, if you added them
If not, you can enter the address you want and add it as a trusted location.
Since the feature works through Google Maps, make sure to always be connected to the Internet
Don't worry; you don't need to set it all up at one time. You can always edit the list of your trusted places and add more or remove a particular place.
How to use Smart lock with trusted faces
This feature is similar to the Face ID option. Once your device recognizes your face, it will automatically enable Smart lock. Here is how to set it up.
Go to "Smart lock"
Tap on "Trusted faces"
Click on "Set up"
Follow the instructions on the screen
Make sure to set your PIN or password as a backup, in case Smart lock doesn't recognize your face
That's it. You are all set up, and once your phone recognizes your face, the Smart Lock will be enabled. However, this option is not the safest since anyone who comes close to you can use it to unlock your device. Beware of this when setting up the Trusted face feature.
If you need more information regarding Android Smart lock, you can always visit Android's or Google's official website. 
If you have any suggestions regarding Smart lock for your Android device, I'd love to hear from you. Please, leave the comment in the section below.
Editors' Recommendation