How to uninstall McAfee anti-virus – Step by Step
If you've ever used a computer and installed free software on it, chances are you've had the opportunity to encounter the McAfee anti-virus software. Services that are provided to you for free (such as free video players, text editors, music players and other software) still need to make a profit somehow – this is where McAfee comes in. During the installation process of the aforementioned software, there may be a section dedicated to the installation of sponsor software, which can include the McAfee anti-virus. If you don't notice this or forget to untick the checkbox, the unwanted software will get installed on your personal computer along with the software you wanted to install in the first place.
Now, if you found yourself in such a situation, you might be wondering just how you can remove the McAfee anti-virus. If that's the case, we have some good news for you – luckily enough the process is quite straightforward and shouldn't take much of your time. Let's go through the procedure of removing the McAfee anti-virus together.
In order to remove the McAfee anti-virus, follow the steps below:
Open Control Panel through the Start menu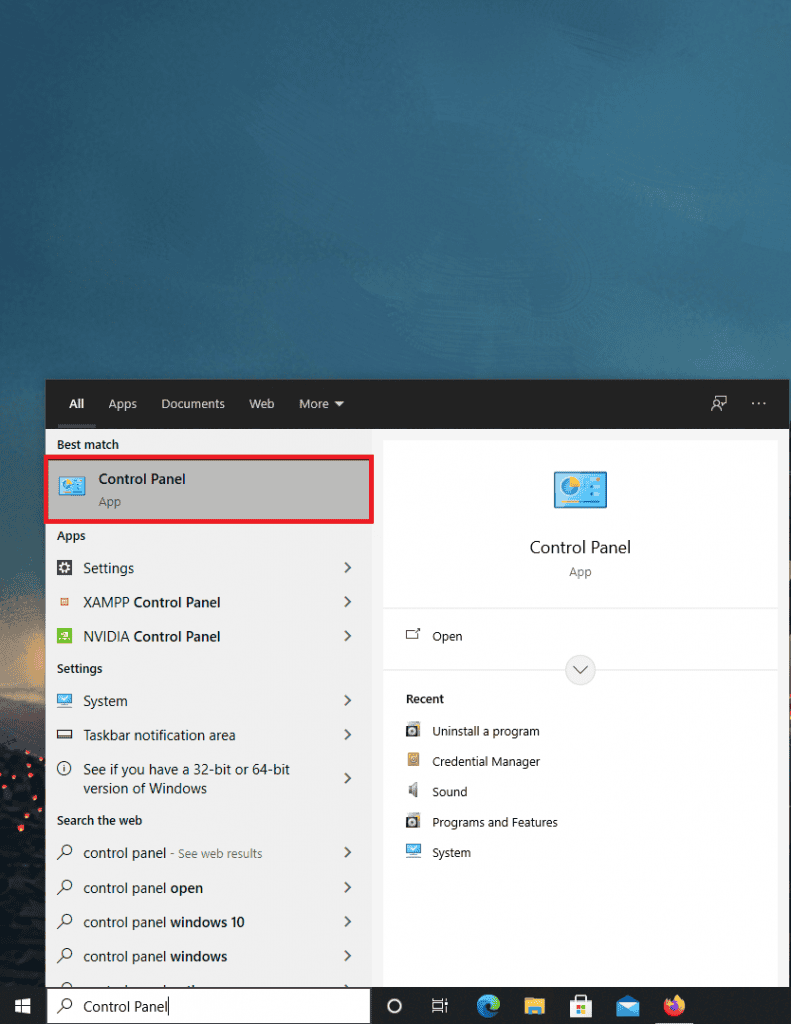 Click on the "Uninstall a program" link underneath "Programs"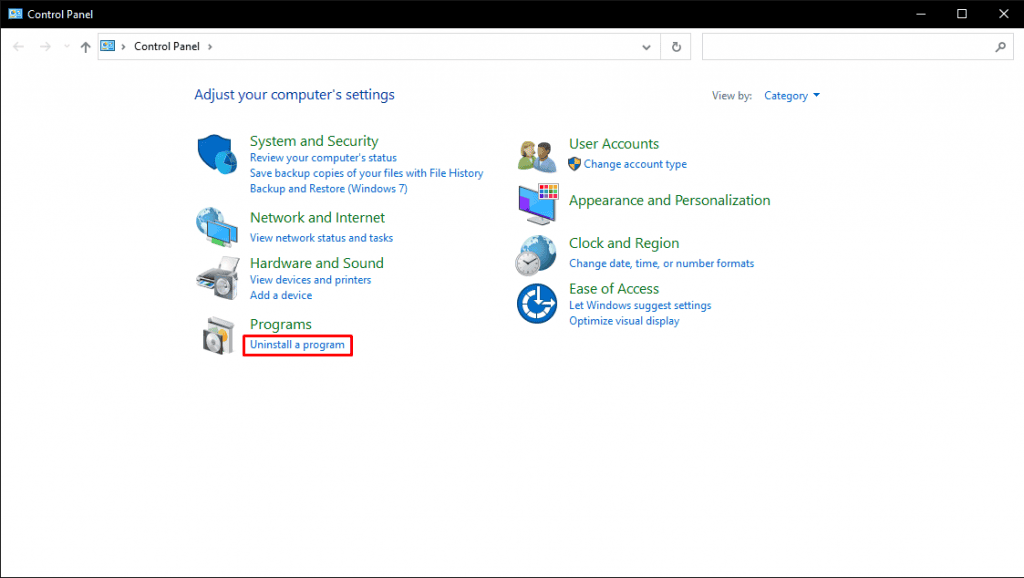 Type "McAfee" in the search bar located in the upper right corner of your Control Panel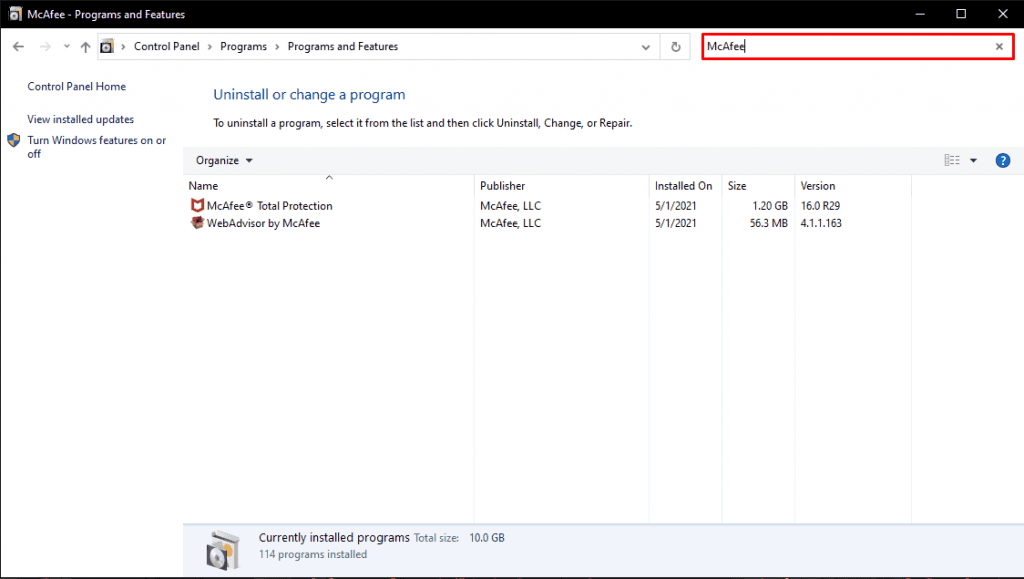 Right click on "McAfee Total Protection" and select "Uninstall/Change"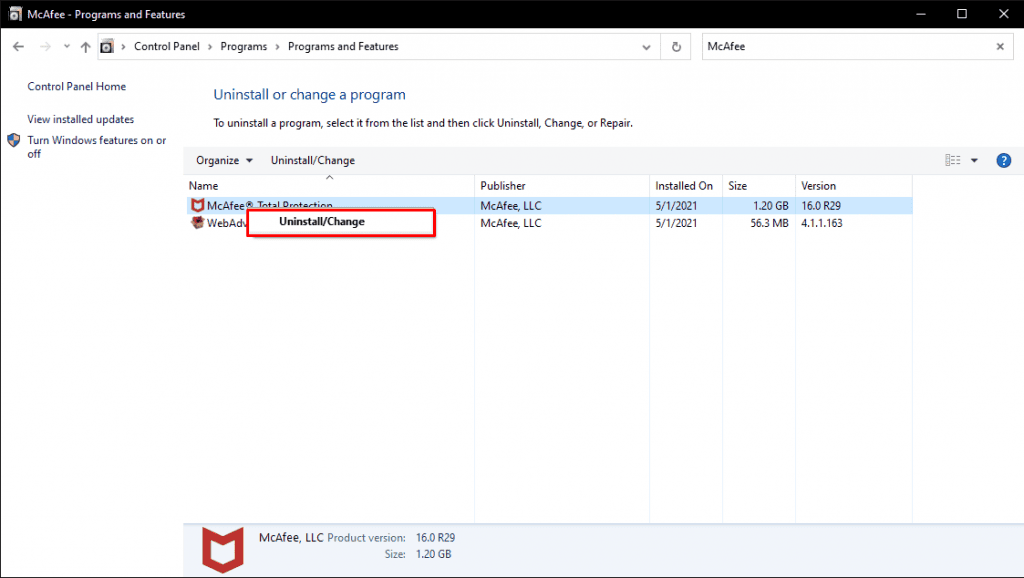 You might get a UAC prompt asking if you want to allow Control Panel to remove the program – click on "Yes" (Note: you will need to have admin privileges on your PC in order to be able to do this)
You should now see a window asking you which components of McAfee anti-virus you want to remove – make sure to tick all the boxes and proceed by clicking "Remove"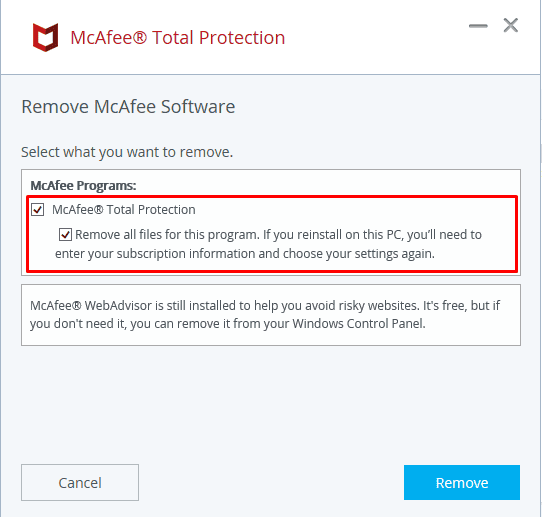 You'll get to the next screen telling you that you still have an active subscription and asking if you're sure that you want to remove the software – click on Remove once more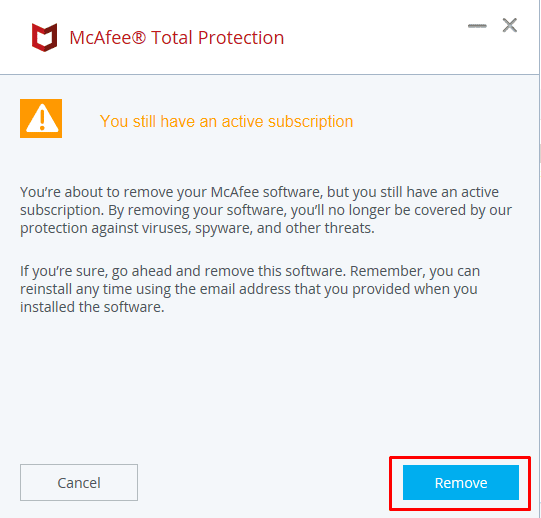 The window should now look like this: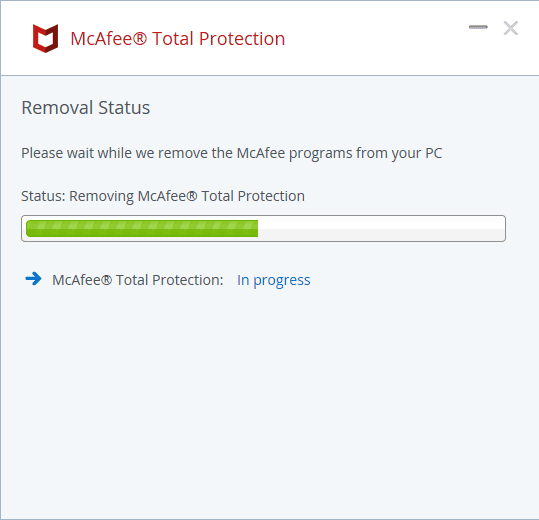 Do note that this process might take a bit of time (length may vary according to your PC specifications, namely CPU and HDD/SSD speed)
Once the process above is over, you'll be prompted to restart your PC in order to complete the process of removing McAfee anti-virus; you may choose to restart it immediately or at a later point, depending on what suits you
Congratulations! Once you've restarted your PC, you've removed the McAfee anti-virus from your PC
Bonus round: Uninstalling the McAfee WebAdvisor
Remember the beginning of this article where we went over how McAfee might've appeared on your PC? Well, once the McAfee anti-virus gets installed on your device, it installs the WebAdvisor by McAfee software as well. Chances are, if you wanted to remove the McAfee anti-virus from your PC, you'll want the WebAdvisor gone with it too. Let's get right into it then, shall we?
In order to remove the McAfee WebAdvisor from your PC, follow the steps below:
Follow the steps 1-4 from the guide on how to remove the McAfee anti-virus above; once you get to step 4, instead of right clicking McAfee anti-virus (which should be removed by  this point), right click on WebAdvisor by McAfee and select the "Uninstall/Change" option
You will once again get a UAC prompt asking if you want to allow changes to be made to the WebAdvisor by McAfee app; click "Yes"
A window will pop up to ask if you're sure that you want to remove the WebAdvisor by McAfee; click on "No thanks, just uninstall it"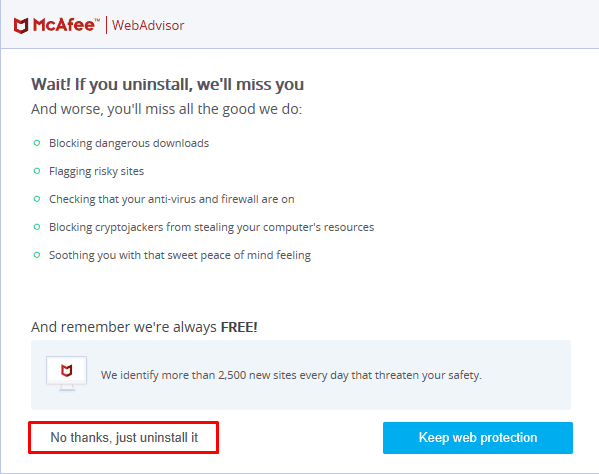 If you happen to have your web browser open while going through this uninstallation process, another window will pop up to notify you that you need to close all your browser windows in order to proceed; if you have any work related tabs open, make sure to save your changes before closing them down. Once you've closed all your browser tabs and windows, click on "Ok" to continue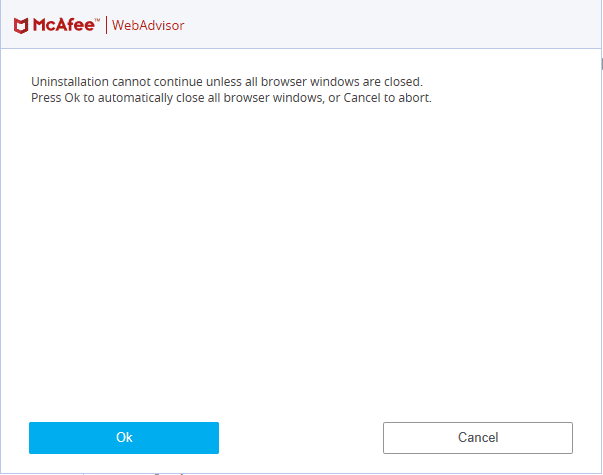 Once the process of uninstalling McAfee's WebAdvisor is finished, you should get a window notifying you that the process was successful; click on "Done" to close the window and finish the process
And there you have it – if you've followed the steps outlined above, you can rest easy knowing that you successfully removed the McAfee anti-virus (and its accompanying software) from your device. If you do not wish to go through this process again, remember to always look for the section where McAfee gets offered as an added installation and untick the checkbox when you're installing software on your PC!
Editors' Recommendation